DISCLAIMER - If you want one that looks nice and comes pre-tuned because you aren't machanically inclined, go to DOC92 and he sells these things already done. Its the easier way to go.
Alright, someone wanted to know how to make their own ghetto DT. I will explain how to build one with a three tank input and firestorm cranks. I don't know if the cabelas cranks have the ambidextrous option but if they do, then they should work just as well.
First, you need two pieces of flat steel, 1/16" should do. You could also use Al, but I like steel. The rear piece needs to be 1 1/2" x about 5 1/2"-6", depending on how far you want your guns apart and what hoppers you use. The best way is to stand your A5's together at the proper distance with your hoppers on, then measure the distance outside to outside on the grips. Your next piece only needs to be 1/2"-3/4" x 5"-5 1/2". Again, while standing your A5's up, measure the distance between the front grip screw brackets, outside to outside.
Secondly, you will need a drill press or else a drill and a steady hand and a vice. I don't reccomend option two and if any of you drill holes in your appendages trying this I'm not responsible.
You will need six size 10 x 32 screws, a few washers, and loctite. A grinder is also nice if you want a more finished look and safer feel.(I'll explain later)
You will need a few 1/8" NPT threaded plumbing parts. I reccomend one MxfxM tee, one FxFxF tee, one MxF 90 degree elbow, and one FxF 90 degree elbow. Plus a lot of teflon tape and some good, non marring wrenches.
One 6 inch size 6 x 32 threaded rod.
Two size 10 x 32 nuts.
Ok, time to leave home depot.
At the paintball store, you will need an on/off with the option of air output on either side(I reccomend the CP), a mounting rail, two quick disconnect nipples, two A5 to standard ASA grip adapters, one short lentgh of steel braid hose, and two firestorm cranks.
Cut your steel stock to size. Grind the corners round to keep from getting stabbed whenever you pick up the gun.
Make a paper template of your rear pracket and dip your grip adapters in ink or something and press them down on the edges so you know where to drill your holes. Make another imprint dead center on your bracket template too.
Drill all six holes out to size per your size 8x32 screws., check your fingers for holes that shouldn't be there. If holes are present, go to the hospital, you can finish this tomorrow.
Using your 8x32 screws, attach the grip adapters to the back bracket.
Using two more screws, mount the mounting rail to the center holes.
You should be about here, minus the on/off and plumbing.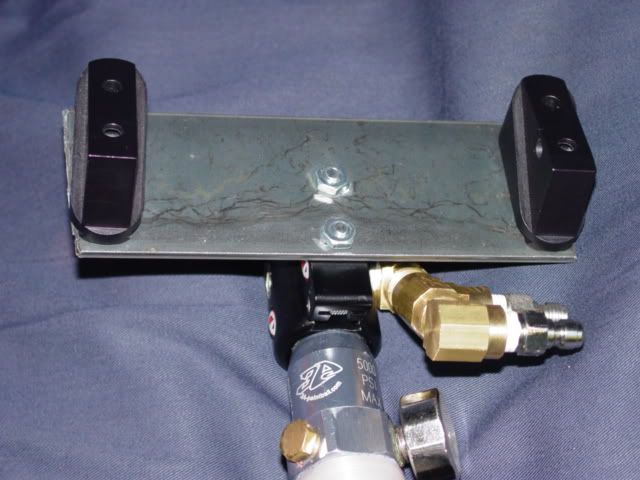 Now take your front bracket and drill two holes to size per your front grip screws(these holes should be bigger than the last ones, if they aren't, your last holes were too big, or these are too small. Fix it.
Put that stuff aside.
Take your plumbing and build it like so -
into one side of the On/off ASA, install the 90 degree male x female elbow. It only goes in one way and you can't mess it up. Into the open end of that, install a tee. At the other male end of the tee, install the female x female elbow. Into the two open holes, install the quick disconnect nipples.
Side one done.
Into the other side of the ASA, install the short length of braided hose. Onto that, install the other tee using the middle hole. Now, remove the pin that holds your tombstone from your A5 and pull out the tombstone. If you haven't already, remove the hose from the existing A5 ASA. Remove the A5 ASA while you're at it. You should be holding a braided hose with the tombstone at one end and a 90 degree chromed elbow at the other. Repeat on gun number two. Install these hoses, using the elbowed, threaded end, into the two open holes on the tee. Once they are down, tighten to make them so that the tombstones will easily slide back into place.
Here is a top view with solid plumbing to replace the short braided hose.
Now, install your firestorm cranks and take the handle off the left one.
Bolt the guns together(no plumbing required yet) and measure the distance between the open holes in the firestorm cranks. Cut your threaded rod about 1/2"-3/4" longer than this distance. Take it all apart.
First thing, install the threaded rod into the right side firestorm crank. Then put it into the left one and crank the right one to start it.
Line up your guns over the brackets.
Keep tightening the firestorm connecter until the guns line up withe the Grip adapters and front grip bracket.
Bolt it all toghether.
Mount the ASA on the rail and plug in the tombstones.
Screw a tank into the ASA, plug two more into the quick disconnects using remotes, and strike fear into the hearts of men.
Optional
If you don't want a lower tank, just run your remotes into one tee, connect it to another, and run your A5 hoses from that into the guns.
If you want to take off your remotes and still use the gun, you can build quick disconnect caps by using the female Q.D. receptacle and filling the open end with a 1/8" NPT plug. Then you can just cap the Q.D.s when you want to run with no back tanks.
Your finished product ought to look something like this, but with bigger hoppers.
Good luck.
This post has been edited by Custom Cowboy: 02 September 2009 - 06:14 PM