I've posted my first impressions review to the
LiveJournal paintballers
community. This is a repost:
Overall the vest appears to be very well designed and made. The vest uses a wide elastic belt on the inside like a pod belt which keeps the load nice and secure. -I mention this belt here because their description does not make it very clear and it's a great feature. This belt is independant of the front pockets or clip (thankfully). The big front pockets are sewn on. The hydration pouch has no hooks to hold the bag (I'll add them) and does not have any tube exit or sleve at the bottom (again, I'll add it, but it really should be there already if you're going to bother adding a hydration pouch at all). A clip or loop inside the pockets (for securing one's car keys...) would be nice too...again, I'll add it but it's silly it isn't there).
Now onto the real problem...duh...
This vest is big. No, scratch that, it's huge. The product description claims, "
One Size Fits All (adult sizes)
", however they obviously have a different idea of how big an adult human is. For reference I am 5'8" and weight 165 lbs. In other words I am a very average male who is slightly over weight but otherwise decent shape.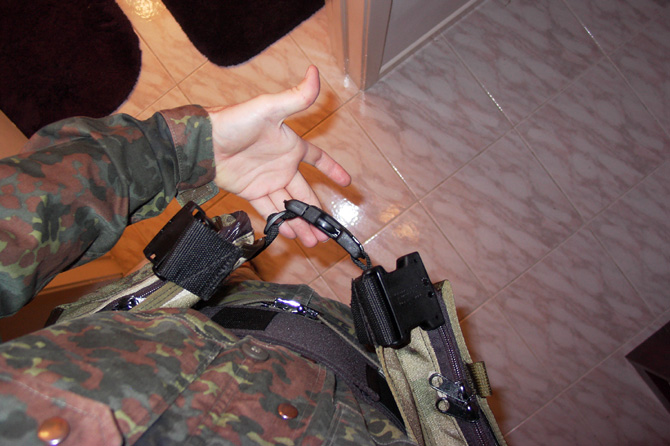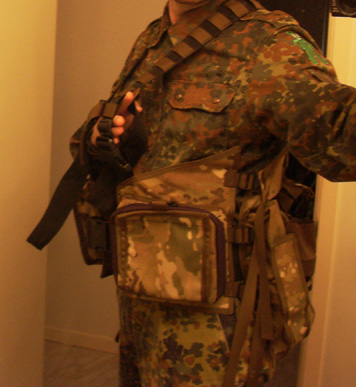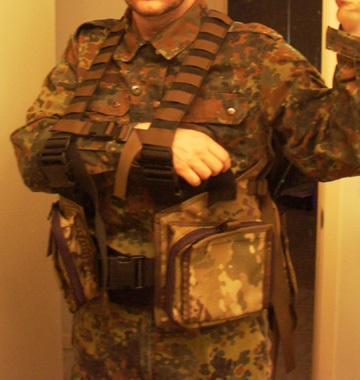 These pictures are with the vest straps as tight as they possibly can be made. Considering how this vest fits me at 165 lbs, I'd say the smallest size this vest will reasonably fit would be at
least
my height at 200 lbs. It's pretty clear this vest was really designed for a 6 foot male weighting 250+ lbs (and someone 300+ could wear it comfortably I'm very sure). It is not, in any way, "one size fits all" out of the box and can
not
be adjusted to be such without major modification.
The size issue aside, this
is
a very high quality vest and I think it can be made to fit me without a huge amount of modification (lucky for me I'm a theatre geek and can sew). What I plan to do is remove the front clip entirely as it adds a minimum of 5" just by itself (you can see this in the 3rd picture). In its place I'll add a zipper between the fronts. Test fitting it is still a little loose, but should be fine with the elastic belt. -And if I gain any weight in the future the sides are still adjustable (yes, they too are as tight as they can be made).
The shoulder straps are also far, far too long. The way they sewed them in the back makes it very difficult to shorten them without major rework. What I think I'm going to do is fold the straps over themselves and sew them flat. Ugly, but functional and I won't have to unstitch the vest to do it.
Conclusion: Great vest, but make sure either you're either a) A fat cow, b ) can sew, or c) have a friend or SO that can sew. And don't even bother if you're a girl or otherwise weight less then about 150 lbs...this vest just won't fit you well no matter what you do to it.