This review is based upon my own personal opinions and past experiences with other BDUs. Your perspective on certain things may differ from that of my own…
I recently received my SpecOps Marauder II's in the mail this past week and had a chance to wear them for better part of a day this weekend.
My initial thoughts on the M2s were that they always seemed a bit too light for my liking. I also was not a big fan myself of the arm pockets position, and from what I had previously read/heard from others about them being "stiff" had me wondering.
After taking these out of the box I could immediately see my first difference on opinion. That difference would be the claims of the BDUs being stiff and "crisp" like. I have used a number of old "worn in" army BDUs before and these honestly seemed no different brand new than a used set of BDUs.
I immediately tried the shirt and pants on to see how the fit was (I had order a large in pants and jersey). These seemed a bit too big for me at first, and I still think they might be, but they are extremely comfortable.
M2 Jersey
The shirt is probably the biggest concern I originally had while trying to choose a new set of camo out. My main reason for concern was all of the things I had heard from people about how stiff the arm pockets were and the material in general.
Once I looked over the pockets I was still a bit skeptical about them and still was not a fan of it. After putting the shirt on I really didn't even notice the arm pockets, not even when I moved my arms around. When I shouldered the A5 I thought for sure I would feel those pesky arm pockets poking me, but surprisingly I did not feel them. Now you can tell they are there to an extent, but by no means did they seem to be an inconvenience to me.
The left arm pocket has plenty of room to fit a wallet in, or something else;
Your right arm is where you have not just one pocket, but really 4. One pocket could hold a wallet; the other could hold a small book or something. The other two "pockets" are actually the ID type pouches. Fairly good size as well;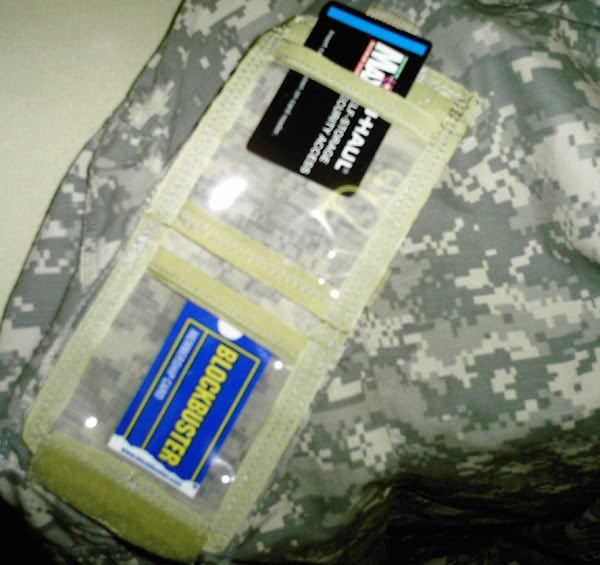 The jersey has a nice collar around the neck line as well. The material is soft and not irritable like some of the camo stuff that I have used before. During the course of the day I while I was wearing the jersey I had played about 3-4 quick games and stood in the sun a while. There was a decent breeze out, but I never really got warm wearing the long sleeve jersey, even while I was everything seems very breathable.
The elbows also have what seems to be another layer of material for the added durability;
Inside of the elbow area;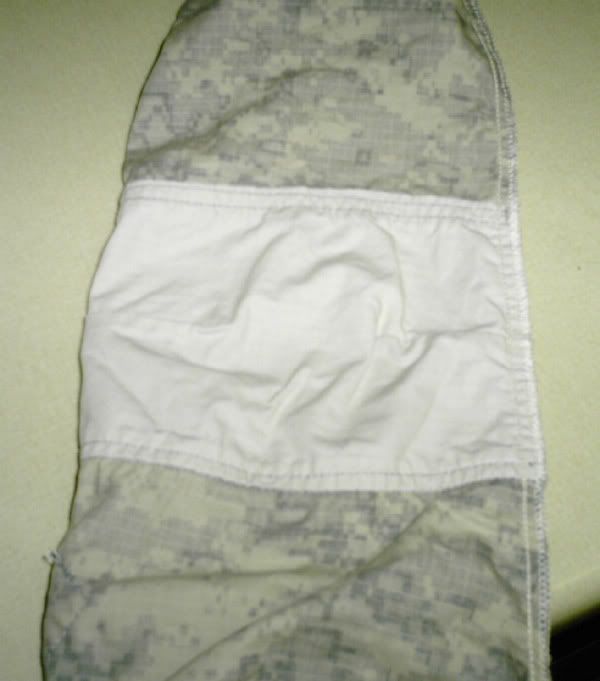 The pants also have the same setup as the jersey does on the elbows, very good to see as these are the key wear points for most players.
M2 Pants
The elastic is a nice feature as well because you don't have to worry about "out growing" these things nearly as much as you would with typical camo pants.
One thing I would like to see added indefinitely would be two, or maybe three more belt loops on the pants. I have a 2" web belt that I usually use, but with the M2 pants there are only two belt loops on the front which makes the use of a belt somewhat difficult, so keep that in mind.
The front of the pants, you can see the cinch type belt that is placed into the pants already. You can also see the two belt loops here;
The back has two regular pockets and the elastic wasit is mainly on the back side of the paints. Ideally you can see why it would be a good thing to have more belt loops on the back side as well;
SWATORNOT :ph34r: