Hello, I have random parts and dead markers taking up space and need them gone asap.
First off.
WDP Angel G7 Fly
Status: Inoperable
Spare parts gun. Overall body condition is immaculate
Sold
If you should undertake the project of reviving this gun and bringing it back to life, I've compiled a list of required items needed.
Eyes and eye wires
Bolt
Aftermarket board that accepts 9volt batteries or find a charger for it.
Grip screws, board screws.
ASA
Microline hose
After that, it should be operational. None of the other internals were touched to the best of my knowledge.
Next
Armotech G2 Zeus
Status: Inoperable
Spare parts gun.
$20 obo
As far as missing parts list goes, it needs all of it's eternal guts - bolt and detents.
I have various internals for it, but I have to sort them out as many of the Armotech and Warsensor parts are incompatible.
Next
Armotech E-grip *Rare*
Status: Operable, takes one 9volt battery
Make an Offer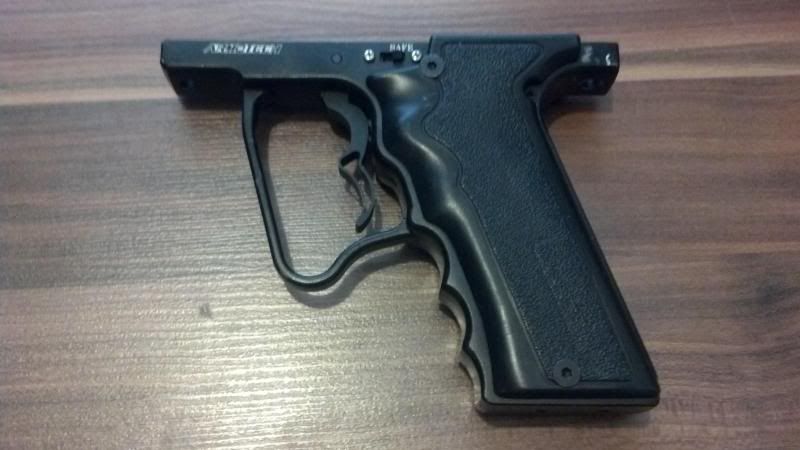 Will give various Armotech or Warsensor markers, 3 round burst to full auto capability.
Next
Spare Armotech G1 Zeus bodies. (I have 4 in total, 2 black, and 2 silvers)
Needs all internals, which I might have, just need to sort them out.
$10 each
Next
Armotech/Warsensor M4 shroud with front sight. Will fit on similar thin barrels genuinely found on Tippmann A-5s, X-7s, etc
$10
Finally
Spare parts
Spyder two piece 12 inch barrel black.
$5
Automag Asa
$5
Proto Asa with fixings
$5
I accept both Paypals and MO.
This post has been edited by DZ Unit-1: 05 October 2013 - 06:31 PM