The POW/MIA gun is finally completed. I just have to fire a few hundred rounds thru it. It's never been fired since it was refurbished,reskinned and reanodized. Only air tested.
This gun was made for the memory of those lost and will never be forgotten. Always remember,there are so many still unaccounted for. Very few have returned home and yet so many are still lost, trying to find a way home. We are the only ones who can do that.by never forgetting.
These brave souls gave everything they had for us,and yet many refuse to admit it was them who gave us the priviledge of our freedoms that we have.
This gun does not represent any specific WAR,but represents ALL WAR past and present. It represents the families who still remember them and still cry for them.
There were many involved in this project and I hope I named everyone. If I didn't please let me know.
So Thanks goes out to:
Titus:
For buying the beat to all HELL lot of used Vibes
Duce:
For allowing me the HONOR to use the name of your fallen 10th Mountain Brother.
Paintballer 187:
For the excellent engraving you did for this gun.
Oregon Hydrographics:
For finding the awsome pattern I chose and making it all happen. The whole idea spawned from this design.
Stinger Custom Grips:
For the excellent POW/MIA grips that you make.
GoG Paintball:
For coming back and providing help with issues and board repair. For getting me spare parts fast when I needed them and for putting up with me when I bugged you at all hours.
GUNFU:
Of Spec Ops forum,for allowing me the Honor of your Cousins name on this gun.
Super Staunchy:
Thanks for making the regulator cover and going with my crazy idea.
BNS paintball:
For anodizing the reg cover and re-engraving it.
KILA Products:
Thanks for having anodized screws in the color I needed. These screws completed the gun.
To everyone else out there in Internet land:
From Ebay to the forums. The freak parts,metal feed necks,to everything else.
Later,
Blackrain:)
As with all things Military,there is always a story:
The Lite Grey Body repesents the haze of smoke from battles past and present.
The Barb Wire represents those that are held captive and have not yet returned home to us.
The Black represents those confined and those who may or will never see the light of day.
The Red screws represents the blood of those who have given the Ultimate Sacrifice for our great nation and it's people.
The Names are those who have been taken from us. They represents not one,but many who have been taken from us.The name on the barrel awaits others while the name on the rotating regulator cover provides a 360* protection,yet he will always be guarded by my hand and others.
They remind us, that we have served with and fought along side many we never knew, but call Our Brothers in Arms, and would give our life for them if need be.
The Grips are a reminder so that
ALL OF US
never forget those who have given the Ultimate SACRIFICED for our Great Nation.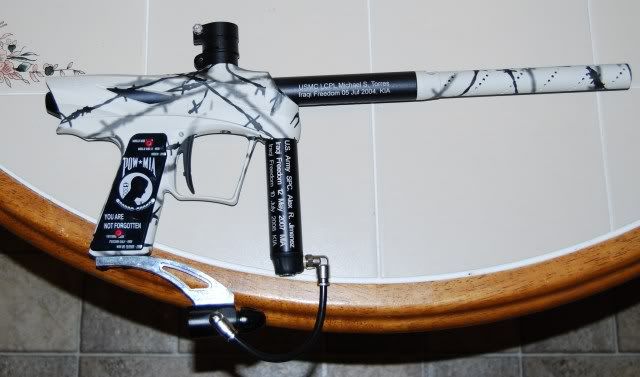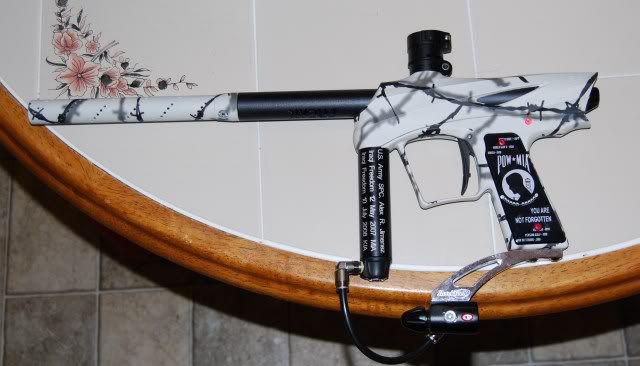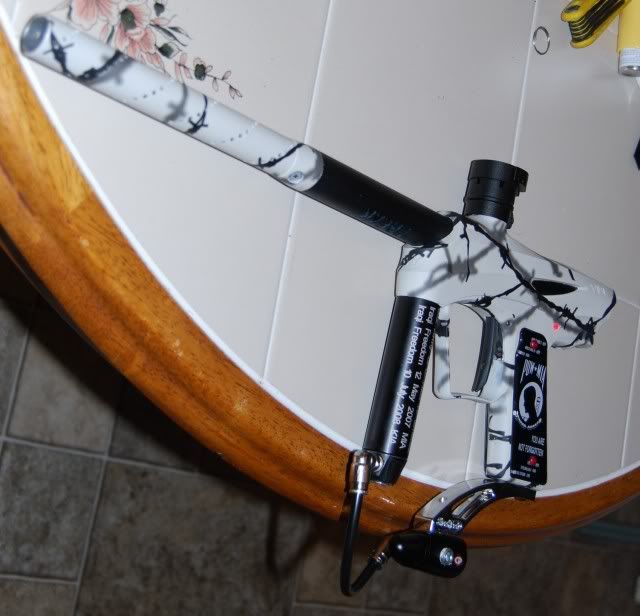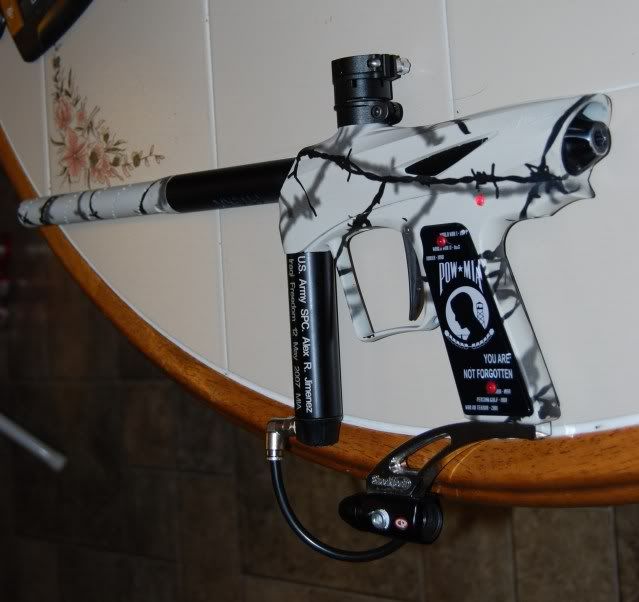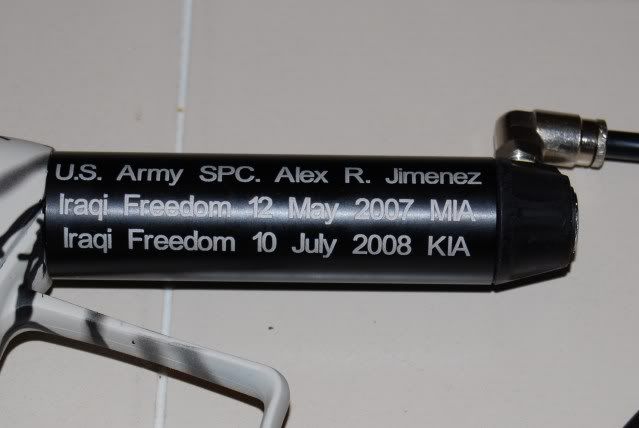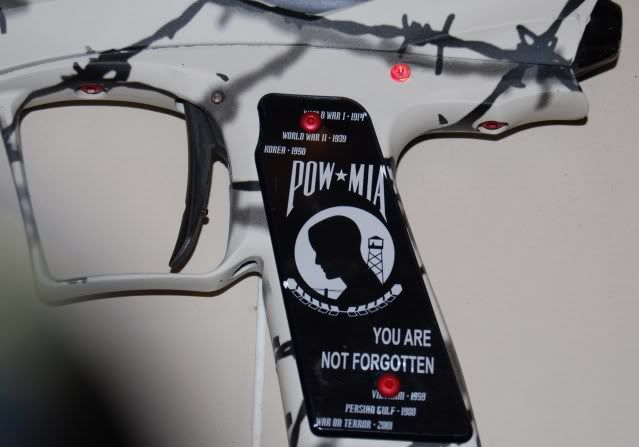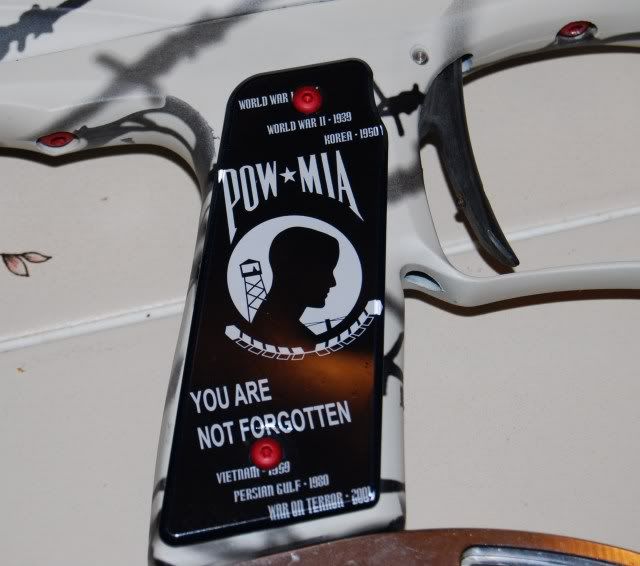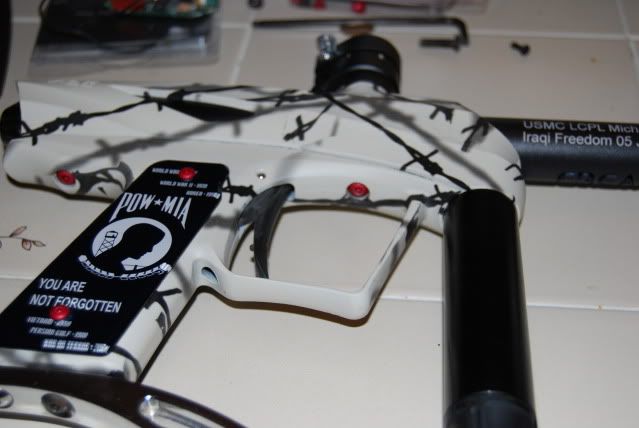 This post has been edited by blackrain: 18 June 2011 - 06:56 AM