Tippmann X7 Phenom Electronic Trigger Paintball Gun + Flatline Barrel! Works Great! Still Under tippmann 2 year warranty. 3 Months Old Less than 10k Rounds have been put through this marker. Electronic trigger fires, Semi, Burst, Full auto, Response and turbo modes. Shoots Great!
I have all the paper work and original box. I took this out 4/2/2011 and had a blast! No major issues. One minor Flaw, The cyclone feed housing where the hopper "Locks" into place the piece of plastic broke.
Not a very big issue you can pop on a hopper and still use it without it falling off. I use the stock hopper just fine without it falling off.
I Also Have A BT Rip Clip That has not been installed yet. I will include it with the gun. Sadly the Flasc Adaptor to connect the rip clip to the phenom is on back order.
all stock parts are included as well as gun oil and the tool kit.
Oiled And Cleaned After Every Use!
UPDATE: Contacted Tippmann They Are Sending A New Cyclone Feed Housing. Should Be Here Within 7-10 days (4/27/2011)
Im asking For $500 OBO.
Mainly Looking For Trades
Looking For a DP Fusion FX
I WILL NOT SHIP FIRST
Pictures: (Note: Some of the pictures the guns a little dirty on the outside. I just took it out last week and been to busy to clean exterior. Interior has been oiled and cleaned.)
More X7 Phenom Pictures!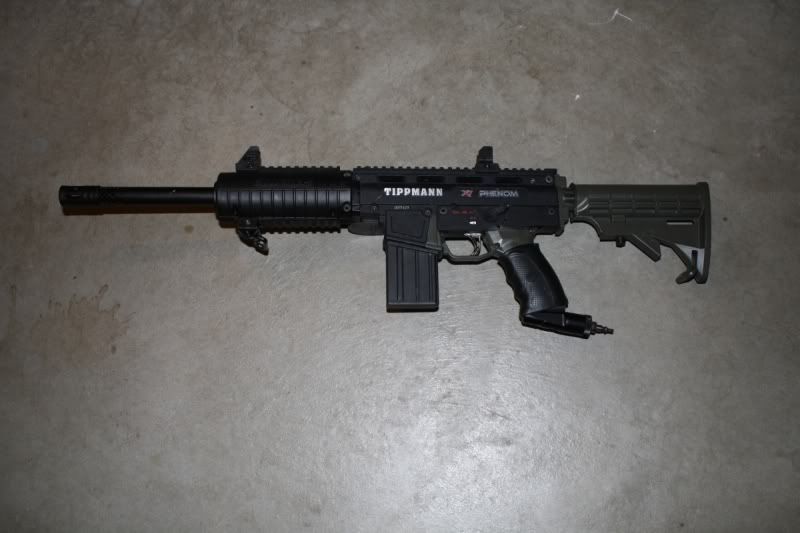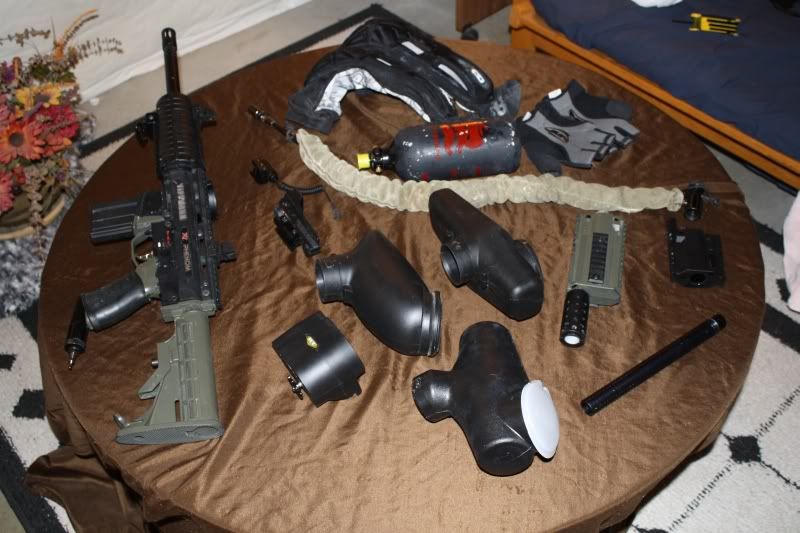 Comes with:
-X7 Phenom Marker with Electronic Trigger
-X7 Flatline Barrel / and Shroud (Shroud Spray painted Olive Drab)
-14in. Lapco Big Shot Assault Barrel .690 (Small scratch in anodizing. Shoots Great!)
-10in. Stock X7 Barrel
-Rufus Dog Gripper skin (Black Rubber Grip on the handle)
-Stock X7 Phenom Hopper
-Alan Paintball T200, Offset hopper Holds 200 Rounds.
-BT Rip Clip and Hopper (Hopper has Vortex Speed Feed Installed. To Install You Must Have the Flasc Adaptor. Its on backorder. To install you have to remove the "meat hook" were the cyclone feed is. This means you cannot Use the cyclone feed unless you buy a whole new right receiver. NOT INSTALLED due to this.)
-6 Position Car Stock (Painted Olive Drab)
-Red Dot Sight
-Laser Pointer With Pressure Switch
-M16 Style Short Magazine (installed)
-Stock Magazine and trigger guard
-Brand New M16 Front Shroud.
-All Stock Parts comes with it as well
I Also Have A Bunch Of Extras that I can include As well depending on offer. If I can get a DP Fusion I will include Everything! If $500 Cash I will Include all extras. PM for more details!
Let The Offers Begin!
This post has been edited by ApocSin: 28 April 2011 - 05:12 AM