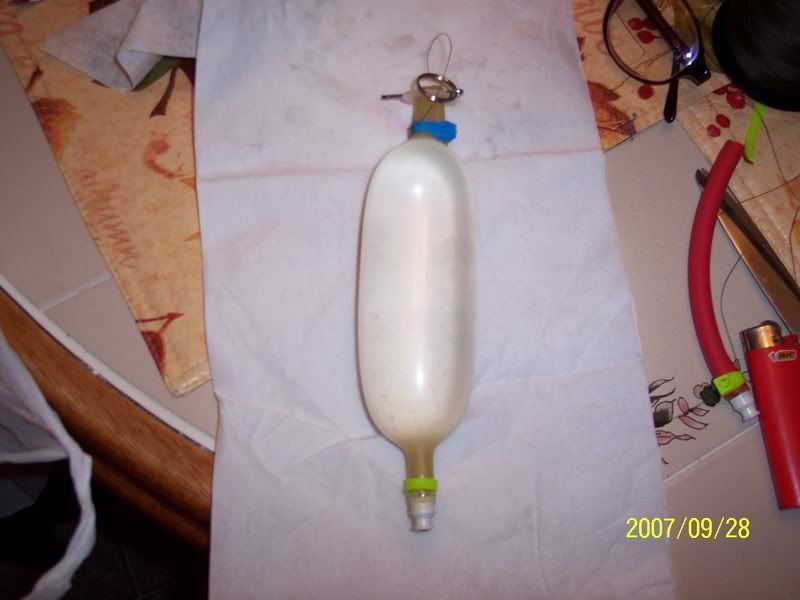 LINK:
http://www.mcarterbrown.com/forums/diy-tec...html#post328429
In this time of elections and tight money, I thought I would reintroduce this it the paintball market. Now for everyone who doesn't know, this is not my idea. Way back when in paintball, a company called KVA existed. They put out a few items such as The Refillable pineapple grenade and refillable playmore mine. Now there have been a few companies who have run with the refillable mine idea. So here is a link for all to see. If you become a millionare with this idea, please remember me lol. These are basically design for small fields and where there are honest players who will pick these up after they are fragged and return them to you. Not really designed for large or big games, so scenario players that answers your question. These can be filled several times over. Howmany, I'm not sure. Last time I used one at 8oz,I got about 50 fills. The picture does not reflect the final product. For field owners and private fields, these are great rentals
Rental grenades you ask, yes exactly what I said RENTAL:
All day fills plus rental $5.00
Let the customer do the filling.
Easy and cheap:
1/2 cup washable tempera paint
5 cups water
blend
solution is ready. Fill the rest of gallon with water. Your like at $2.50 to make fill, first rental pays for it all the rest is profit.
Later,
Blackrain:)
This post has been edited by blackrain: 27 February 2008 - 10:00 AM