The Glen Morris Mercenaries are pleased to announce our mission to target media and get a message out to the local community has once again met with success. The latest is a full page article appearing in today's Paris Star Newspaper in regards to the team, some of our accomplishments and a message about safety and responsible use of paintball markers in public.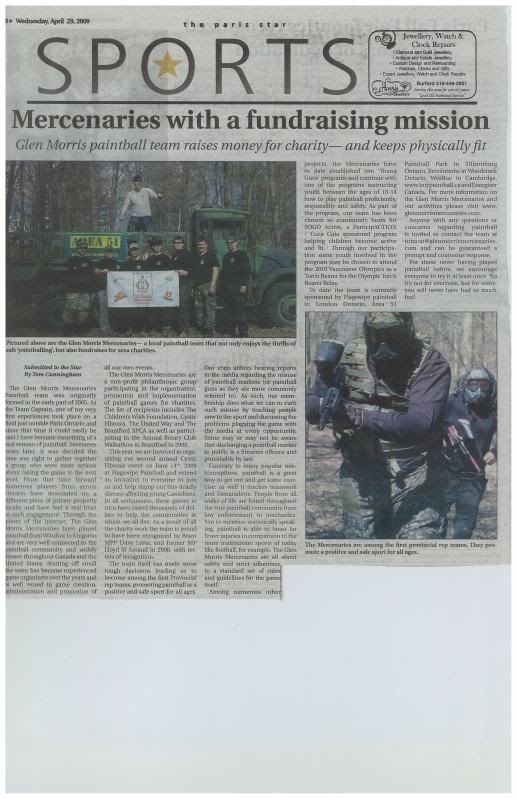 On yet another awesome note, I have been advised by the editor of the Paris Star that the article in its entirety is to appear in the Cambridge Pennysaver tomorrow, Thursday April 30th, 2009
For those unable to read the fine print of the article such as it is, the article reads as follows
The Glen Morris Mercenaries Paintball Team

The Glen Morris Mercenaries Paintball team was originally formed in the early part of 2005. As the Team Captain, one of my very first experiences took place on a field just outside Paris Ontario and since that time it could easily be said I have become something of a real veteran of paintball. 17 years later it was decided the time was right to gather together a group who were more serious about taking the game to the next level. From that time forward numerous players from across Ontario have descended on a different piece of private property locally and have had a real blast at each engagement.
Through the power of the internet, The Glen Morris Mercenaries have played paintball from Windsor to Kingston and are very well connected to the paintball community and widely known throughout Canada and the United States. Starting off small the team have become experienced game organizers over the years and are well versed in game creation, administration and promoting all of our own events
The Glen Morris Mercenaries are a non profit philanthropic group participating in the organization, promotion and implementation of paintball games for such charities as The Children's Wish Foundation, Cystic Fibrosis, The United Way and The Brantford SPCA as well as participating in the Annual Rotary Club Walkathon in Brantford in 2008. This year, we are involved in organizing our second annual Cystic Fibrosis event on June 14th, 2009 at Flagswipe Paintball and extend an invitation to everyone to join us and help stamp out this deadly disease affecting young Canadians. In all seriousness, these games in turn have raised thousands of dollars to help the communities in which we all live. As a result of all the charity work the team is proud to have been recognized by Mr. Dave Levac's office, MPP for Brant riding and Mr. Lloyd St Amand's office, 2008 Liberal MP in Brant riding in 2008 with letters of recognition.
What is cystic fibrosis?

Cystic fibrosis (CF) is the most common, fatal genetic disease affecting young Canadians. CF is a multi-organ disease affecting primarily the lungs and the digestive system. In the lungs, CF causes severe breathing problems. A build-up of thick mucus makes it difficult to clear bacteria and leads to cycles of infection and inflammation, which damage the delicate lung tissues. They must follow a demanding daily routine of physical therapy to keep the lungs free of congestion and infection.

In the digestive tract, CF makes it extremely difficult to digest and absorb adequate nutrients from food. Thick mucus blocks the ducts of the pancreas, preventing enzymes from reaching the intestines to digest food. Therefore, persons with CF must consume a large number of artificial enzymes (on average 20 pills a day) with every meal and snack, to help them absorb adequate nutrition from their food.


The team itself has made some tough decisions leading us to become among the first Provincial Rep teams, promoting paintball as a positive and safe sport for all ages. Our team abhors hearing reports in the media regarding the misuse of paintball markers (or paintball guns as they are more commonly referred to). As such our membership do what we can to curb such misuse by teaching people new to the sport and discussing the problems plaguing the game with the media at every opportunity. Some may or may not be aware that discharging a paintball marker in public is a fire arms offence and punishable by law. Contrary to many popular misconceptions, paintball is a great way to get out and get some exercise; as well it teaches teamwork and camaraderie. People from all walks of life are found throughout the true paintball community from law enforcement to mechanics. Not to mention statistically speaking paintball is able to boast far fewer injuries in comparison to the more mainstream sports of today like football for example. The Glen Morris Mercenaries are all about safety and strict adherence to a standard set of rules and guidelines for the game itself.
Among numerous other projects the Mercenaries have to date established two Young Guns programs and continue with one of the programs instructing youth between the ages of 10-14 how to play paintball proficiently, responsibly and safely. As part of the program, our team has been chosen as community hosts for SOGO Active, a ParticipACTION / Coca Cola sponsored program helping children become active and fit. Through our participation some youth involved in the program may be chosen to attend the 2010 Vancouver Olympics as a Torch Bearer for the Olympic Torch Bearer Relay.
To date the team is currently sponsored by Flagswipe paintball in London Ontario, Area 51 Paintball Park in Tillsonburg Ontario, Revolutions in Woodstock Ontario, WinRoc in Cambridge, www.buypaintball.ca and Energizer Canada. For more information on the Glen Morris Mercenaries and our activities please visit www.glenmorrismercenaries.com .
Anyone with any questions or concerns regarding paintball is invited to contact the team at tomcat@glenmorrismercenaries.com and can be guaranteed a prompt and courteous response.
For those never having played paintball before, we encourage everyone to try it at least once. No it's not for everyone, but for some, you will never have had so much fun!

By Tom "Tomcat" Cunningham
Once again I implore all of you in the paintball community to target your local media and establish ties and use these vehicles as a means of promoting paintball and deterring others from misusing markers.