First off, I LOVE the original Apex, it is on both my Tippmann A-5 and 98 Custom, and even when playing in below freezing temps, where paint breakage is an issue… I will still risk the occasional broken ball so that I can use my Apex. If you haven't used an Apex barrel system before, then don't even bother reading all of this, just go to
http://www.empirepai...ested-apex2-14/
and order one. (If you don't know what type you need… then read my review) The Apex system will change the way you play paintball, and also change your tactics, as the disadvantage of facing a foe with an Apex 1 or 2 is HUGE…
Here is some video of me playing woodsball with my original Apex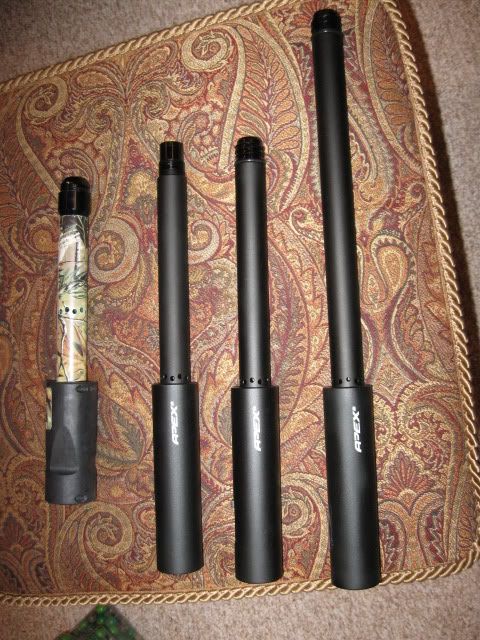 I like my paintball gun short, which was one of the things I really liked about the original Apex barrel; it gave you the accuracy of a longer barrel, without the added length. This new Apex 2 barrel is available in 2 sizes. The smaller size 14 inches (once installed on my A-5 with the quick connect adapter) is 13 ¼ long. The original Apex was only 10 inches long. (Measuring from where it protrudes from the receiver body to the end of the tip) It is longer if you figure the threads…
A-5 with apex on top, A-5 with Apex 2 14 inch middle, and Apex 2 18 inch (98 custom threads) on bottom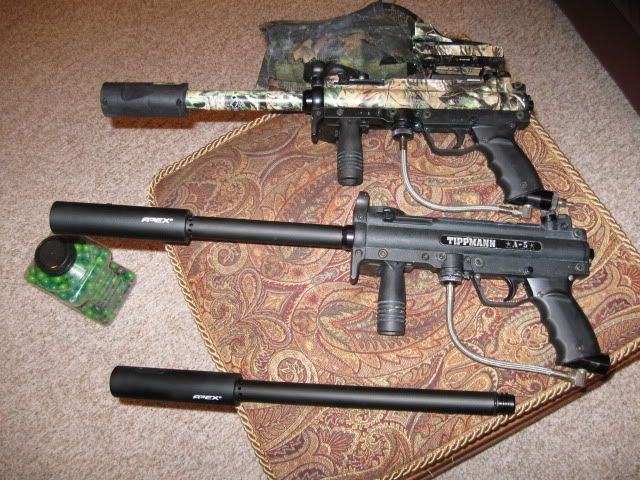 Or you can go with the 18 inch Apex 2, which installed is a little over 17 inches long.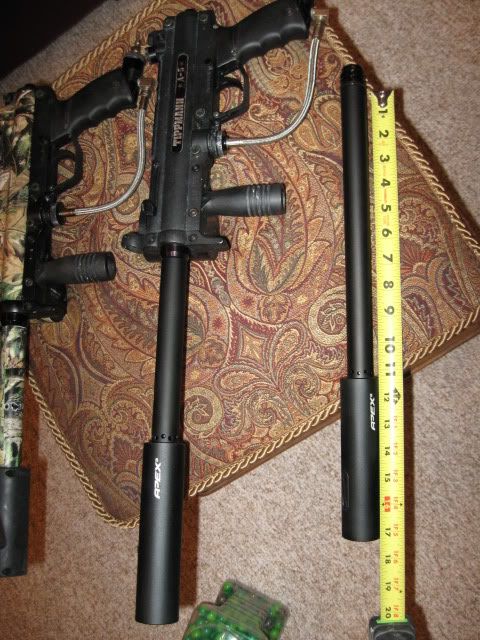 The original Apex had 9 levels of Adjustment, and the new Apex 2 also has 9 levels of adjustment.
First off, the fit and finish of the new Apex 2 is much better than the feel of the old style Apex. The tip is longer, smoother (aluminum) and much smaller, and actually has the look of a silencer. Which is a cool look in my opinion, and based on the cost of some barrel systems, the price can't be beat for the Apex 2.
Taking the original Apex apart consisted of removing 4 screws with a Phillips screwdriver. The new one boasts "tool free" removal, which is true, but I don't see myself needing to remove the tip on the field… Never had to with my old Apex tip, worse case I would just use the quick disconnect on my A-5 and remove the entire barrel and whip a squeegee through it, removing the paint residues.
To remove the tip, you adjust the apex all the way ramped (move the adjuster forward 9 clicks), then push down on the adjuster area, which now acts as a button, and pull off the aluminum tip cover.
Inside you will find 4 o-rings (bet it will work fine with just 2 if you loose or break one) 2 o-rings on the front, and two on the back. I stuck my finger in the tip and pushed it apart and grabbed the front o-rings, to remove them. Then open it up halfway and slide it off the barrel. Then you can remove the back o-rings.
At the top of this picture is the original Apex disassembled, and below is the Apex 2 disassembled.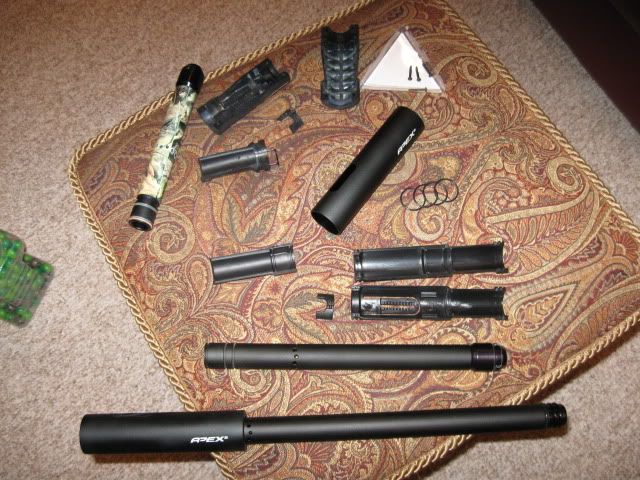 So as you can see they have made some changes, most noticeable is that the rubber tip goes further under the barrel, which I would assume makes the ramp more stable when adjusted all the way up or fully ramped. The biggest engineering change is the ramp adjuster which now is attached at the tip and acts as a button. So when you adjust the tip, it does move. Which if you are adjusting while firing would change the ramp amount dramatically I would guess, and I can't wait to see if that is true… (I will update this thread once I shoot a video test)
I read that someone said they were getting a lot longer distance with the Apex 2 than their Apex 1 so the first thing I did when I got it apart was to compare the amount of ramp that level 9 achieves on each. And I took pictures so you could see the difference as well.
So the Apex 2 does have quite a bit more ramp!... Meaning even longer distance targets are now within your reach. I have already proved that you can hit guys over 350 feet away with an Apex, I can't wait to play with the Apex 2.
The "threads" on the Apex 2 tip are different than the original, But, they are close enough that they should work once you remove the o-rings. The first indentation into the barrel is smaller than the previous Apex tip, but I took my original Apex 1 barrel, and put the Apex 2 tip on it and it fits fine.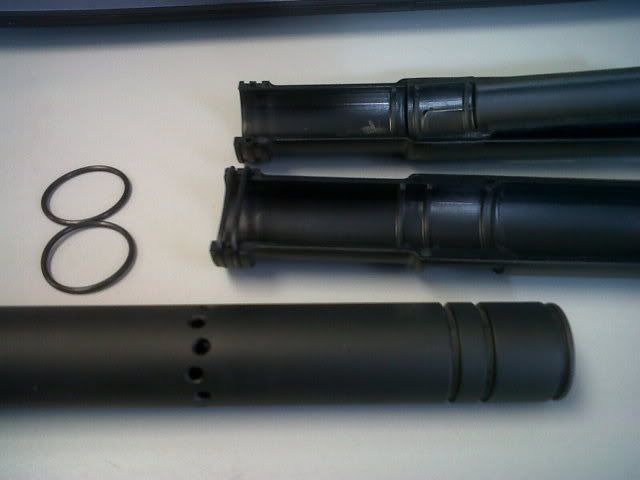 Now, let's talk about other paintball guns. I'm primarily a Tippmann guy, because I play in very cold temps. So here are some of the other Tippmann markers with the Apex 2 tip installed.
First off a Tippmann 98 Custom top marker has the 14 inch barrel, and bottom marker has the 18 inch barrel. The stock barrel and original Apex are in the middle for comparison.
And I can't forget the newbies that want to get into paintball and their mom picked them up an Alpha Black for Christmas. You want the 18 inch with 98 custom threads for your marker. If you buy the shorter 14 inch you will have to remove your barrel shroud for it to fit.
18 inch Apex 2 on an Alpha Black Tactical
14 inch Apex 2 on an Alpha Black Tactical with barrel shroud removed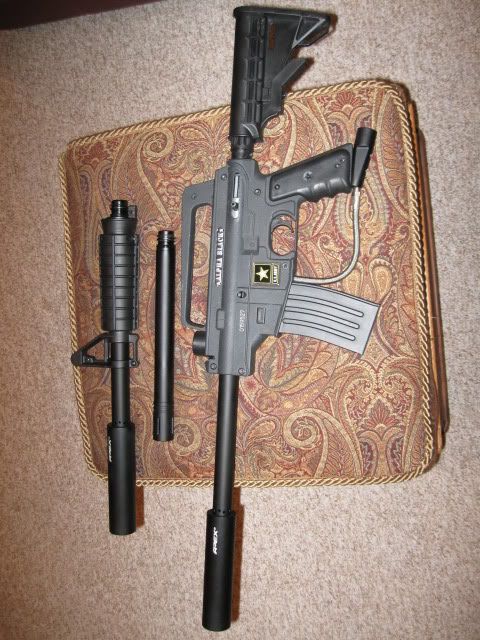 And a group shot for fun.
If you are new to paintball head on over to empire's web site because they have a voucher for a free day at your local paintball field!
http://www.empirepai...ee-rookie-pass/
I am going to do a test soon showing the differences between a stock barrel, and an Apex 1 and Apex 2 as well as a longer barrel. And I will update the thread when it is completed, or you can subscribe to my video's and you will see it as soon as I upload it to youtube.
Typically the first upgrade people make to a paintball gun is the barrel. I shoot real guns a lot, so I compare my paintball guns to real guns. And my biggest complaint about every barrel I tried was that they all 'arched' when you fired. Making scopes worthless… Because the way you aim to hit a target at 50 feet is totally different than the way you aim at 100 feet, and on and on.
The Apex changes that. With my original Apex barrel system, I set my ramp at the halfway point which gives a long flat shot up to about 70 feet. I even sighted in my core red dot scope and was able to hit within 4 inches over and over at 70 feet! Now it still has some curve but nothing like a traditional barrel.
The reason why is it creates backspin, just like you do when you hit a ping pong ball with a paddle while moving the paddle up while hitting it. The ball hits the tip of the barrel and starts spinning, that spin creates lift, and instead of flying in an arch, it hovers. Pretty cool to watch, and will really change your game. Even on a speed ball course.
You know how when you are playing and you see a paintball coming at you from far away. If it is a regular barrel, most of the time it will drop before it gets to you… But, with an Apex it just keeps coming, and I can't tell you how many times, I have been eliminated because it went an obscene distance for a paintball to travel and then busted on me.
More when I have time.
This post has been edited by Fear the Reaper: 13 January 2011 - 11:31 AM