If you buy this gun between June 2nd June 5th I'll throw the extra stiffi barrel in for free!
I have a Dangerous Power G3 Spec R in practically mint condition (less than 1800 shots through it) that I'm willing to let go for $250 firm (I'll pay for standard shipping). Its black with a mil-spec green splatter that only really shows in the sun. This gun shoots flawlessly, is ultra sleek, uber light and will keep up with any top dollar gun!
I have lots of pics in the gallery
Here (My gallery)
I'll throw some pics at the bottom of this post as well. I have an additional MF Stiffi all Carbon fiber (yes even the threads) barrel I'll throw in for an extra $25. (I will sell the barrel by itself for $55)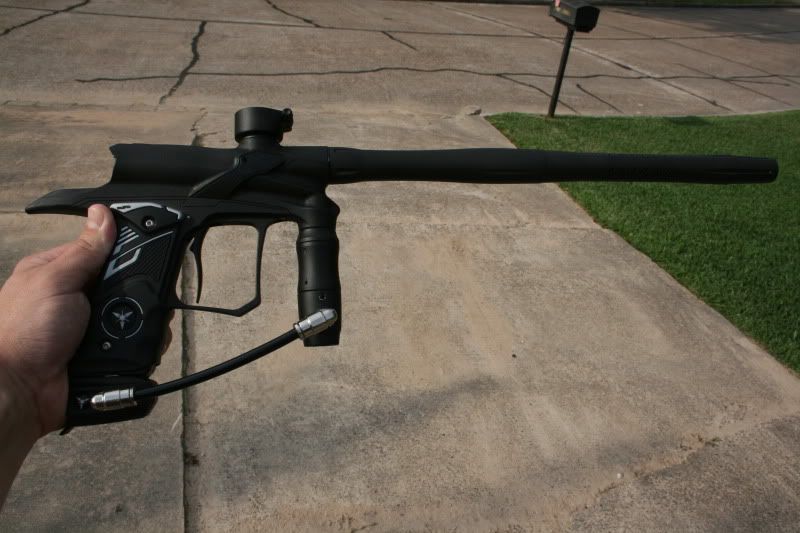 This gun is sick, I have never chopped paint with the eyes on. Put it on 30 bps with eyes off and youll chop a few
. I had only put 1500 shots through it until this past weekend, I put another 300 through it just playing with the firing modes again. Absolutley no leaks or no problems. While cleaning/greasing the reg I did scratch the inside near the threads a tiny bit, but it is not visible unless you unscrew the reg. This does not effect performance in any way and is only remotely cosmetic. I've included a photo of the scratch, I took it with my old arse phone, sorry.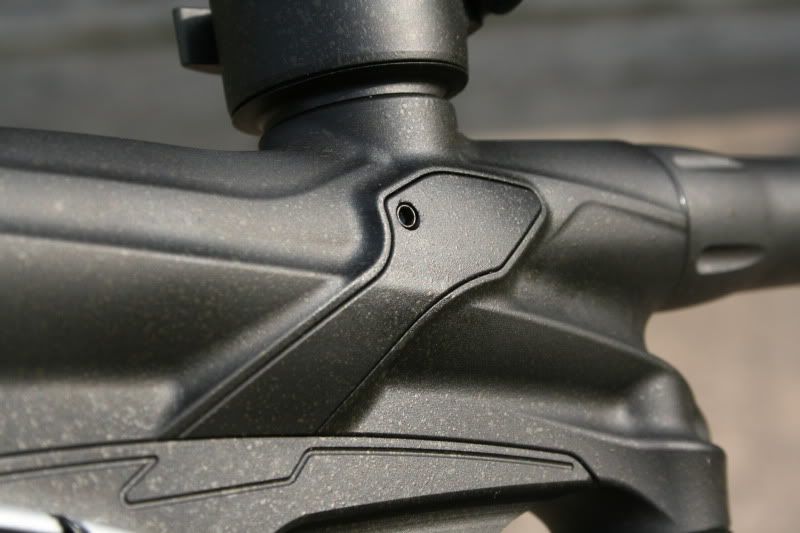 here's the slight scratch on the inside of the reg:
here's that barrel .689 bore:
The owner history:
I traded Voo_Doo_Coatings for this gun at the beginning of 2010 (he purchased it new at the end of 2009 for his son, but his son didn't like it). Before shipping it to me, I had him put one of their awesome Ion Coatings on it. The DP G3 Specr R was blue, but now its matte black with a very subtle milspec green splatter on it. He sent me the gun practically new, no nicks or dings,the bolt was brand new and didnt have a scratch or any wear at all on it! The Spec R is stock and comes with a matching 2 piece barrel.
If you have a trade for me to consider:
My gun is near mint so I expect the trade to me in equal or better condition. I have spent many years on this forum and I have traded many guns. I don't have a feedback thread on here but people can attest to my level of communication and quality paintball guns. What I'm looking for is rather specific so if it's not an Epic it better be interesting or unique.
Conditions:
I will not ship first due to being ripped off twice in the past. If you are serious about trading/selling/buying with me I will provide my cell # so we can work out all the details. I do not ship outside the US. I tried it once and it was a pain, sorry guys.
I prefer paypal, but I'll also take a money order if you're not tech savy. No personal checks.
Please post first then PM.