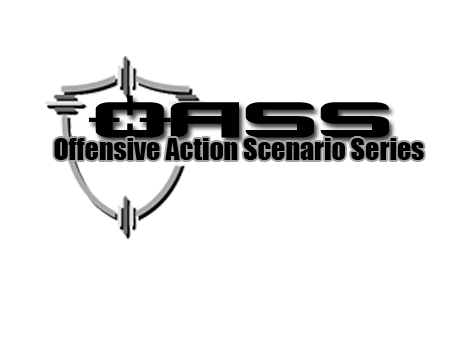 2009 Series Changes and Expansion
The OASS is going strong for it's 2nd year, and with it comes exciting changes!
December 2008 - Kingston, ON. The OASS (Offensive Action Scenario Series) the premiere 10 man paintball series in Ontario is headed into its 2nd year, and with the input of players from the inaugural year many changes are being brought about.
First and foremost, the rule book is being reviewed and will be made clearer with the input of team captains and from the Ultimate Referee for the series. The rule book will be made available online once it's completed (which will be prior to the start of the series).
In 2009 the OASS will be run only at fields within Ontario (possibly the US and Quebec as well, this is still in the planning stages). This will allow us to continue to play at a higher FPS and will also allow the OASS to run alongside the UFO series currently being designed and setup by Ground Zero Paintball. The OASS will also be now limited to eight 10 man teams for the 2009 series, more info will be made available shortly via the OASS website.
For 2009, the OASS will have a dedicated referee staff and commissioners. Blackthorn Paintball will not be playing in the 2009 series but will be providing complete logistical support to the series by way of Head Referee, Referees, time keepers, score keepers and Mitch Sabourin and Matsau MacDonald have been asked to take over as commissioners of the series. When asked what his vision of the series is going to be in the New Year, Mitch Sabourin stated "With dedicated personnel and a little more organization, the OASS will continue to grow. We've developed new ideas and a new rule book for 2009 and I think as long as we continue to listen to the players and implement some of the ideas brought to us by the players, the series will continue to flourish and will remain the premiere 10 man paintball series."
New this year, and possibly the most exciting news about the future of the OASS is the development of the Urban Combat League (UCL) which is being developed as a feeder league for the OASS. The UCL is a 6 man, semi-only scenario series that requires team work and the heart to push your limits. The UCL will be held on a different day then the OASS making every event a full 2 day event! More news about the UCL will be announced on the OASS/UCL website shortly.
We would like to also take this opportunity to thank all the players, teams and sponsors that supported the OASS in 2008, hopefully your continued support will be available in 2009 and together we can make this a series to remember!
More information about the OASS is available on the OASS website at www.OASS.ca
More information about Ground Zero Paintball is available at www.gzpaintball.ca
More information about the UFO series is available at www.theUFO.ca