We haven't seen to many inquiries about cleaning a scenario vest on here lately, but we really only have one thread that goes over the basics of cleaning a vest, specifically a Cops911/SpecOps vest. Now these methods can be used on other vests just the same, however I only have one type of vest to use as the demonstration piece.
Now most of the time scenario players are some of the dirtiest and most rugged players in paintball (with the exception of those downpour/muddy turf speedball tournements). When they come home from a weekend, or even a simple 8-hour scenario day their gear is in dire need of a bath, not only to clean up that paint, but let's admit it, we can stink too
.
So, what is the best way to clean that vest, and get rid of the smell? Just pick up some gentle dish-washing/handsoap, in whatever scent you desire, and a medium/soft bristled scrub brush and follow along;
(1) Now my vest hasn't seen much, if any "abuse" since its fairly new still. However your vest may look a
ton
dirtier than mine does currently (Next time I am out I will roll in some dirt more and get it really dirty for you guys
)
Look over your vest for spots that may need to be scrubbed a bit and remember those areas, and yes, that is a Butterfly on my bathroom wall lol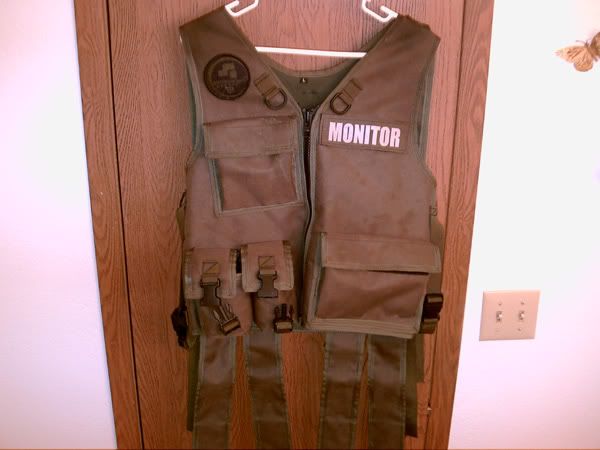 (2) The best thing to do after you have looked over the vest and emptied the pockets is to soake the vest down a bit. This will help loosen up the dried on paint and dirt, making your scrubbing (if needed) that much easier.
Make sure you open up the vest and soak it all completely (I do mine in the shower/tub since I live in an Apartment, a hose would work just the same).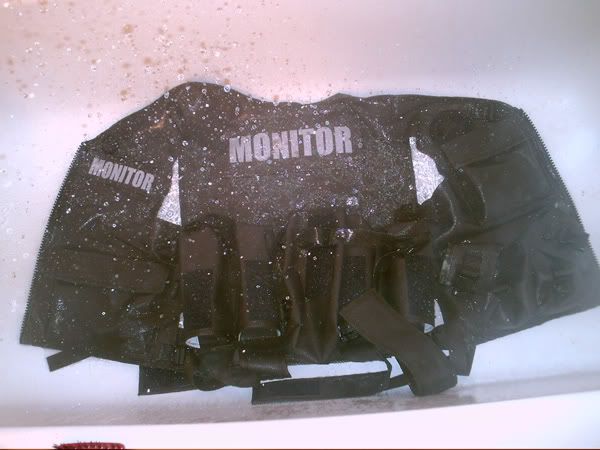 (3) Now that you have let the vest soak up some water, and you have your "trouble" areas found, it is time to apply that soap. Simple add soap to directly to the dirtier areas and rub it in with your fingers.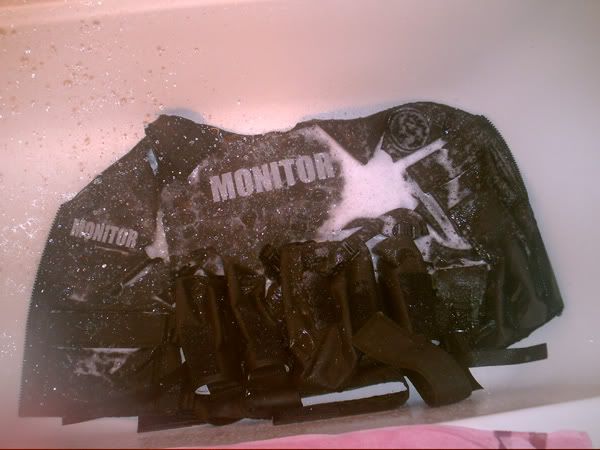 (4) Now on my vest at this time I had a lot of paint around my radio pouch, so in areas such as this where you have a lot of paint/dirt, focus on it with the scrub brush if needed. You will not need to scrub hard at all, the brush is simply there to help get the paint/dirt off the material easier.
If you need to, you can add more soap to the area where you are scrubbing as well. Most of the time the scrubbing gets the paint/dirt off fairly easy.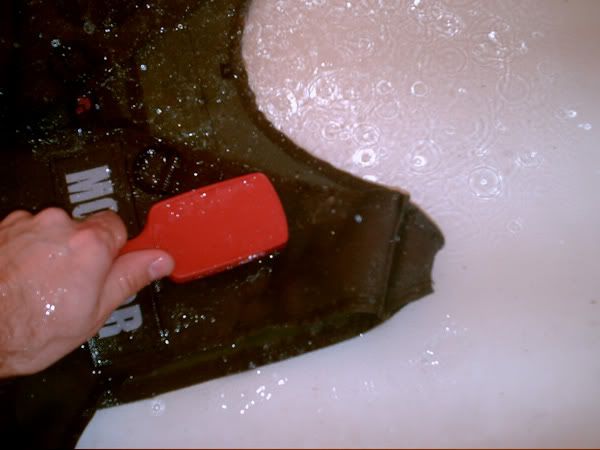 (5) After you have cleaned off all of your trouble spots its time to rinse the vest off and then hang it to dry. Now whatever method you use, just try to hang the vest in anyway possible. I simply strap mine to a plastic trash can and set it upright in the tub overnight. Make sure you leave your pockets, and pod flaps open so the water can evaporate quicker. (HINT- For your pockets, stuffing them with Newspaper with help dry them quicker as well).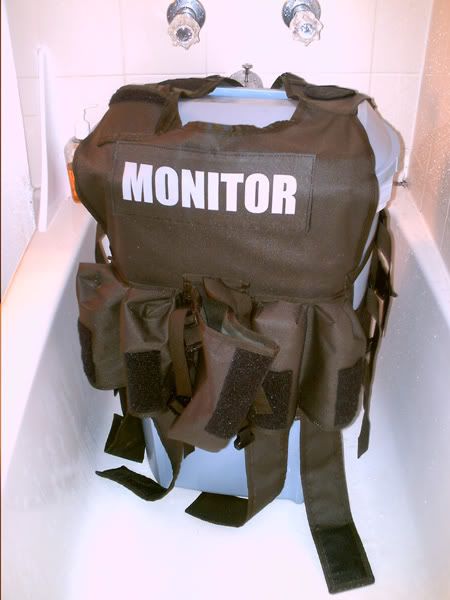 Now as I stated above you can use this method on virtually any vest. The key objective with this thread is to help new vest owners maintain a clean vest as best as possible. I will add to this over time as I find more vest care items to put with this...
This post has been edited by MONITOR: 07 August 2006 - 04:34 PM