if any of you remember, i posted a month ago asking if anyone has tried this paint. well, since we are having a big game at my house, my mom decided to buy me and my brother a case each [she actually bought the 8000 paintball package but other people reimbursed her]. for the 8000 paintballs, it cost my mom $105 with 3-day shipping. i was amazed at the price of this paint and i couldn't believe it.
so today i got home from school and notice that there is a orderpaintball.com sticker on the table. then to my surprise, a tall box stood in front of me with the words orderpaintball.com on it. i quickly opened it up to see the paint. i didn't know what to expect. i grabbed a bag and noticed that there was paint in it. here's a pic of the bag:
i took that bag and went outside with my paintball gun. i decided to take a few and throw them against some concrete to see if they would break easily. i was surprised when they broke everytime i through them to the ground. also, to my surprise, the fill was bright yellow. apparently what i thought was paint in the bag must be oil or something. the paint was round and the seem was hardly noticable [maybe its the color]. here's a pic of the fill: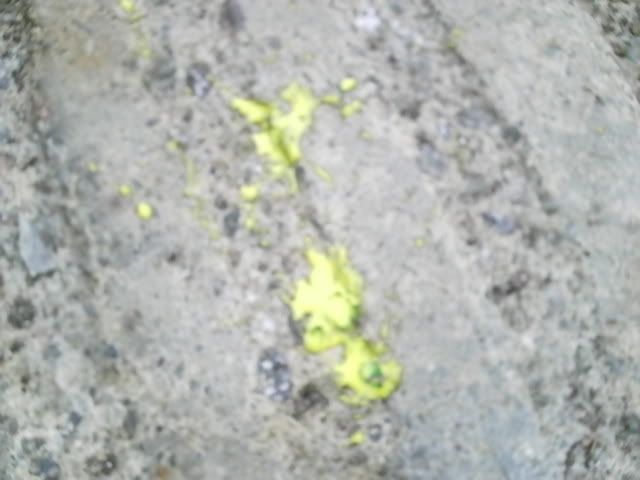 i put the co2 on my marker and the tank oring burst. i grabbed another oring, put the co2 on my gun and then loaded my hopper with paintballs. i shot maybe 5 rounds and then ran out of co2. now i have to wait till the big game on monday to actually shoot them at the right fps. they did break though, even at such a low fps [they went about 30 feet until they dropped].
i just checked if it fit the more of my barrel [J&J ceramic, .689 bore i think] and most of them fit. the ones that didn't fit were too small which i guess is better than too big. i tried maybe 5 and only one rolled out of the barrel. i blew the other 4 out the end to make sure they weren't too big. i'm glad they fit my barrel
i can;t give you an opinion on how accurate these are because i haven't shot them at 300 fps yet. sunday, i will get my hpa tank filled [i hope, otherwise i'll have to use co2 on monday].
overall they are very close to xo industries spectrum paint [which i have a bag of now] except maybe a little less quality. but for the price of $25 for a case including shipping it's an awesome deal.
7.5/10 overall performance.
10/10 performance for price.