Hey,
I've got a great deal for you here, I am selling
Planet Eclipse Olive/Black Nexus Ego
!
Pictures: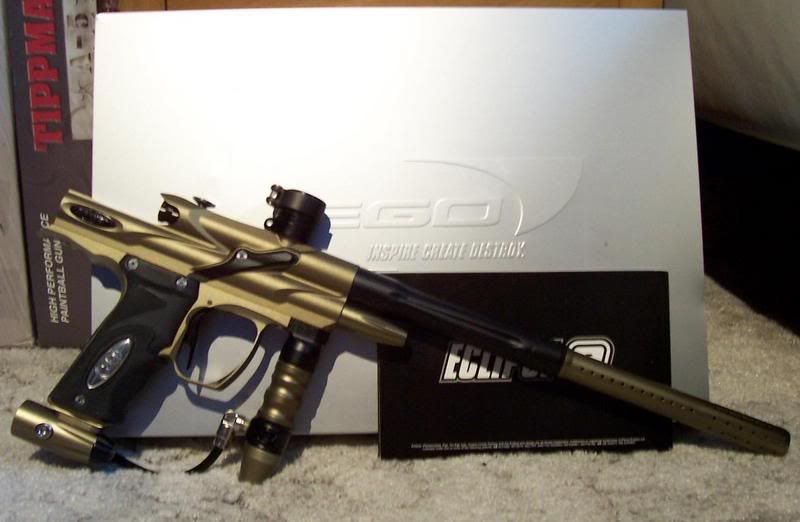 Description:
Custom Team Nexus Eclipse Ego

Full 3-D Body Contoured Machining to Reduce Weight and Add Style

Symmetrical Machining produces smooth lines and a wipe-clean surface. But still the lightest Ego yet!

Inset Metal Nexus Logo Badge

Open Bolt Electropneumatic Marker

Break Beam Low Profile Breech Sensor

STAR Grip Frame incorporating Integrated Snatch Grip and Integrated Clamping ASA Mounting Rail, Spring or Magnetic Return Trigger Action, Larger Guard and STAR Trigger

STAR Trigger with 4-Point Adjustment

D.A.R.T. "High-Flow" Bolt with Ramped Inlet Port and Bell-Mouthed Tapered Outlet Face. Highest Flowing Ego Bolt To Date, In The Smallest Package Around.

Cool-Blue LCD User Interface

TT Filter Debounce Software, as first seen on the infamous E2

3 New Ramped Fire Modes To comply with PSP, Millennium and CFOA Rules

Uncapped Semi to Comply with NPPL

Nexus Logo Start-Up Screen

Integrated Adjustable LPR W/ Dedicated HP Inlet

FRM With Specific LPR Supply Port

Eclipse Swivel Inline Regulator. High Flow, High Accuracy, Consistent Output, Longer Grip and Adjustable Hose Input.

"Rammer" One-Piece Hammer/Ram Mechanism. Highly Durable Stainless Construction. Strips In Seconds.

Integrated QEVs For The Fastest Possible Cycle Times

Sub Miniature Solenoid And Integrated Minifold

Body-Integrated Feed Stub. Beat It With A Lump Hammer, It Ain't Coming Off!

Deftek Feed System. Offset Feed Tube For "No-Bounce" Ball Feed

Clamping Low-Rise Feed Tube

Low Pressure, High Flow Supercharger Valve System

Brass Bushed Valve Guide. No Valve Pin Wear, No Friction.

Custom Scalloped Nexus Pop-N-Slide Bolt Pin. Super Large Pin/Hammer Contact Area For Minimal Wear. Larger head for easier grip.

Cocker Barrel Thread

Shaft 2-Piece Barrel

Eclipse On/Off/Purge System And Hose.

Dual Rubber Finger Detents

Ego DuoTech Grips

User Friendly

Tech Friendly
Price:
$750.00 USD Shipped
*PM or Post for more Info or to Buy!
**No Trades!
Thanks,
-Commander-
This post has been edited by -Commander-: 18 July 2007 - 10:45 AM