This can be done (theoretically) with any gun, but the ion is the easiest to work with/customize. Plus it will be cheaper with ion guts.
I took this design from a modder called BHredneck on another forum. it was a great start but there were a couple of flaws, here i want to augment the design and propose a more efficient one to spec ops: I propose making a shell that situates the guts of an ION in the rear of the gun inside the stock and using longbow mags inside the body as well. The casing would lock closed on top to conceal the tube yet make it easily interchangeable. Being a Bull pup design, the grip would need to be relocated forward. The A-5 E-grip frame cradles it's micro switch without the support of it being mounted onto the board, this means that the switch on the ion could be removed and easily re-routed with wires to the A-5 grip. This grip would also be the easiest to connect etc..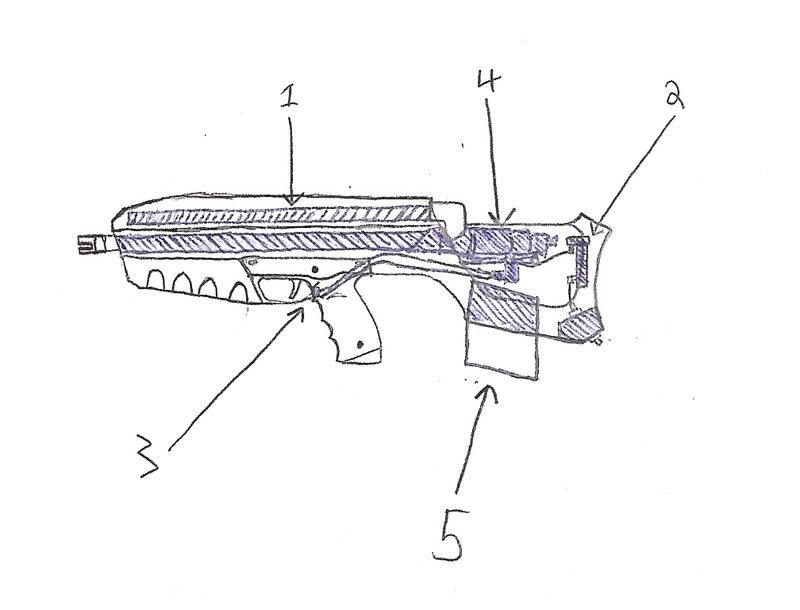 Here is my design as of now, it's pretty rough but the dimensions are fairly accurate and it gets the idea across. Everything in blue is contained within the gun, but the magazine extends out of the bottom even though it's all blue
1- Longbow mag
2- Internal regulator and adapter
3- Relocated micro switch
4- Ion guts and barrel
5- Mock-mag
- The micro switch will need to be inverted as it will be sitting within the A-5 trigger frame which only allows for such. It is a very small task to invert the switch, one only needs to switch the placement of the re-routing wires on the board.
- The magazine is a necessary addition to the look of the gun but quite impractical in function (as it was originally planned for), so i thought that it would be great to make it hold tools just like the X-7 mags.
- The whole body would be very inexpensive, very light, and quite durable if it was molded from the same material as the A-5's grip, or possibly even the A5A2 stock.
"Funky Diver" over at Milsimog forums made this one as well as an amazing looking P90. this FN2000 is almost exactly what we're striving to do except for the longbow mag and the A-5 grip.
BHredneck's design
BHredneck's updated design
BHredneck's post on the underground mod shop's forum
LMK what you all think. Constructive criticism is helpful, but please don't spam.
PM ME FOR A SUPPORTER # THAT YOU CAN PUT IN YOUR SIG!
Thanks
Dane
This post has been edited by CERBERUS: 08 September 2007 - 12:49 PM