Update:
14 March 2011:
New freak front is on the way. Nice red one.
13 Mar 2011:
Spoke with Duce. Said that reg has never been apart lol. Said it did drop off evey once in a while :rotfl: No matter, I can't believe what an idiot I was to never notice this. Maybe this was a Mon,Weds or Fri reg. :rotfl:
12 Mar 2011:
For some reason. IONs are just not my gun,but I'm going to make this work,even if I have to destroy this gun :rotfl:
Iam switching over bodies, from Shocktech CSS body to Deadly Wind O Negative Body.
I couldn't get the Shocktech body to quit leaking so decided to go in new direction Also I don't own anything from Deadly Wind. I know it's the body that is the issue,not the gun,because it shoots just fine with the stock body on.
11 Mar 2011
I have ordered new hose from GoG. This gun really needs to get shooting.
This will be a project in progess. I'll add and subtract as this turns into something better.
You will see alot of the same pictures that I have used on the VIBE an SP1 project. They are already taken and they can be recycled into may projects.
I bought this ION from DUCE a while back. I had an ION when they first came out,but never played with it or shot it. Just didn't appeal to me at the time.
So a few moths back,DUCE had a sale. I figured $80 was a good deal. It shot out of the box,but then I started having problems. Talking with people who owned IONs, it sounded to them like the board. "Great" I thought and Smart Parts went under. Oh well eventually I'll find a new stock board on ebay real cheap.
Well I put the ION away and kind of forgot about it till SP resurfaced as GOG:
WWW.GOGPAINTBALL.COM
Excellent now I can buy a refurb board. Well guess what,it wasn't the board,it was the regulator. After using my vibe regulator,I realized the issue. Well now I have a back up board.
The new Board: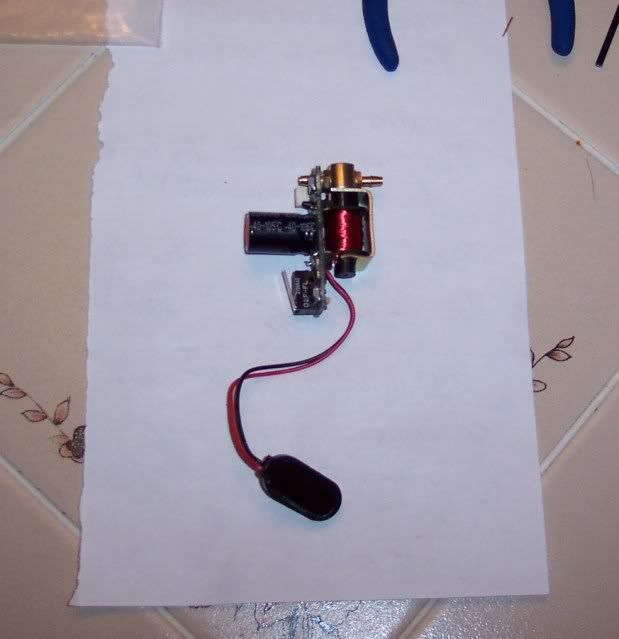 The ION now has a WGP regulator,which works perfect.
However I am not going to rebuild the stock regulator.
HMMMMMMMMMMM wonder why? They are a waste of time and I'm not going to keep fighting FPS fluctuation.
No biggy,now I had a reason to rebuild and use the WGP reg I had laying around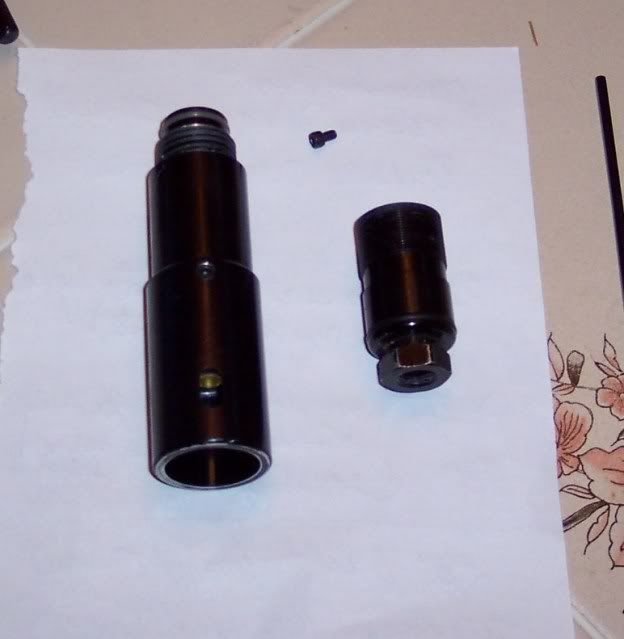 So flash forward to November 2010. I score a raw Shocktech ION body for $35 shipped on ebay.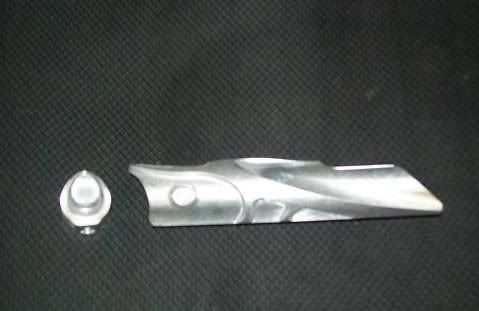 Now I'm in business to get this ION looking the way I want. I have always liked this body style and always wanted one. That was soon to change. I have had nothing but problems with this body. It blows air everywhere.
So I get frustrated and change all the orings and relube the whole gun. Same issue. Now I'm pissed. SO off to the internet and I go to the Deadly win store and pick up a
"Negative Body Shell W/BOB"
This body has some Beautiful lines! At $40 I had to jump on that deal. It's going to be red,which will go perfect with black. Maybe I'll have the whole thing reanodized. I hope they are in stock. Then again look what happened last time I bought a $35.00 body.
Here's a picture from their site. I'll post up more when I get mine.: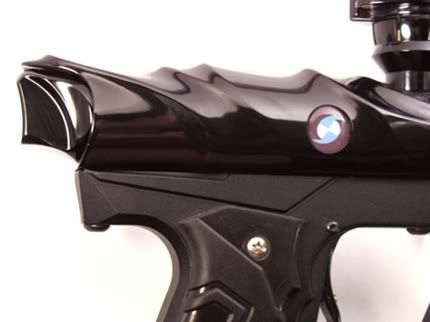 Since this body is a rear bolt removal,the
BOB
cap takes the place of the factory doughnut.I'll post up more pictures once everything arrives.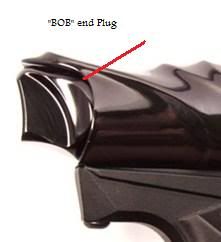 Oring replacements:
Yep Oring Monkey is my sponsor,so no shortage of Monkey Poo and Orings.
***Oringmonkey.com Oring Kits Paintball Marker O Ring Kits***
Detent replacement:
I really like these TechT detents,very simple to install.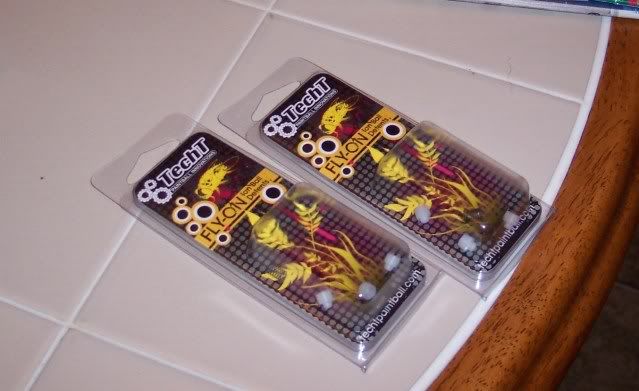 The factory stock ones looked just like this,only worse.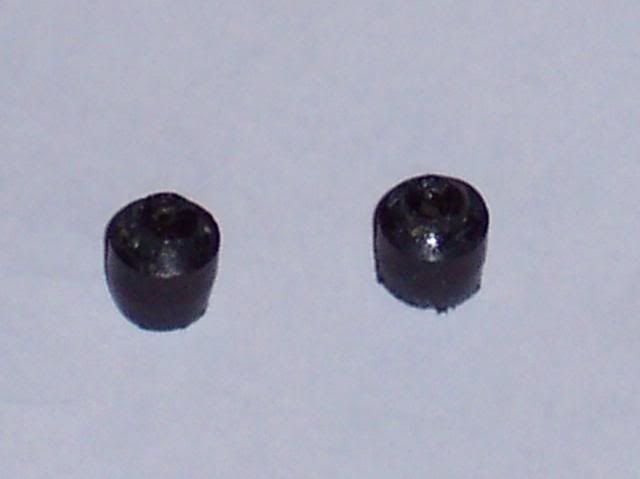 Hose replaced
Freak Back:
This is the official one that will be used on this particular gun. I'm bidding on a red freak front now on ebay. Hopefully I'll win it and I can match the tip with the gun body.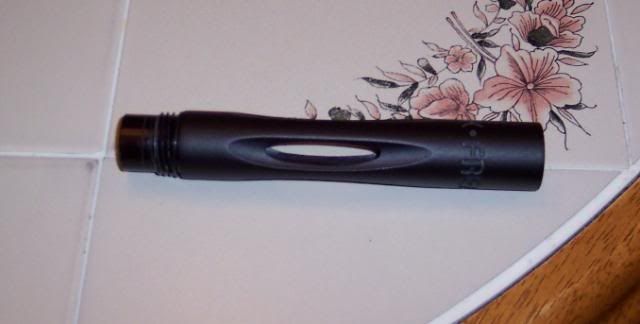 Freak front:
Just won this on Ebay. This will hopefully go very well with the new Deadly wind body.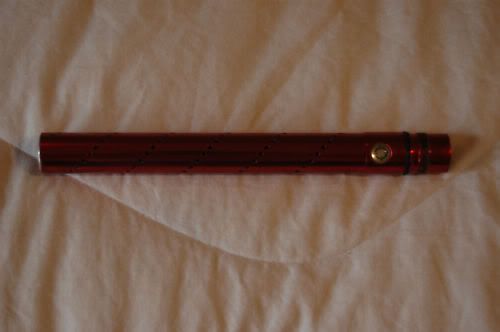 The Frame, the almighty secret metal it contains:
I read about the frame yrs ago and was wondering what the issues were. I heard everything from cheap aluminum to powder coat to cheap pot metal. So off to the ION owners group:
http://www.ionowners.com/index.php
This is what I found. The info I needed and what to use to remove the powder coating:
http://www.ionowners...ead.php?t=20247
I imagine once it's stripped and cleaned up with a good buffing it will work out just fine. Well to be honest,blackrain doesn't believe half the stuff I hear floating around the rumor mill on paintball forums,until I see proof or I do it myself.
So here are the finished pictures. This was a fun project and I enjoyed it so much that I'm building another. Just a parts ION. Hopefully the Shocktech body will be okay and I can build an even nicer one. Rebuilding with out a manual and just asking questions only adds to frustrations,but it makes it more fun.So for now here are the pictures.
Gun completed:
Nothing special,but it works and shoots. I have yet to play with it. Believe it or not the Reds actually match. Only flaw is the scrape at the barrel tip. For the price I paid for the Freak Tip I can't complain.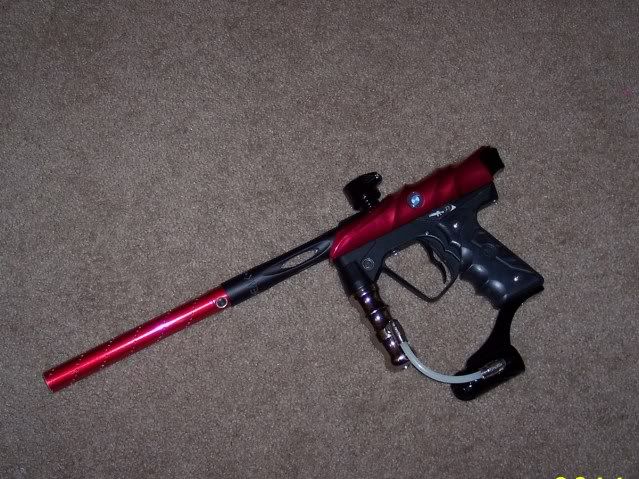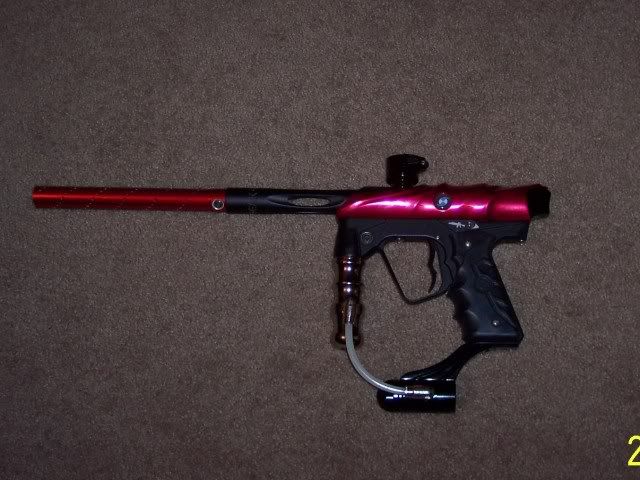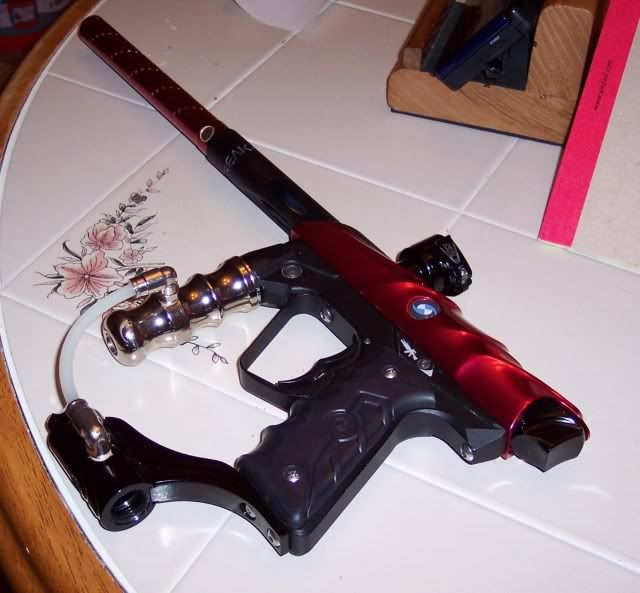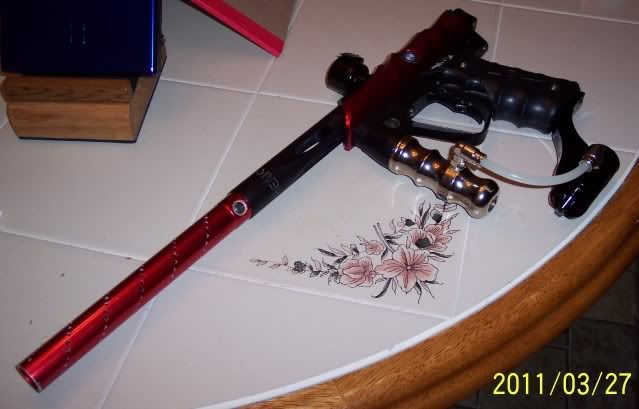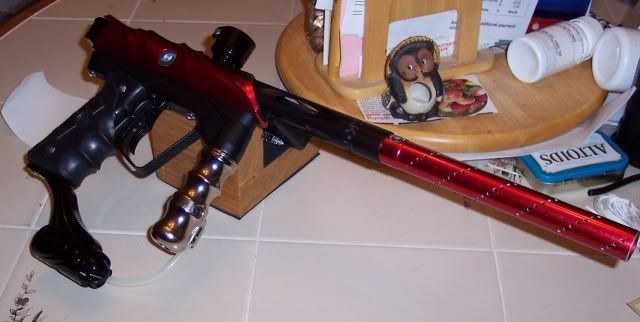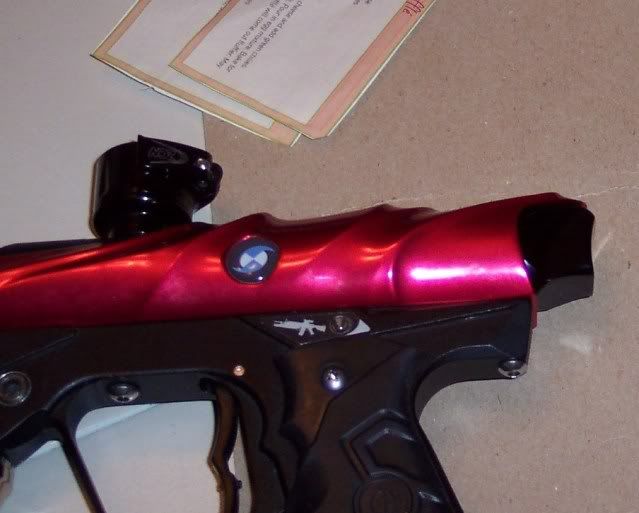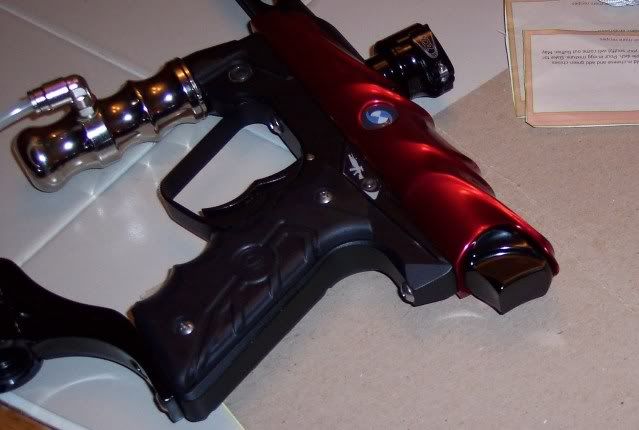 Later,
Blackrain :drool:
This post has been edited by blackrain: 10 April 2011 - 11:19 AM