31 Jan 2011

Here is what happened. I have the wrong version. This version is for the Pinokio Hopper 180 rnd pod. I spoke with Sean (owner of GURU) a little while ago. Great guy. We are in the process of correcting this.

I promised him I would write a retraction to this review so here it is. This is to let everyone know that I donnot have the correct pod carrier. When I get the correct carrier,I will post new pictures and rewrite this review to fit the proper carrier.

Sean said he would stop by and answer a few questions to this review. Best thing,all parts are made in the USA. So stay tune for more. Also I'll be posting some pictures of the carry bag Mom made me. Very simple to do.

Later,
Blackrain:)
Maybe I have an older version or a first run. Looking at this video the pods seem to fit very tight:
http://www.youtube.c...player_embedded
Guru Pod stand: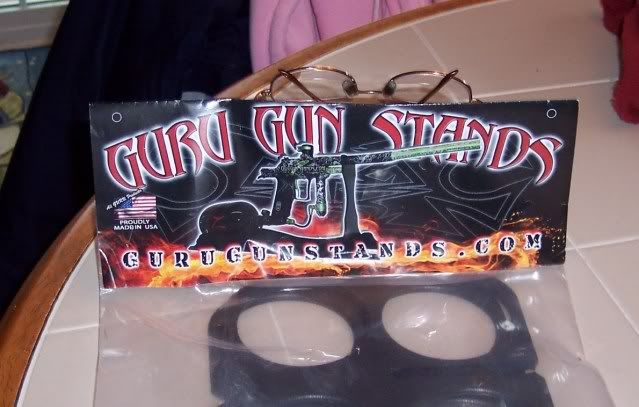 New from my sponsor:
FirstClass Paintball
When I was first told about these I was kind of excited. I bought two of these. What really got me to buy it was the fact that my sponsor said how much it would help my wife out while she was loading pods. Yea that sales pitch hooked me right away. Make things easy for the pit crew,and you'll be ready for refit quicker.
So we discussed my price and two were ordered. I imagine there was a delay in orders, due to the time it took me to get them,but it wasn't long and it was a new item on the market.
My Sponsor Pat bought them to me and he had opened one up to take a display picture for his page. No biggy to me. The only issue I really see is how loose the pods fit in the rack. I figured they would have been a little tighter,but then again as you can see from the picture, not all pods are made the same. I imagine this is an issue that GURU will work on.
NOTE:
Well it is an issue they have worked on. I have the wrong type of stand. I have Pinokio pod stands. I now have the proper version I need for my pods.
Pinokio Pod Stands:
Filled with 100 rnd pods:
As you can see,not all 100 rnd pods are the same either. These slant very bad at a bad angle,which I didn't understand why.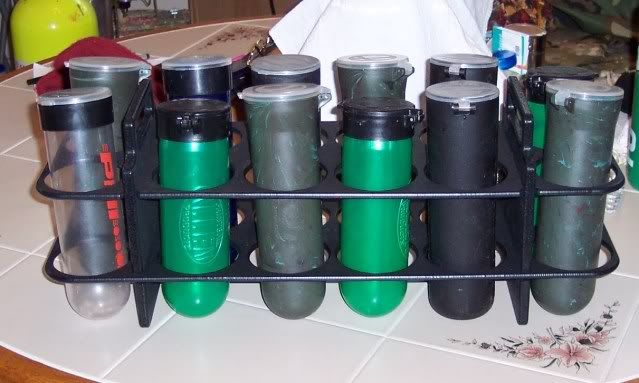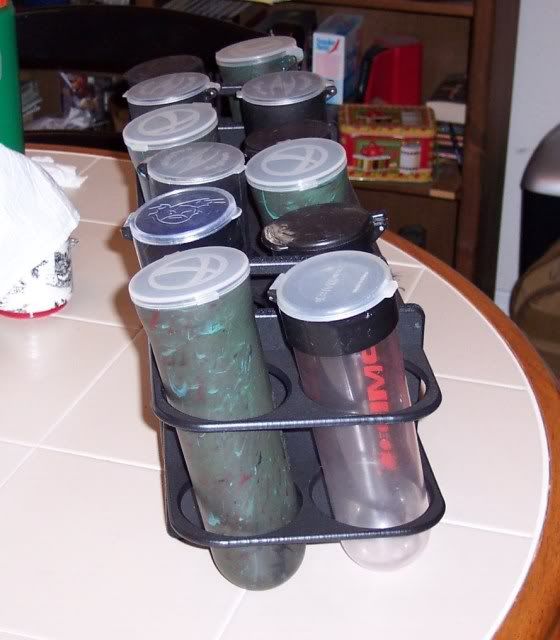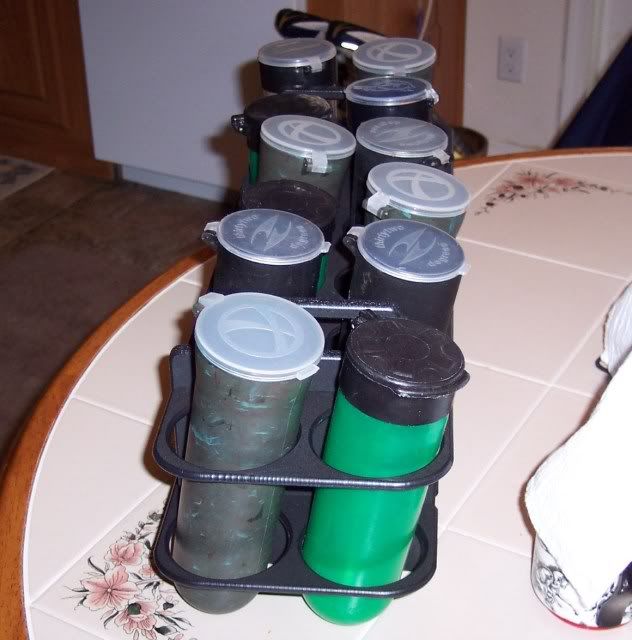 Once they are lifted,they will not fall threw,even with full pod weight.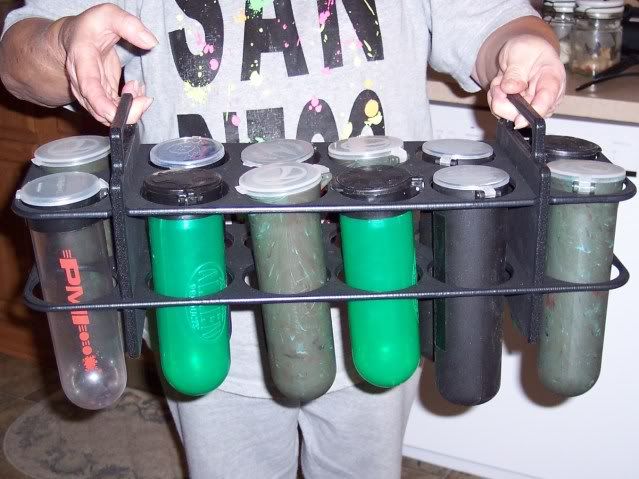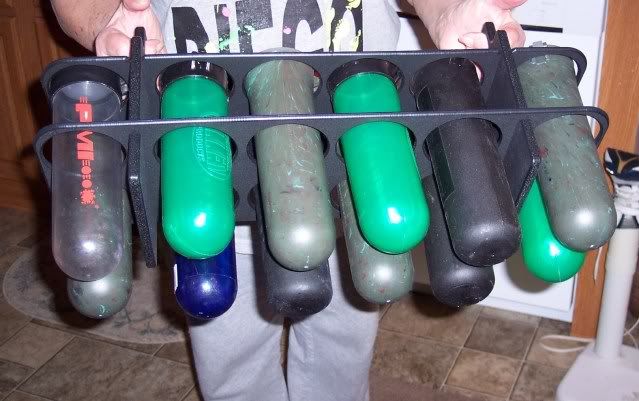 UPDATED PICTURES:
Correct pod holders:
So let's put in some new pictures of the new carrier:


As you can see the pods fit much better. All though the pods vary in OD (Outer Diameter), This is the size hole for the pods. These are all 100 rnd pods. As you can see they are all different brands.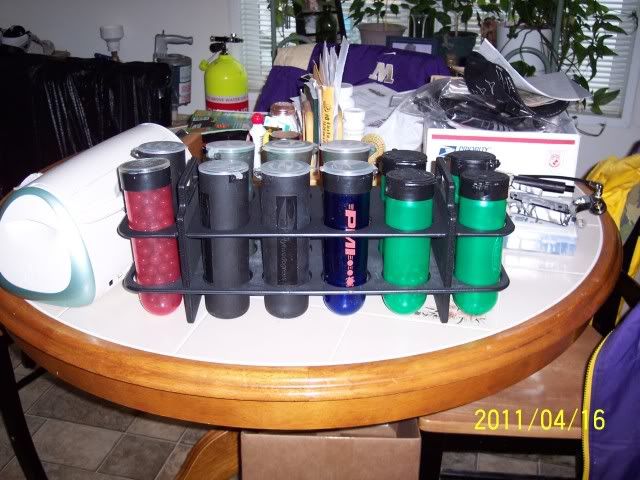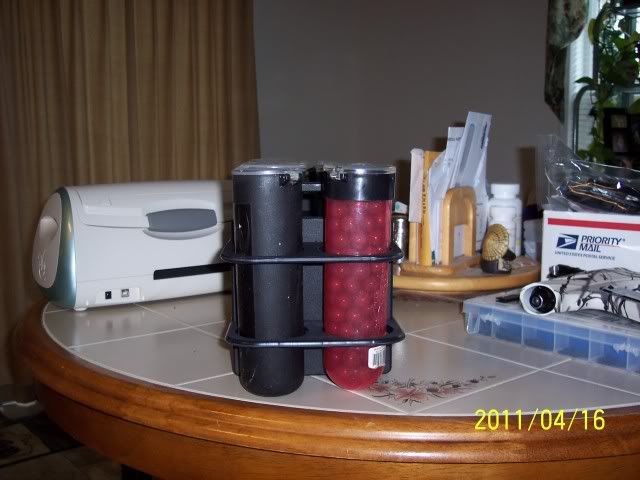 As the pod carrier is lifted,you can see that most of the pods drop down. This is due to the difference in roundness of pods OD. However it does not affect the carrier or pods in any way. It does not affect loading or performance of the item.