Ok, so about a few months ago Noxx announced he was going to make Super Stocker frame adaptors so that you could use a cocker frame on a SS. PPS charges you ~$250 for a Blazer frame modded to fit, and being the poor man i am nowadays, that was way out of the question. So as soon as i saw Noxx doing this, i PM'd him. I already have one of his spring feeds and love it, so i trust his work.
Well three versions later i finally have a working model. According to Glenn i guess no two Super Stockers are alike, they have been made for so long, changes in design and such. So what would work fine on Noxx's didn't always work fine on mine. No biggie. Custom takes time and i was well aware of that. I know he would deliver, so a little trial and error wasn't bad for me. All i can say is...it was WELL worth the wait. Noxx is the man.
Now i present you my 86* framed Super Stocker
before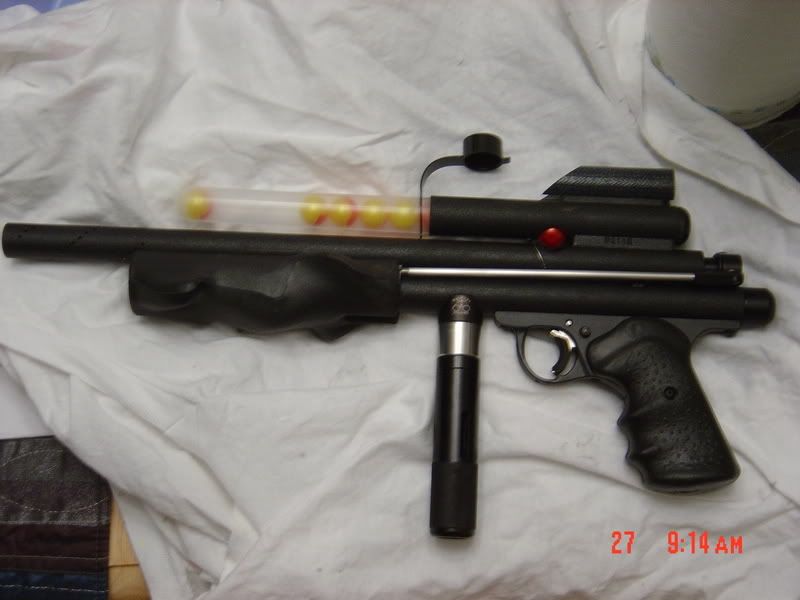 Now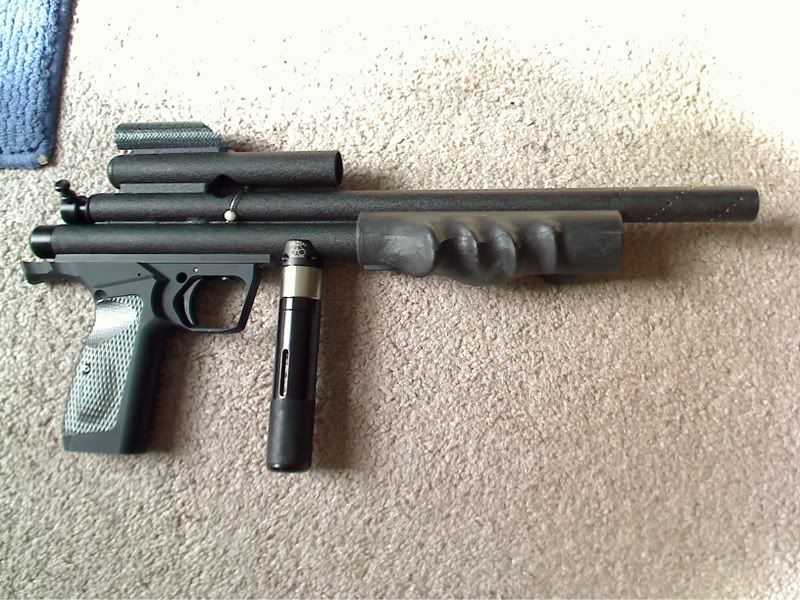 Ordering/Shipping
Very easy. I pm'd him a few months back. Paid him via Paypal. And as soon as the first version was ready it was out the door to me. No problems or issues. Like i said i went thru 3-4 versions to find one that works, and he never charged me extra for all the shipping or ones that didn't work. Truly awesome. He worked with me the whole way, never complained or anything, he just wanted to get it right.
It came in a bubble wrap envelope with 2 screws, one to mount the front screw of the cocker frame with, and one for the back screw that goes thru the frame, adaptor and into the SS rear plug. You will need to provide your own front screw for the adaptor to go into the SS right behind the vertical adaptor, or at least i did. I just cut up an old screw i had laying around, worked fine. It also came with Noxx's own sear, the sear needs to be a bit taller than the stock SS sear to work with the adaptor, Noxx's works wonderfully.
First Impressions
Looks clean and nice. Well made. Everything is powdercoated but the area where it is countersunk for the screws. The only other part not powder coated is the front that lies flush with the vertical adaptor. Overall every version he sent me was clean and smooth. No problems, burrs, or blemishes anywhere on any of them. Quite happy about that. I will try to get pics up tomorrow night of the adaptor by itself, i was too excited when i got home and saw it in the mail, didn't want to wait to take pics of it, HAD to install it. Poste haste.
The adaptor has a hole in the front to mount that is countersunk to mount the adaptor to the SS front screw. Then it has a threaded hole for you to mount the cocker frame's front screw in. Next is the gap for the Sear to ride in. Then there is a hole/gap for the rear set screw to go in, thru the cocker frame, adaptor and into the rear plug. The original one he sent me was off by less than 1/8", it was so close i could taste it, but just couldn't thread it in. This one, and the last two, have had a grove about two screws width wide, to accomodate that.
I had to cut two screws to get them to fit the adaptor right. The first was the front counter sunk screw, but like i said, two seconds with a dremel and that was fixed. I also had to cut the rear screw that came with the adaptor. But that is becuase my 86* frame is counter sunk, if the screw sat on the top of the frame, and not in it, it would have been the perfect length. So it depending on the frame, you may/may not need to cut it. I had to cut 1/8" off.
Installation took all of 3 min, including the cutting. Honest. Just remove your old SS frame. Attach the front screw to the adaptor to hold it to the SS. Then attach the cocker frame to that, with that screw that is provided. Finally, run the last screw thru gripframe, adaptor and rear plug, tighten, and voila...you are done. It feels very sturdy, no give or ply. It doesn't shake or wobble.
The first one i got wasn't counter sunk on the inside of the adaptor, so it didn't fit flush totally with the marker, causing it to only cock 6 out of 10 times trying. With the new one i have, and it's countersunk hole there on the inside, it fits perfectly flush. I can cock it everytime, no misses or skips.
On-field use, and after play observations.
Ok played two weekends in a row with it. I LOVE IT. Last weekend towards the end of the day the front cocker frame screw came loose, it was a tad too short for the frame i was using, so only 1 thread in. I replaced that with a 1/8" longer screw and the adaptor was perfect after that. I had zero problems other than that short screw. But like i said with the other screws, it will depend on the frame you use whether you need shorter or longer screws. Other than that, the adaptor was perfect. The sear was fine, cocked every shot, no problems. I LOVE this adaptor. Like LOVE. My SS was my favorite marker by FAR before...now it is like pure sex.
Seriously. If you want to use a cocker frame on a SS, it doesn't get any better or easier then this.
Afterthoughts and suggestions
Like Aqua said, THANK YOU NOXX for this. I am super happy with it, i am glad someone is making one, cause i could never afford the PPS way.
After going thru a handful of these, and Noxx having to put up with all my little quirks in my SS that are different than his, i can definitly say the latest version is by far the best. There isn't much more i could ask from or for this adaptor, other than maybe to come with the front screw, so i wouldn't have to find my own. Everything else is top notch. Easy install, great finish, and best of all, it looks like it was meant to be there on the SS with the matte look to it.
Overall Rating: 9.8 - I don't give 10's...ever. I will never believe a review who gives a perfect 10. Nothing is perfect, sorry, nothing, everything could always be improved somewhat. However, I have nothing to complain about with this, none at all, so i will just deduct the 0.2 for not having the front screw included.
Noxx is great, he even offered to mill my 86* frame to be flush with the adaptor plate. He truly is a great man. I can't say enough good about him.
If you want your Super Stocker to be able to take cocker frames, this is the way to do it. Easy install, looks killer, i coudln't be happier. Been running around like a kid in a candy store all day long since i installed it at 10 am yesterday.
Thank you Noxx. I salute you