Ok, let me start by telling yall the history: I have been playing paintball for about 3 years and have been kind of a gear/gun whore. I have had most of the masks on the market, looking for the right one. i have had (in somewhat order) V Force profiler, shield, grillz, Dye I3 pro, Empire Vents and EVents, JT flexes and my favs up until last week the JT flex8. Well I came back from a deployment a few weeks ago and while i was gone ordered a proto el mask and played with it my first game back, it fogged like crazy. I was super disappointed with it. so i drug out my trusty flex8 and played the rest of the day with only minor fog but they are getting worn out pretty bad. so i went to the Sportsmanís Lodge, the local field and store were my team and I are affiliated with and I seen the new Sly goggles. Well I am a stickler with money so I was hesitant on $90 purchases, so I thought about it almost a week. Well the Friday before last, the day before we played again I went back into the store and bought them, let me tell you what!!! Well worth the money!! I had only minor complaints about anything and that is there is no forehead protection, and no visor. I played in 90+ temperatures and sweat like a water filter, no fog, super comfortable. The 2 tone lenses worked great in both the woods and in the town were there was extremely bright sun. The double strap held the mask secure to my face and free from slippage.
The pros: The profile of the mask is a bit small, it hugs my chin but it allows my head to be on a swivel and doesnít obstruct my range of motion. The lens allows for great peripheral vision. The lens is easily removed without the aid of stupid little clips to hold anything in place that are easily lost. The mask is made of a stiffer material that flexes for bounces but doesn't flex to the point of hitting you in the mouth. There are pads inside the ears to protect you from the annoying hear shot, but doesn't affect the hearing.
The cons: no visor, for people like me with the larger heads...... gets a head wrap... your gunna need it.
I got the Camo one with the 2 tone tint and clear lens!
I love this mask!!!!
Here a pic of me playing with it on at the Sportsmanís Lodge Jacksonville NC.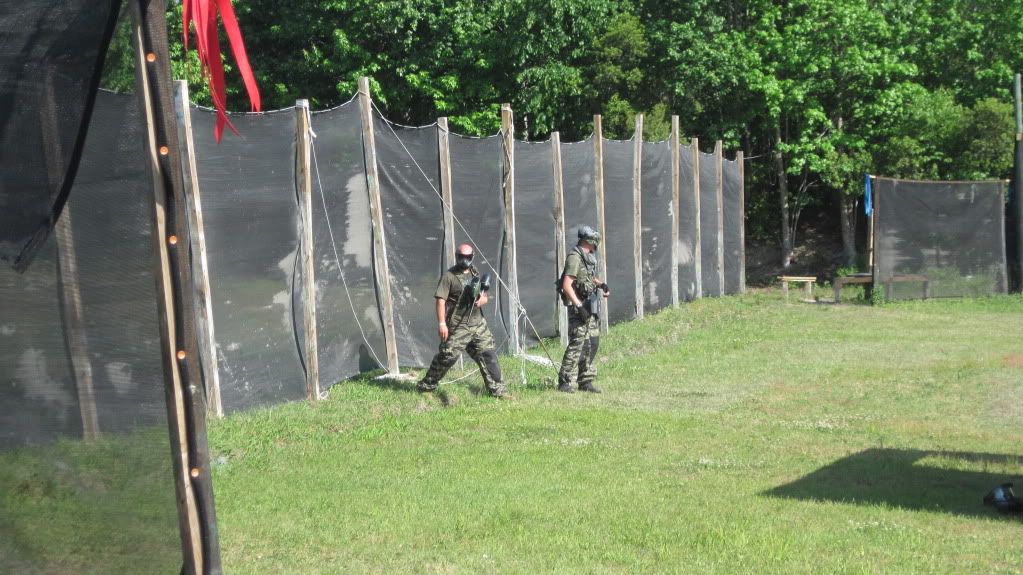 thats me on the left my buddy/teammate Combat Camera off the the right!
little fuzzy but me and my new mask and the etek slinging some paint
This post has been edited by Reaper301: 09 May 2010 - 02:54 PM