Ok, I'm selling the baby. This is an Airgun Designs Tac One with the ULT trigger kit mated to the Special Ops Paintball Q-Bow kit.
Included:
Four Q-Pods
One 20 round longbow magazine
Q-Bow kit
3-way scope riser
Red/green dot sight
Q-Pod reloader
Stock Tac One barrel (J&J Ceramic two-piece)
Stock RT trigger kit
Stock ASA, autolube, screws, and lines to convert back to the regular setup
Pricing is $750 paypaled THEN shipped. Everything is a little worn, but they still work perfectly fine.
I used this barrel with the marker, and it is truly unbelieveable to use. If you are interested in buying it with the marker...
16 inch Deadlywind Fibur barrel with the Freak Boremaster kit (+125, still shipped)
With the Deadlywind, people say that it's the quietest gun they've ever seen, this is one truly bad buttocks setup.
If you are interested, send me a PM. I am not willing to make any trades, so sorry guys, cash only.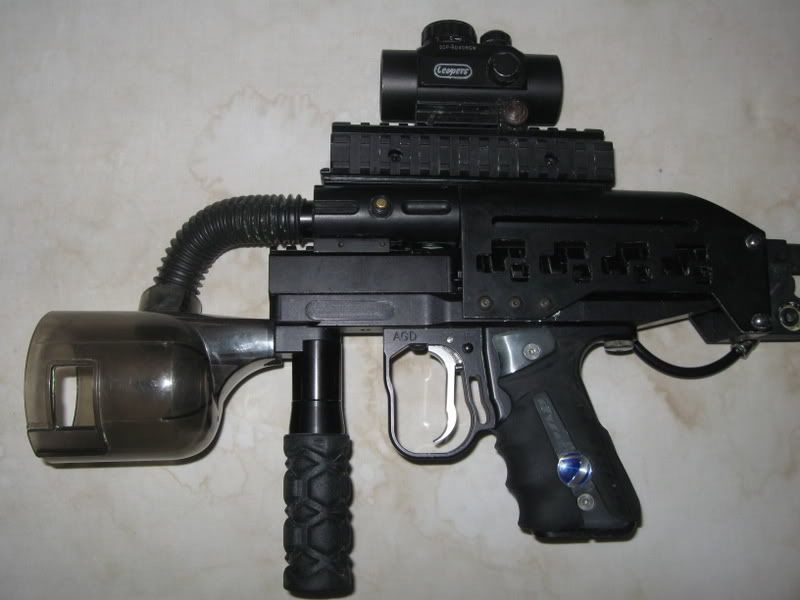 This post has been edited by asnipingsabre: 07 March 2009 - 02:52 PM