For those of you who haven't run across it yet, the Ban-du is a head-wrap offered by
Blackleaf Outfitters
. I stumbled upon the company on
A5OG
, and when I finally decided to replace the junky little cotton headwrap I got at my local Army/Navy store, I turned my attention to the Ban-du.
After the lousy wrap I used to sport, I was looking for a few things:
-Comfotable, non-headache inducing fit.
-Remaining in place during play.
-Protection from the elements and from paint.
-Easy clean up.
-Durability.
I ordered my Ban-du in Woodland, as that's what I'm currently sporting, but there are a number of camo- and non-camo options available and Sam - the owner of Blackleaf - has said he takes custom orders provided he can get the requested materials.
Less than a week after I ordered it, my Ban-du arrived on my doorstep. Blackleaf stayed in touch with me throughout - and if I were to end the review here, the one thing I would say about the company is that it has phenomenal customer service.
But I'm not.
So, I cracked open the box and took a look. (That's a 12" ruler, to give you an idea of the scale of the Ban-du)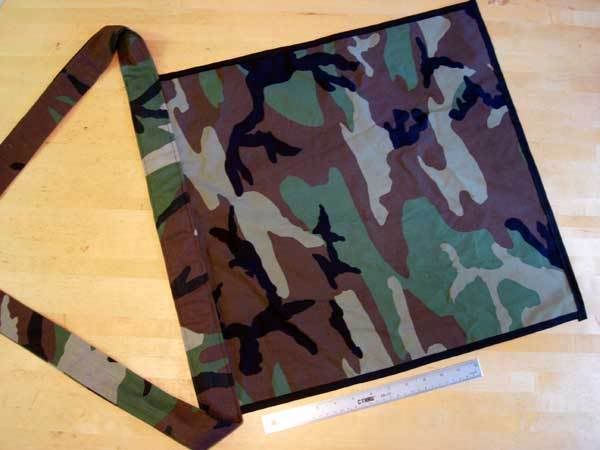 The material is legitimate cloth, not the nearly-tissue stuff of my cheaper head-wraps, and it's more than generous in portion. The headband and ties appear to be doubled over, and feel nicely padded - although I'm not sure if this is a result of the doubling, or if there's padding inside.
I tossed it over my head, tied the flaps, and pulled the cloth taut, leaving me with this: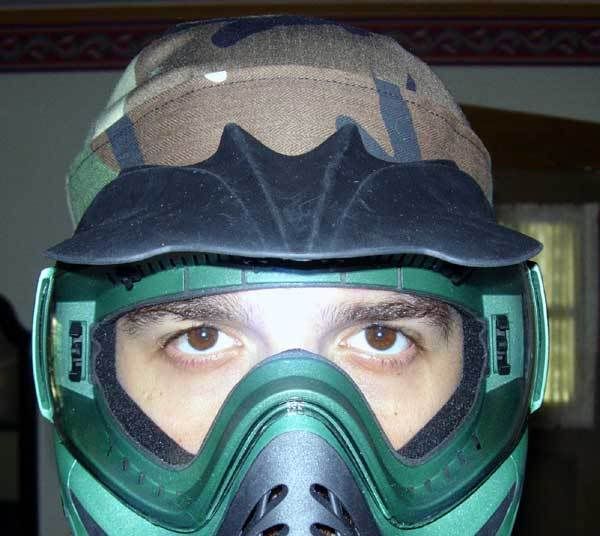 And from the back:
As you can see, it doesn't increase my profile, but gives more than enough coverage from sun, weather, and impact to the back of my head and neck. And I have a large head - large enough certain of my teammates claim I affect the tides. Not that I'm bitter.
Anyway.
Not having to stretch and strain the tiny little square of cloth that was my old cover was pleasant, and the resulting fit was both secure and comfortable.
The Ban-du is machine washable.
So? Did it meet my needs?
Comfotable, non-headache inducing fit?
-Yup. More than enough cloth that you don't end up squeezing it around your head.
Remaining in place during play?
-Yes. The broad ties keep the Ban-du quite secure.
Protection from the elements and from paint?
-Both, in ample quantities. I was particularly impressed by the amount of cover over the back of my neck, especially because while generous, it's loose enough that it doesn't feel close or choking along my back.
Easy clean up?
-Machine washable.
Durability?
-Well, this has yet to be tested, as I've had my Ban-du only a few days. But, on initial inspection, its crafting certainly seems to promise longevity.
Other notes?
-Impeccable customer service.
Weaknesses?
-The only potential weakness I see in the Ban-du is that it's made of thick enough cloth that it may be uncomfortably warm depending on the time of year and the location in which you play. Then again, if this is a concern, I suggest you talk to someone at Blackleaf and see if they can use a material more suited to your environment. That, or soak the Ban-du in water.
Conclusion:
As head-wraps go, the Ban-du is hands-down the best I've seen. At $15, it's an incredibly good deal.
This post has been edited by VVulfe: 16 September 2007 - 10:35 AM