Fabricated feed neck/elbow allowing me to use low capacity hoppers (the one on is the BE hopper but I normally use my Ammo Box). I keep my small hopper in my pocket or just transfer the electronic hopper from the marker I'm using over to the pistol. No issues with feeding unless I'm using a gravity fed hopper When the hopper is empty I have to keep the marker tipped forward to chamber a ball. With the electronic hopper...well no issues at all:) Revvy III egg and 18v Fasta work especially well. These are just 2 of my setups for this markers. Weight is centered so you can hold it up with one firnger by the trigger guard and it'll actually balance. Debating whether I wont the Eforce grip or not. Probably not. Supposed to be my back up...ya we all know how that goes;)
Original configuration was with the tank forward (hose not connected) and the hose tapping into the right side of the ASA with 3.5oz co2 tank. Tank fits in my smaller pods.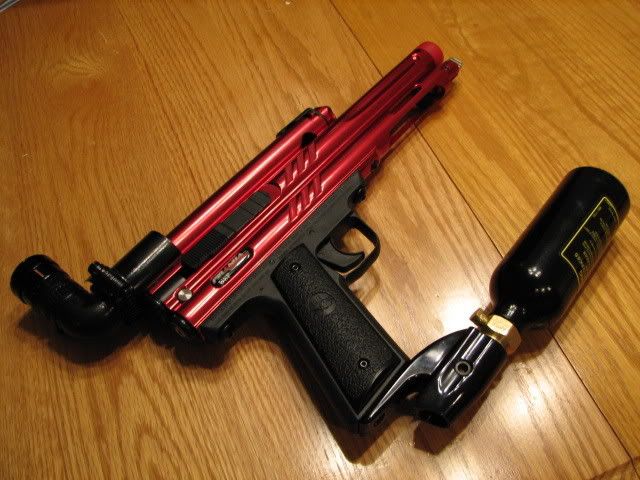 This is how it normally would be used. Custom made (not store bought) stainless steel DOT hoses from the awesome guys at Paragon Performance out of Crestline, CA (same guys that specialize in DOT approved automotive and all other performance hoses). The one picture is with the black sheath. I have other colored hoses (smoked grey that looks like carbon fiber, clear red, clear blue) with different fittings and angles depending on whether I want to have my hose go into my ASA through the front like in the pic or from one of the sides or if I want the tank directly under the marker like in the first pic. Check out the camo hopper with bright ano red marker...ya cuz that makes sense;) I did that so you could actually see the hopper. Tried taking pictures with one of my black hoppers and it wouldn't come out.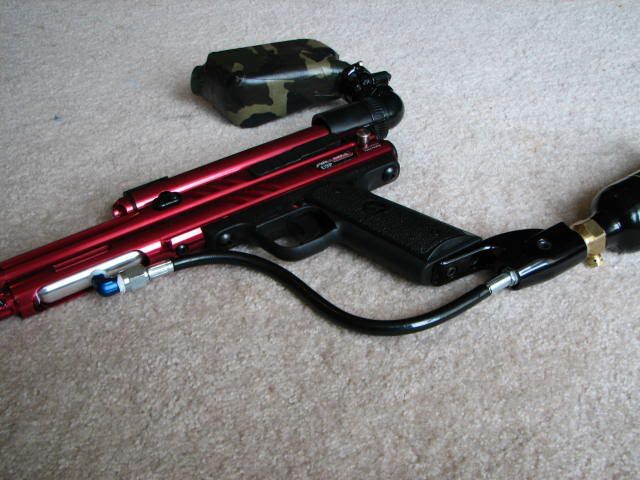 Holstered, more than enough room in the holster. Holster doesn't even touch the hose:) 3.5 oz tank with tank butt is perfect for looking straight down the length of the barrel and fast movement. Whole setup weighs less than 3lbs and mainly used for playing VIP, of course the VIP gets it:)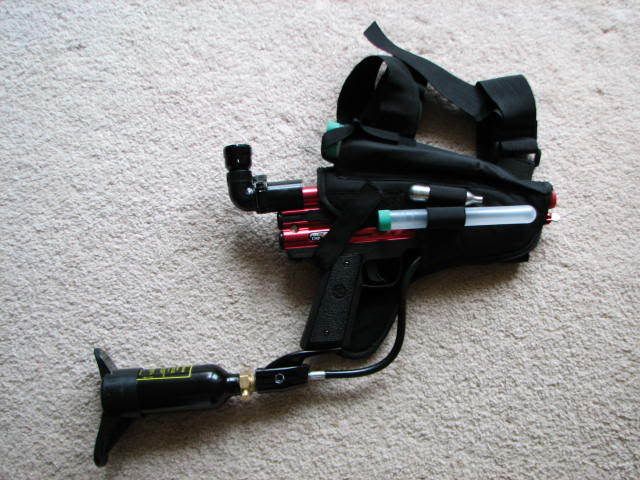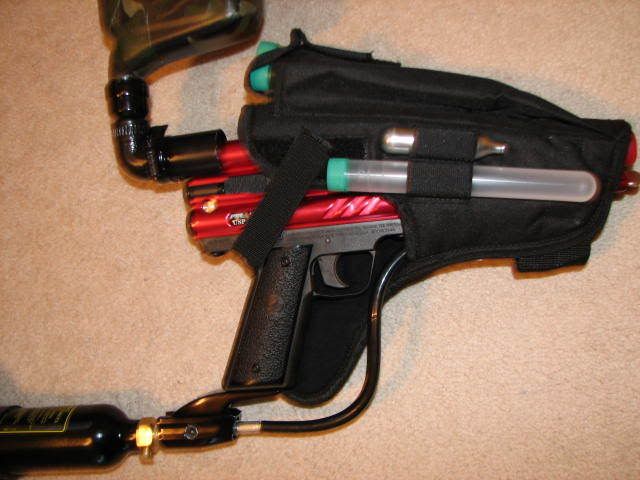 Stuck a piece of rolled up paper into the front of the magazine so you could see. The common magazine tube mod for quick reloads with 10 rnd tubes by allowing you to remove the front cap during reloads.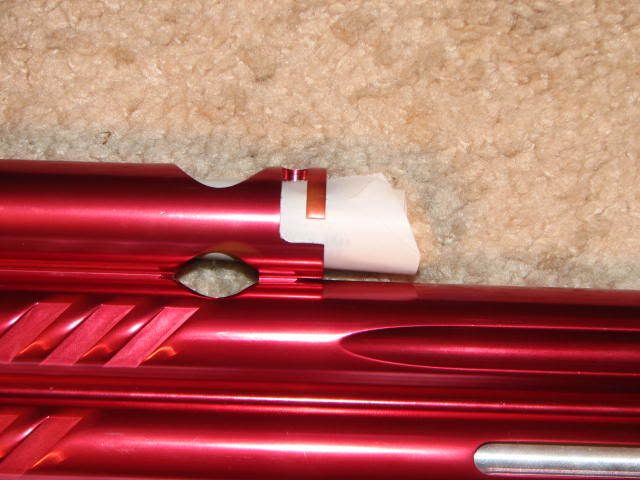 This post has been edited by spazzedninny: 10 February 2009 - 06:40 PM