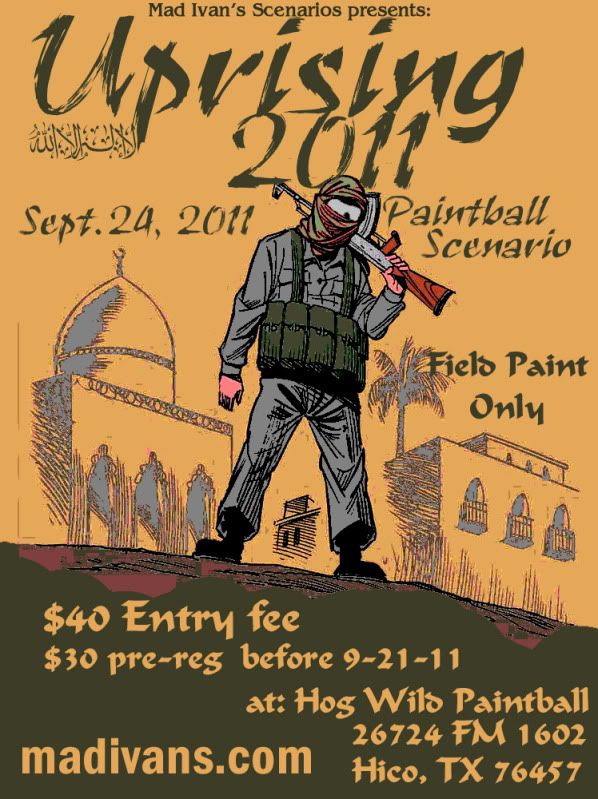 Uprising 2011
Paintball Scenario event
Sept. 24th, 2011
"The leader of Arab nation of Sharjah is falling from power and the revolt is on. The fight has rolled into to the hills as the loyalist hide from the overwhelming rebel advance. But, The trap has been laid... is it the Rebel or the loyalist who will get caught is the trap"
...
Site opens at 5pm Friday, Sept. 23.
07:00 hours - air, chroro and registration open
09:30 hours - safety meeting and announcements
10:00 hours - game on
12:00 hours - lunch brake
13:30 hours - game on
18:00 hours - game ends
18:30 hours - final score and announcements
Price is $40 at the gate
...or you can pre-reg for $30 before 9/21/11
A special pre-reg price of $25 will be offered at Operation: Black Sun and Operation: Market Garden to people who either are playing or helping with either of those events.
All people who play this event will be given a player pack with a map, personal mission and game tag. ALSO, each player will be given a shemagh that is either tan or green to show what side you are on!! The shemagh alone is a $15 value.
The site is:
Hog Wild Paintball
26724 FM 1602
Hico, Texas 76457
For more info:
madivanscenarios@yahoo.com
madivans.com
Mad Ivan's Scenarios
Ft.Worth, TX
Be sure to opt in:
Special Ops Paintball
Log In | Facebook