This is why you dont drink and smoke pot and then go for a booze cruize. A call i was on scene for 2 nights ago, with two of my friends. I was second on scene (along with my dad) and had to hold c-spine for my closer friend, Ian. Rylin was the driver and my dad took care of him since he was combative. (theyve released the names and such by now, so its not a HEPA violation or anything)
news story (they got most of it wrong):
http://www.wmur.com/...220/detail.html
we should have had medflight for both victims, but it couldnt fly due to fog.
Pictures:
speeds in excess of 75 miles an hour on a very twisty-turny and not-well-maintained road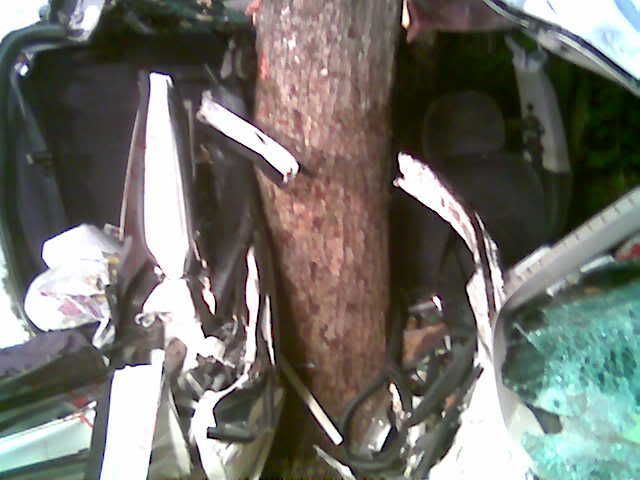 I apologise for the crappy cell phone pics, but i want to give you an idea of what happened.
the far right broken glass is the windshield. to the right of the tree are two brown spots. those were ians shoes (they took em off and had to leave em exactly where we found em. the back seat? thats actually the front seat. his chest was literally wrapped around the tree and we had to basically pry him off. his face was completely broken in multiple spots and plastic surgery wont even fix it. final tally: massive internal bleeding, many many broken ribs, smashed face, and a shattered leg that means hell always have to walk with a cane. HOW WAS HE STILL ALIVE?! no one knows. we thought he was dead when we arrived on scene... and then he started to talk to us.
driver is in better shape, huge cut on his head that he insisted on bleeding out all over me, cracked skull, broken humorous, 5 broken ribs, something else
EDIT: just remembered the something else, i was distracted this morning. 3 broken vertibre at the base of his neck
This post has been edited by Becc: 04 October 2008 - 04:15 PM