How-To: Polish your Internals (Tippmann A-5/98)
I am going to show you two different methods of polishing your internal receiver halves. Please follow the directions as best as you can, and please do not rush, or "skimp" on certain steps.
The pictures show a Tippmann A5, but the procedure is very similar for that of the 98 in regards to the polishing procedure.
I am not going to break down the 98/A5 by showing the disassembly steps, I am sure you are all capable of doing that at this point, so the pictures should be pretty easy to follow with the given instructions.
Before performing this modification, take a velocity reading of your current adjustments. Do not change or alter anything while breaking the marker down for this modification. After completing this modification reassemble the marker and check your velocity number again. Most people see an increase of 5-10FPS, or in some cases even more, so keep that in mind as well…
Brillo-Method
The first method I will show you is probably the cheapest, and maybe the most available way to polish your internals. This method is the "Brillo-Method" in which you will be using nothing more then water and your common "Under the Kitchen sink" Brillo pad. This does take a bit more time and effort depending on how "dirty" the internal shells are. The best part about this method is that it eliminates the need to follow up in repeat steps.
Materials
Brillo Pads
Water (Bucket, Tub, Sink, w/e)
WD-40
Paper Towels
Time (The more time you take with this the better)
1.)
Find your stash of Brillo Pads (or go to the store for some)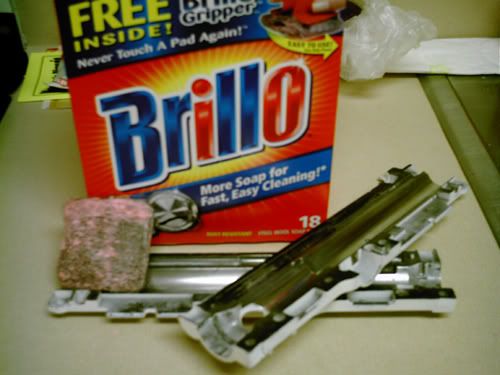 2.)
Fill the sink with warm water (hot/cold makes no difference) Pick up your Brillo pad and clean the inside of the receivers in a front-back/back-front method only. Follow the same movement as though the rear/front bolt were moving inside.
You will focus mainly on the areas that the front and rear bolt make contact with. You can choose to clean the area that the powertube sets as well, it makes no difference.
3.)
After you have cleaned all of the over-spray off the internal shells, rinse them clean…
4.)
Now that you have a clean and fresh operating surface it needs to be lubricated. I use WD-40 mainly to clean up the surface of any dirt that may be left; this also gives the surface lubrication…
**NOTE- WD-40 is NOT a substitute for regular marker oil. You should ONLY use the WD-40 to clean the surfaces. Upon reassembly oil the parts as you normally would during the reassembly process.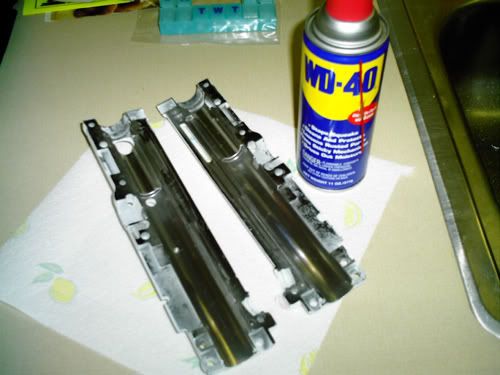 5.)
Take a paper towel and fold it in half, then in half again. Spray the paper towel with a bit of WD-40…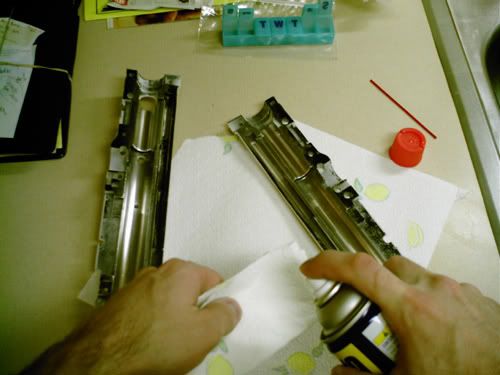 6.)
Rub the internal surface with the towel in a front-back type motion just as you did when scrubbing with the Brillo pad…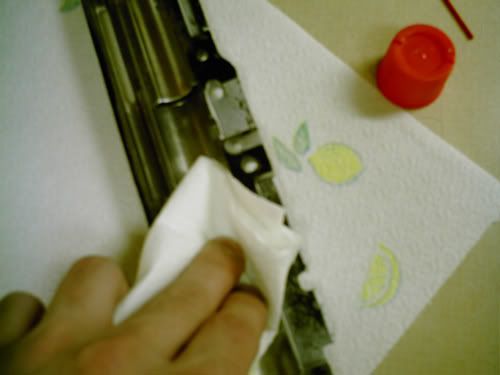 7.)
Now you should have a nice smooth and clean operating surface…