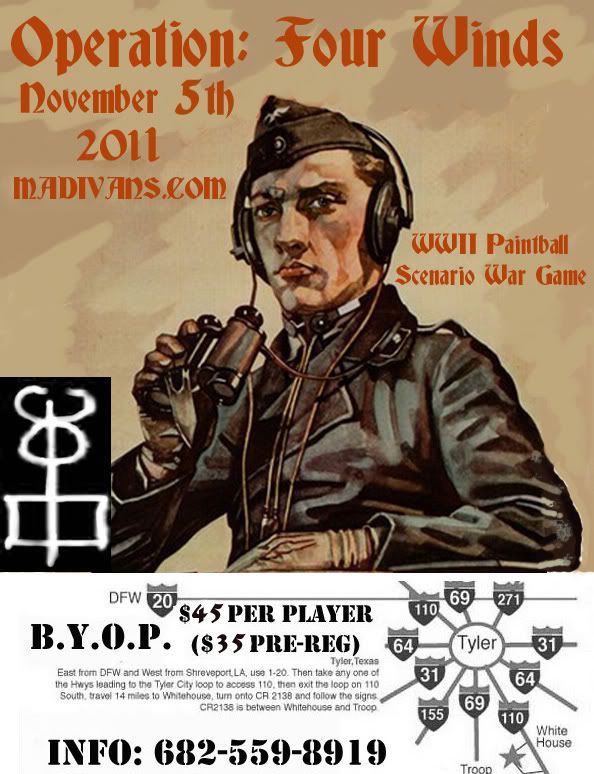 Operation: Four Winds
Nov. 5, 2011
"At the end of WWII Germany's commanders, leaders and scientist start looking for any way out, like rats leaving a sinking ship. Along with them they bring stolen gold, art and other valuable things. An enterprising supply sergeant rallies a group of Allied soldiers to cash in of this opportunity. On the other side of the woods are a group of hold out elite SS troops looking to make their profit ...of the situation."
This is a WWII based paintball scenario game with the added joy of being able to bring your own paintballs!! YES BYOP!
The entry fee is $45 ($35 for pre-reg before Oct. 29th) for the game on Saturday Nov. 5th. CO2/air, field fee and camping included in the entry fee.
We have on site showers, RV hookup and the best camping area you'll find at a paintball event!!!
07:00 hours - air, chroro and registration open
09:30 hours - safety meeting and announcements
10:00 hours - game on
12:00 hours - lunch brake
13:30 hours - game on
18:00 hours - game ends
18:30 hours - final score and announcements
A special pre-reg price of $25 will be offered at Operation: Black Sun, Uprising and Operation: Market Garden to people who either are playing or helping with either of those events.
All people who play this event will be given a player pack with a map, personal mission and game tag.
The site is:
Mad Ivan's Camp
2138 C.R.2138
Troup, TX 75789
For more info:
madivanscenarios@yahoo.com
madivans.com
Mad Ivan's Scenarios
Ft.Worth, TX
Be sure to opt in:
Special Ops Paintball
Log In | Facebook