Titus on MCB normally buys rental lots when they come up for sale. Then he sells them off to others on MCB and we rebuild them. I did this build a few yrs back. This was the first rental lot I bought into and believe it or not,they aren't that hard to clean up or fix. This gun came from Survival Games of New York. They sat in a tube for quit a few yrs dirty and coated with dirt and paint.
The lesson here,buy into rental lots if you ever get a chance,sometimes it only takes a few bucks to clean it up and get it shooting. I only played with it once and then sold it. It's what I normally do with projects.
Later,
Blackrain:)
27 Aug 08:
Well I installed the Auto trigger. Had some issues. After installing the originol trigger and sear it works just fine. Pictues to be posted soon.
Later,
Blackrain
11 Aug 08
Well I guess this isn't done. Just picked up an auto trigger.
Later,
Blackrain
10 AUG 08
Really enjoyed doing this project. I didn't put much into it. Maybe 20 hrs of time. Is it ready,you Dammed right it is. It's ready to be played with and looking for so loving. I'm still going to add an auto trigger to it. Need a few more items from palmer,but that's really about it. Final pics are in the last post of this thread. Just scroll down.
Later,
Blackrain
Comments are welcomed. As in all Catagories you donot have to be a member to post.
More updates will follow. Reading about these markers, I understand that they are really rough looking and rusty. I guess this is what happens when you just let things sit for yrs in storage.Nothing really that a little BRASSO, Never Dull and HOT SAUCE can't clean up.
Like I have said in the past,I build everything to my liking, not others. They can do that when they buy it from me.
Another thing I plan on doing is having it DURO coated just plain black. I'm trying to get this looking new off the assembly line. Not Like I can,but I can get it close. Might do something fancy,but as of now my wife has cut off my cash flow till Aug So I'll just have to drool over items I can't have.
2Aug 08
UDATE
Well the gun arrived yesterday. Not that bad of shape. I'll try and salvage the bolt,but since I have a new one on the way,I'll just use it. I'll post some pics later.
30 July 08
UPDATE
All the parts are in except for the bolt and the gun itself. I guess it slow boat to china UPS lol.
Later,
Blackrain
26 July 08
UPDATE
Last purchase has been made. Just paid for the Battle Grips.
It seems this project is going very well. Have kept it with in a limited budget of $190.00. Seems like alot, but repair and new parts cost alot.
25 July 08
UPDATE:
Just ordered a Cooper-T bolt from Chauncey Jr.
22 July 08
UPDATE:
So after speaking to PPS today, I realized to cut cost I will have to do some work myself. So I ordered the following parts.
UPDATE:
07/24/08
This seems to be coming along fine. I haven't really had any trouble collecting what I need,SO FAR. Problem with older guns, they can be difficult at times. Well the UGLY part of the project is soon to come. That's the clean up!
Picked this up on MCB. This is a winter project, so you can watch it all unfold here. I'll post pics when I get a chance. I only own one of these, not the whole batch.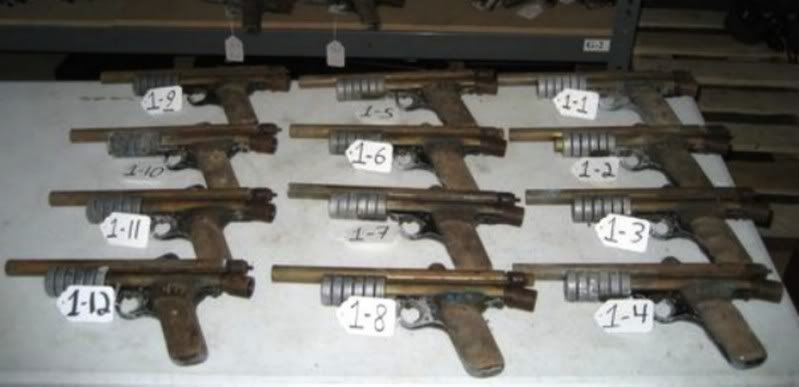 The Valve tool:
This is probably the most important tool that's needed. It will make or brake any Sheridan/PMI Project. With out it, you can't take these apart.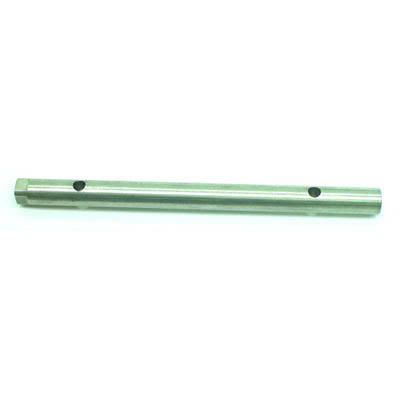 Valve kit:
This one is for the Pirhana SB kit. Glad PPS still has them in production. Noy sure what other internals I'll need, but this is a start.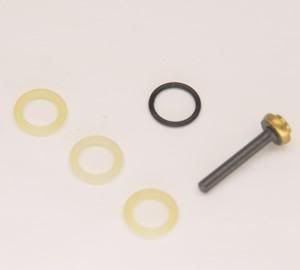 Muzzle Break:
Finally my trade mark, a nice shiney piece. I have always liked the PPS muzzle breaks. Not really sure if they help, but they always make a gun look cool.
The Bolt:
Well the Rusty bolt issue is solved. Just got one of these from Chauncey Jr of COOPER-T.
Grips:
Found some battle grips.
I didn't take before pictures,because you can see what it looked like prior to receiving it. I have begun cleaning this project. I have noticed a few things wrong. The front of my barrel is not round. I'll have to either make some plugs to round it back out or just remove that small section of barrel. Looks like I will need to file as well. I have some raised metal on the tip. The body is stripped and polished. I was able to remove all markings of SNY and the rental number. The palmer flash suppressor will not fit at the monment due to the oblonged tip. So the barrel repair is the next step of repair. All and all it wasn't really that bad. The frame internals were so mucked with paint that the trigger would not even pull lol. Bolt seems to be in decent shape. I polished the hammer,but it still needs a little more work.
A few progression pics. All the paint and Markings have been removed. So armed with my chop saw and belt/disc sander,I chopped the barrel tip and now it's perfect. Just took about 3/16 off. Did a little filing inside and out. Fit the Palmer Flash hinder so well I can't get it off now lol.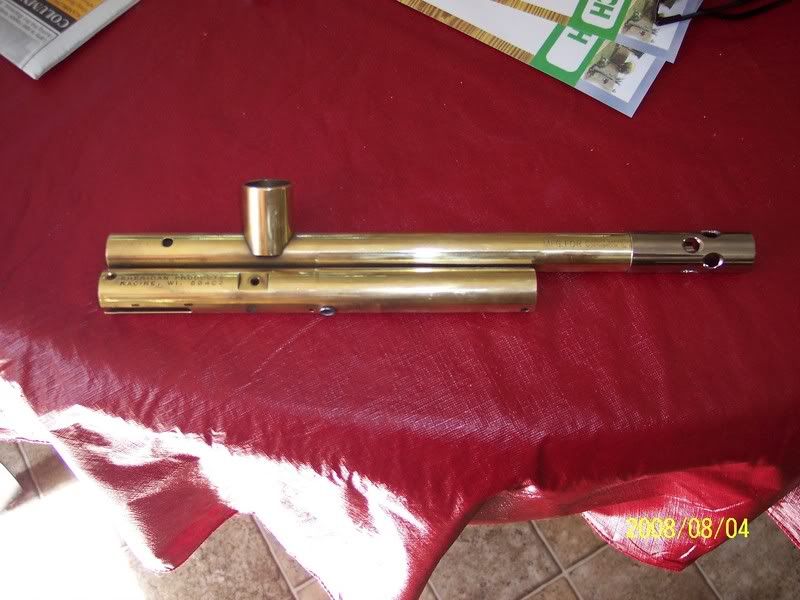 Thank GOD for hot water. I was able to heat it in the correct area and remove it. You can see what a nice barrel chop I did. Like I said only took about 3/16 off. Also a top view so you can see the numbers and field marking are gone.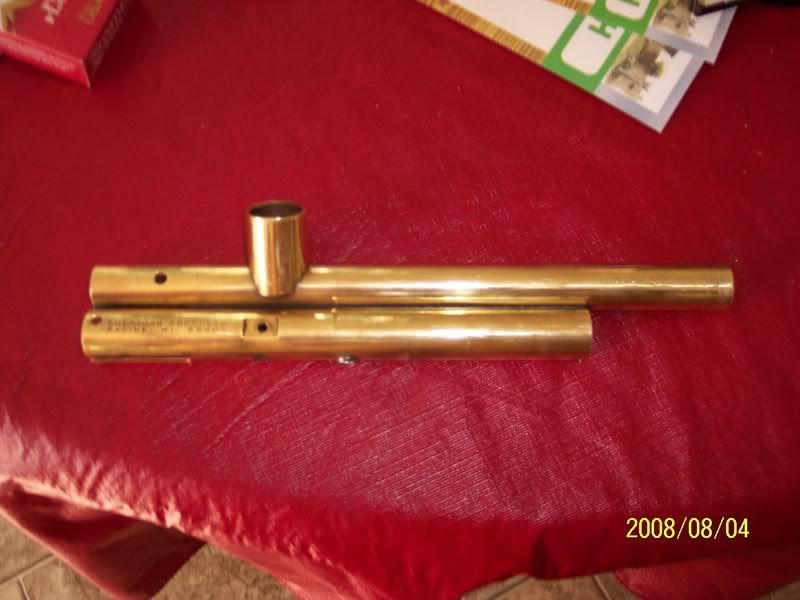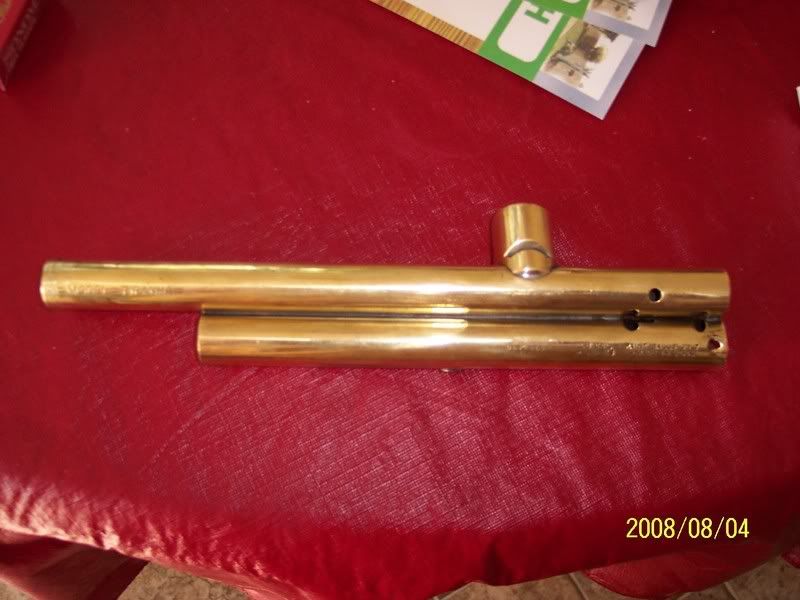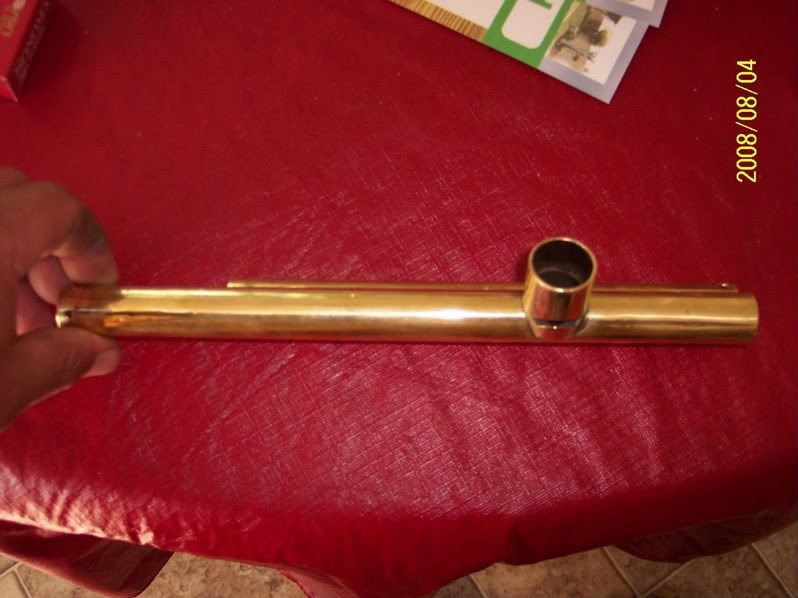 Strip slot is cut. The reflection ruins it,but it is very straight. I was going to mill it, but my dremal hasn't seen much action. So Armed with a cut off wheel I proceded lol. Cam out very nice. I'm real happy with this. Over all my savings so far has been about $70.00 doing things myself.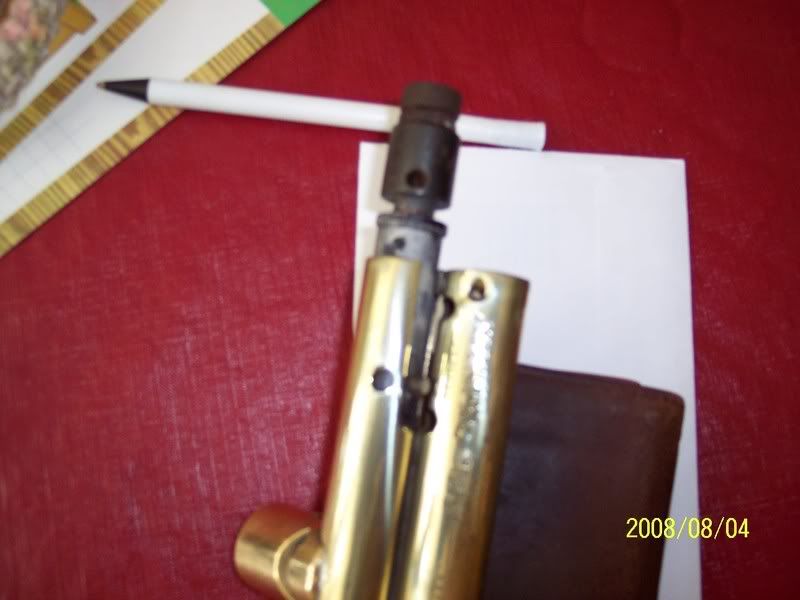 Little update. I'm working nights,so I only get about an hour a day to work on this.
I've taken apart the bolt and stripped and buffed all parts. The bolt is now a shiney silver. Had to cut off the originol orings. The end pull portion on the bolt,the ASA and the pump handel are primed gray and waiting on flat black paint. I'm just going to paint the whole body flat black as well. I've polished up the originol valve and stem. I should get a little bit better air flow.
What's left to do:
I need to buy some bottle brushes to clean out the inside of barrel and main body.
Need to buy some never dull and a blitz cloth to reall shine up the inside.
Need to clean,strip and polish the trigger frame.
More pictures and updates later this week.
The barrel and lower reciever were cleaned this morning, They look real nice. I'm going to start and prep the body for painting. I'll start the grip frame this morning when I come home from work. The lead seals also arrived from Palmers today.
More update. The cap that covers the lower reciever has arrived and installed. I started to paint the ASA and pump. What I thought was a chrome paint,has turned out to be a dull silver. Might have to go to auto motive store for some decent chrome spray paint.
I finished the woods grips this morning. I used the dremal tool to ruff up the wood. Then I took some 120 and 180 grit sand paper to them. They are nice and smooth and just looking for a little lacquer to shine them up.
UPDATE:
Cooper-T bolt arrived today. Very nice. So I'm actually going to replace the bolt that already exist in the gun. However when I sell this gun it will go with it.
A few progress pics. Finished up the grips and body today. I also found a mint 50 rnd box. I'm going to look for a new 7oz bottle. Found a butt stock too. I still have to put in all internals and trigger group. Then it will be completed.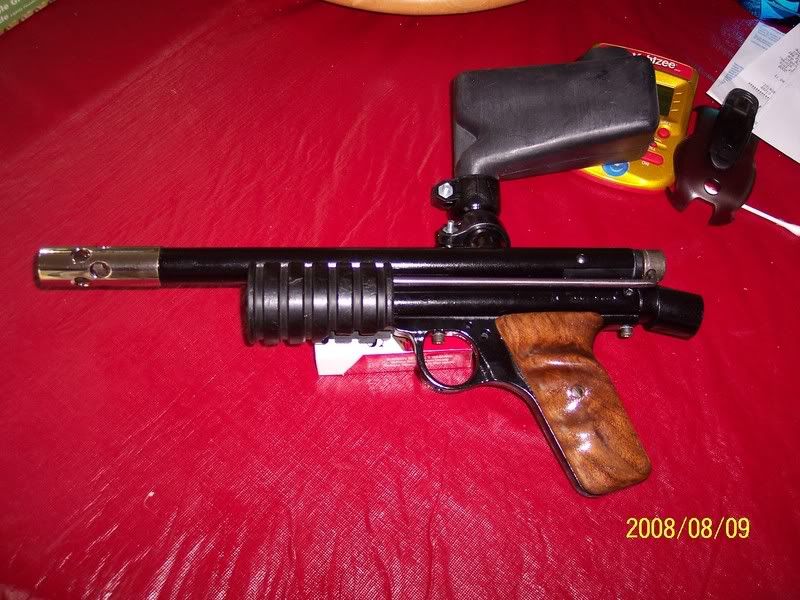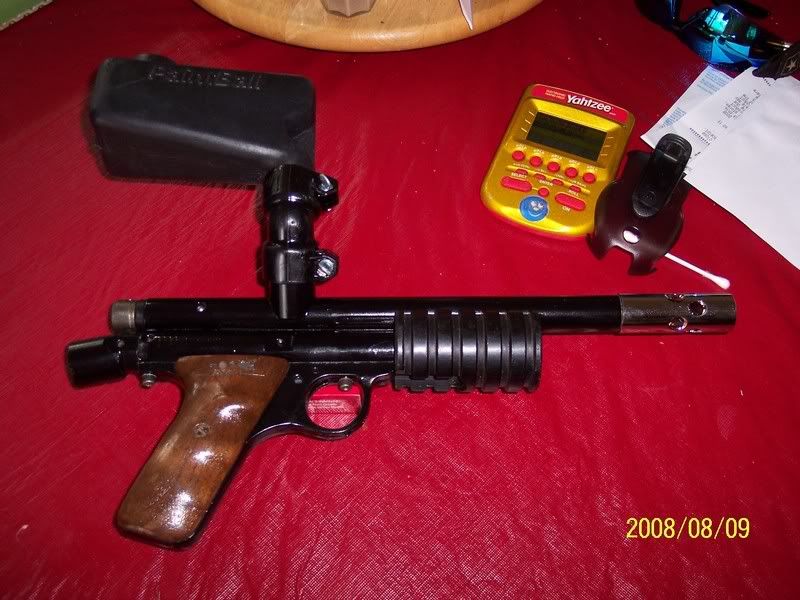 Whoever the new owner is can do whatever they want with it lol. Actually it's shooting and can go onto the field now. I still need to buy the safety spring and bearing. I lost those during disassembly. I'm also going to use some stainless steel fastners. But as far as play ready it can be used. I only changed 5 seals. 3 bolt orings,lead seal and the valve oring. I used the originol air connection seals. Had a little leak on air up,then they sealed right up. Not bad for 16 yr old seals lol. I removed the originol pump arm and replaced it with a delron version. I need to work on the pump handel some more. The COOPER-T bolt was fine. However Iam going to thread for an allen bolt to keep the pump arm secured. I don't like loose items. So off to Palmers to order a few more items.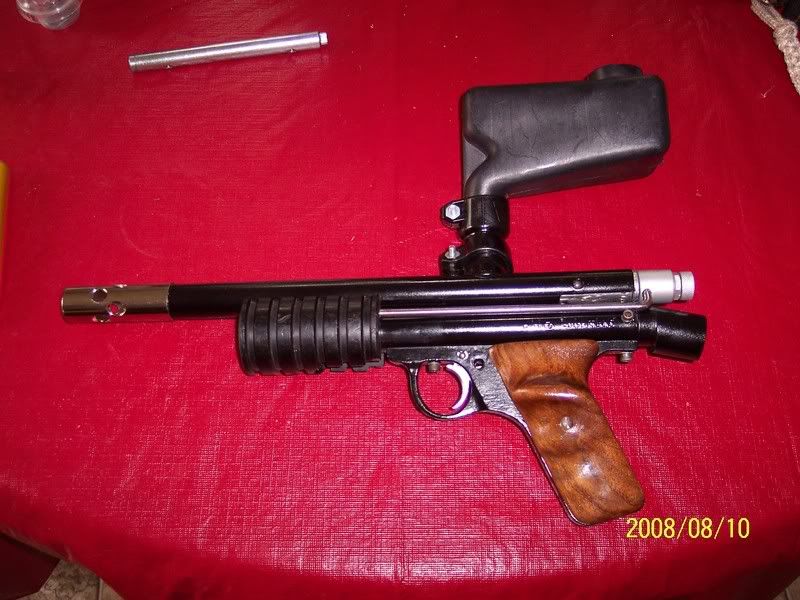 Later,
Blackrain:)