There is a lot of information about Ions. I mean A LOT, but not all of it is pertinent to SP-8s and some of it is just down right misleading. SP-8s are similar to Ions, an SP-8 IS NOT just an Ion with a body kit so I figured it's about time somebody got this started. I will follow up all of this info with pics in the near future. Feel free to contribute and try to take pictures of anything you share:
Trigger Upgrades
- Let me just say that an SP-8 trigger is not the same as the Ion trigger. SP revamped it a little and changed the shape to be similar to the NDZ trigger. After using it a while, I'm going to have to recommend that people save their money and not bother BUYING any upgraded triggers. To test the theory, I bought a Critical RPM trigger which is regarded as the Rolls Royce of Ion triggers and I can tell you that while it's better, the stock trigger works just fine even though it's a bit sloppy side to side.
Here are some free upgrades if you absolutely must upgrade your trigger:
1) Electrical tape your frame where the rear travel screw touches the frame. This will quiet down your trigger and remove a lot of the metalic click click clicking that can be heard. If you have liquid electrical tape handy, that stuff works even better.
2) Go to the hardware store and get some flat metal washers to "shim" your trigger. This will take out the side to side slop of the stock trigger (which I feel is really the only major weakness to the stock trigger). Be sure to shim both sides equally.
Boards
I don't really want to comment too much about boards as this topic has been beat to death in other places. If you've got some SP-8 specific info, please do share though. I got one because I like using 3-round burst, but I also don't want to deal with any complaining at the chrono (or lighting people up with 3 shots when point blank). So I have a 3 round ramp from semi -> 3 round burst.
Here's what I will add to the FAQ though. If you're considering the APE board, please bear in mind that the membrane adapter will not stick to a SP-8 trigger frame due to the rear portion of the frame being rounded. You will need to either have the frame milled by Maddmann ($25+$10 ship) or mount the membrane elsewhere. So the real total price of an APE board is
$130 board price
$10 lifetime warranty
$35 milling
$5-10 shipping from APE
---------
~$180
Lucky Stage 3 (AKA donut)
Some people say it will fit, some say it won't. Well it won't. Sorry. You will have to shave the inside of your SP-8 body to make room for the Lucky donut as it's significantly wider than the stock donut. Here's a pic I took to illustrate the difference:
The picture is washed out real bad, but you can make out what's going on. The stock donut is on the left and the Lucky unit is on the right. Beneath both of them (to keep it all level) is a metal straight edge.
Barrels
There are a lot of barrels out there on the market these days and most of them are very good. What I will tell you though is that the stock barrel works well enough. I shoot a CCM carbon barrel myself as it's something I had already, but if I didn't, I wouldn't bother upgrading the stock one. It's really that good.
As for sound, it's been tested somewhere that the SP extended shroud and barrel kit lowers sound from ~54db to ~52db. Nothing to scream about in my opinion. Has anybody put a db meter on a cabon barrel like Stiffi or deadlywind? If you get the chance, please be sure to measure the stock barrel with your db meter too in the same environment.
One free trick that somebody on this board mentioned is to plug the hole between your shroud and your barrel. This will stop the sound that escapes your barrel ports from being projected forward in the direction that you're aiming at (picture soon to follow). I did this will some egg carton foam, electrical tape, and I honestly don't think it made all that much of a difference. The SP-8 already operates very quietly.
Here are some pics of the above mentioned barrel "plug"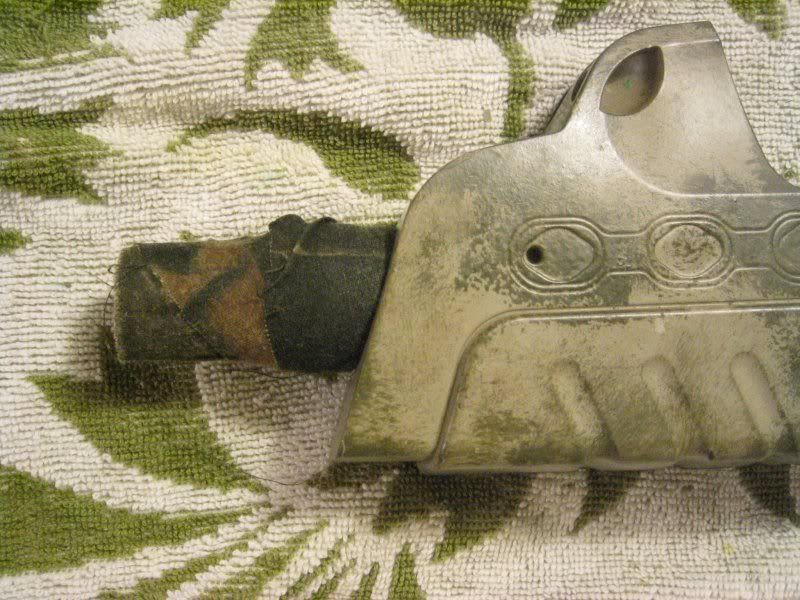 Stocks
It sounds like people like the stock for the most part so don't let my opinion dissuade you. I never really liked stocks on paintball markers as they tend to be too high for my tastes. Except for the Dogleg, I just can't seem to get comfortable behind them. I'll see about trying one out a local shop one of these days.
-UPDATE-
I did end up picking up the SP8 stock. The mounting pickup is surprisingly solid and there is no play at all in that area. The slide adjuster though has quite a bit of play top to bottom, but thankfully none side to side. Once planted into your shoulder it won't move, but I just thought I'd mention that. It's also completely made of plastic and feels like it when you hold/adjust it. The stock also has a tiny provision on the rear to clip a sling into, but it's so small that I'm not sure it's really worth using though. After playing with the stock I can say that it took a long time for me to get comfortable because I feel as if I have to bend my neck down a lot to get behind my red dot. This is difficult to say the least when shooting on the run. The nice part about playing with the stock though is that you can rest the cheek of your mask right on the stock and the red dot will be right where it needs to be. Playing without the stock, I had to move my head around a little to hunt for the dot until I got used to it.
Would I buy it again? I'm not sure. It's probably better if you can borrow an a-5 or another SP8 with a stock and a red dot on it for a day of play. If you feel comfortable in the aiming position go for it. The stock is decently built and will not break on you or start wobbling if you don't abuse it.
Tanks (HP or LP)
I know this isn't SP-8 specific, but I hear this question all the time and the answer that I usually hear back is: get an HP tank, the only markers that need LP tanks are Angels.
I really think that LP tanks are some of the most underrated products out there (especially the Crossfire LP tanks). Comming from a long time HP user, having an LP tank on a remote is just the greatest thing and I can't figure out why it hasn't caught on more yet. No more busted o-rings in your slide checks, or wrestling off tanks if you don't have an On-off (or wrestling the knobs if you do). You lose less air every time you need to blow off some air out of your remote line, etc etc. If you do decide to go LP, make sure you pick up one with a high quality reg. Crossfire makes one of the best LP tank regs. I even run my cocker on it and have shot 12pbs sustained without any shoot down.
Red DOT/scope
I use a BSA RD30 red dot on mine. Strong enough to take a direct hit (mine has taken several at close range), but only $15-$20 on that auction place that we all hate to love that has a name that starts with an "e". Or buy it from Wally world (walmart) for $30.
Bolts, QEV, and other efficiency increasing junk
Clippard type QEVs are kind of a pain because of the shape of the SP-8 body. I have a Lucky unit and it IS possible to install it without having to split the clam shell. It's a bit hard on the threads though as the fit is very very tight to get the QEV started into the thread, but it works. I've dissassembled and cleaned my SP-8 20+ times since adding a Clippard without any noticable wear/thread damage.
Some people were curious as to how I'm getting my clippard QEV in there without having to split the shell. Well all you have to do is drop the breech/firingcan/donut assembly into the body like usual. Make sure the rear donut is fully seated into the shell. Then simply rotate the firing can to one side and screw your QEV in. When the QEV inlet hits the body, rotate the firing can to the other side. See-saw back and forth 2 times and that should be enough to install the QEV all the way. It's not that big of a hassle, but as written below, I recommend the 360 unless you're trying to eek out every last bit of efficiency out of your SP-8. Sometimes having to deal with the teflon tape is just a pain.
SP360 QEV screws in without a hitch. They're reported to be less efficient than the Clippards, but due to the body shape, I'm going to have to recommend the 360 over a Clippard for SP-8s if you dissasemble and clean your rig a lot like I do.
Here
is a thread discussing the differences between the Clippards and the SP 360.
All of the other efficiency increasing items is really subjective. My advice to you when deciding what to upgrade is to go out and shoot all of the pods that you're carrying. Do you have any air left in your tank? If so you don't really need your marker to be more efficient do you?
In my case I've been using a 45/45 on gun. With a fully upgraded SP-8 I've been getting ~1200ish shots off of a full 4500 hot fill which just so happens to be slightly more than my entire payload of 7 pods. If I had a 68/45 I wouldn't have bothered upgrading internals for efficiency.
Hoppers and elbows
I have to say that my biggest gripe with the SP-8 is also the reason I bought it. I wanted a right feed marker again, but at the same time the elbows are so weak and troublesome. One of these days I might just go down to Home Depot and pickup a copper elbow and some metal straps as I've broken quite a few 45deg elbows.
One answer out there is the Qloader. I've actually run the SP-8 mod kit for a few months now (working on my third scenario and probably half a dozen days of play and I can tell you that the mounting kit is ROCK SOLID. I've done all sorts of evil things to it, from shaking the entire gun up and down vigorously while holding only the qloader mounting socket (remember I run with tank on gun too) to taking all kinds of spills and this thing doesn't even squeek, let alone have me worried about any sort of breakage.
The short tube run of the SP-8 mod kit also eliminates problems with ball breaks when loading a qpod or taking gun hits. A little electical tape on the SP-8 feed neck makes the Qloader clamp stick on there like a vice and as I said before, this thing doesn't even creak or squeek let alone rotate.
Here
is a full review and install of the SP-8 mod kit.
Another option is to cut down your feed neck 3/4". New feed necks are only ~$6 from SP so it's not too expensive of a mod if you want to reverse it in the future. One thing to note is that if you want to run the SP-8 mod kit from Qloader, you'll need a stock length feed neck.
-UPDATE-
In regards to chopping the feedneck, the clearance is very tight if you're using a red dot and a stock. My recommendation to anybody looking to chop their feedneck is to cut a small amount (perhaps start with 1/4" - 1/2"), then grab your SP8, put your mask on, and get into your comfortable shooting position to check the clearance. Cut/sand to fit until just before the visor on your mask will bump into your hopper or your hopper will no longer clear your red dot. For me it's very very tight. With the feedneck chopped all the way down, the visor on my mask hits my hopper right when my eye is in position to see the red dot.
One last thing to mention is that I've had a lot more luck with my older PMI 45deg elbows that I purchased 3 or 4 years ago than the SP unit that came with my SP8. The SP unit is nice in that the hopper opening is large enough to accomodate hoppers with larger feednecks (halo, egg, etc) and there is also some spiraling inside that I like as it increases strength and helps with "bite" to keep the hopper from rotating. Unfortunately the points where the screws/bolts attach to the feedneck are a lot weaker and break much more easily so you have to tighten the clamps with more care. Electrical tape on your feedneck will help reduce the amount of rotation, but I haven't found any good way to eliminate it altogether. One of the best first purchases I recommend to every SP-8 owner is to pick up a spare elbow or three. -Update- I saw that these are still sold under the Extreme Rage brand at a local shop. It looked the same and still has the PMI stamp on it. I couldn't confirm neck size or strength as the package was not a resealable type.
Regulators
Here are some regs that are known to fit:
CP short reg - The ever popular CP shorty. Nice part about this reg is ease of maintenance and our favorite 1/8" allen key is all that's needed to adjust it

Evil Detonator - Probably the best bang for the buck right now at $25+shipping.
Just as a side note, if you're using a stock reg and want to relube it, I had to grind down my 9/16 deep socket as the brass nut is very thin and my sockets are beveled at the tip. If you're having problems with the socket not getting a good grip on the brass nut, then you'll probably have to do the same.
Useful Links
SP-8 Review
by CJ. This should help some of you sitting on the fence and deciding to buy or not. He also comments on a few different barrels and regs so it's still upgrade related.
SP8 Break down Instructions
. This is especially useful if you have a Clippard QEV
More to come...
This post has been edited by Deeno: 09 June 2007 - 09:18 AM