As you can tell from the first pick I named him Draco at birth. He's bassically a palmerized cocker built off a PGP valve. Gets 500 shots er so from a 68ci tank, I run him remote. I had palmers take off the top two tubes and put on a lengthened barrle and a 10-shot spring feed. I've been playing every type of paintball with him for five years, and he's never held me back. He is my gun, not just a gun I own and the reason for my handle. I can't play with any gun but him, and believe me I've tried.
He's had countless shots through him, and only pooped out twice. Once at skrimish when the rear velocity screw stripped. Once at EMR (bane of all palmers) after my year hiatus and no oil. Currently he needs a new 10-shot spring andI lost the little black sl68 plastic girp at D-day on the landing.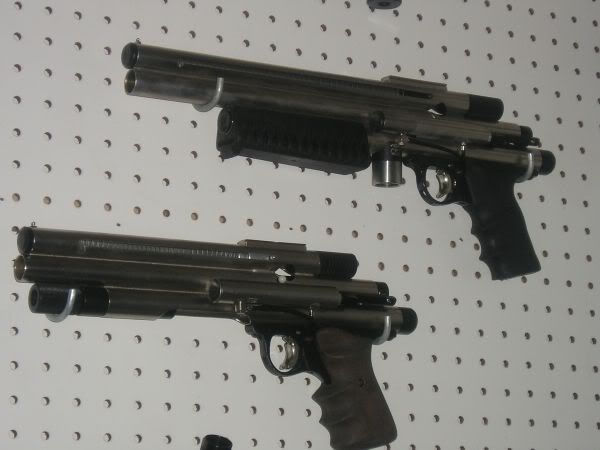 The top one is mine, got it in a trade with brimstone of SCP for a sydarm and P68-SC upgraded sleeper. It has battle grips instead of the PMI ones pictured. I planned on having this gun for big games because of it's longer barrle and higher shot capacity. Immedietly upoun it's arival my girl claimed it as hers... and it bassically is. Wish I had gotten it BEFORE I ordered her a q-loader for my wicked, wicked, wicked old m98. I havn't gotten the feed plug adjusted right yet due to a lack of a ridiculously small allen key wrench, but whatever.
Not pictured is my old 98 with q-loader, dye stickies and boomstick or my bushmaster SI with custom grip. I also used to own this palmerized kp2 with cooper-t CA adapter,
but sold it because I couldn't play with anything other than my pistol.