From 68Caliber.com
Quote
Paint and Air Sports' A5 E-trigger
Paint and Air Sports, a brand new company on the paintball manufacturing scene releases its first product. The A5 Custom E-Trigger, which is a Polished E-grip Trigger for the Tippmann A5. The triggers are made out of aircraft grade aluminum and cut with a CNC water jet for perfect results. Then they are hand polished for an optimal finish.
The A5 Custom E-Trigger is great for Scenario/Milsim oriented players who want the authentic feel of a Metal Trigger and to stand out from the crowd.
Within the coming months Paint and Air Sports looks to become a leader in manufacturing quality and affordable Scenario, and Milsim oriented gear. They plan expansion of product lines to to include innovative stocks, remotes, triggers, vests, as well as a designer T shirts and jerseys.
Paint and Air Sports will attend the West Point Spring 08 Combat Classic as a vendor. Look for the Paint and Air Sports booth to check out the latest innovative products.
For more Information on Paint and Air Sports please visit www.PaintandAirSports.com
www.paintandairsports.com
http://www.68caliber...story042814.php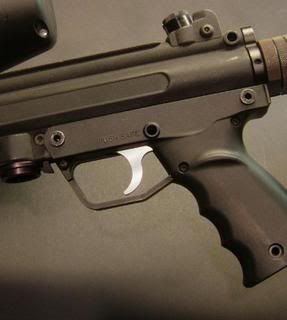 This post has been edited by takedown65: 06 February 2008 - 05:41 PM