Hey guys I'm looking to sell my Delta Elite and my 98 custom.
Its in good condition with some scratches mostly on the fake magazine.
325 OBO for the delta elite
80 OBO for the 98 custom
I can do a package deal for both and save you a lot of money.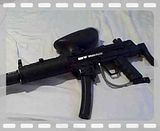 My camera isn't working thats why I have a video.
RULES
-I do not ship first
-I accept paypal and MO
-no ions, minis, pmrs (except for 09), woodsball guns, etc
-I do not pay for shippinga
This post has been edited by hudboy7: 07 June 2009 - 02:12 PM