My customized Armotech WG-65
Okay, i need to send you a before and after shot of my gear so you can appreciate it
.
It came to me with a ported and rifled vm-68 sniper barrel and without the handle. Nether the shroud nor the tip NOR the sight rail couldn't fit over the vm68 barrel, so they went in the surplus pile for if i ever sell the gun.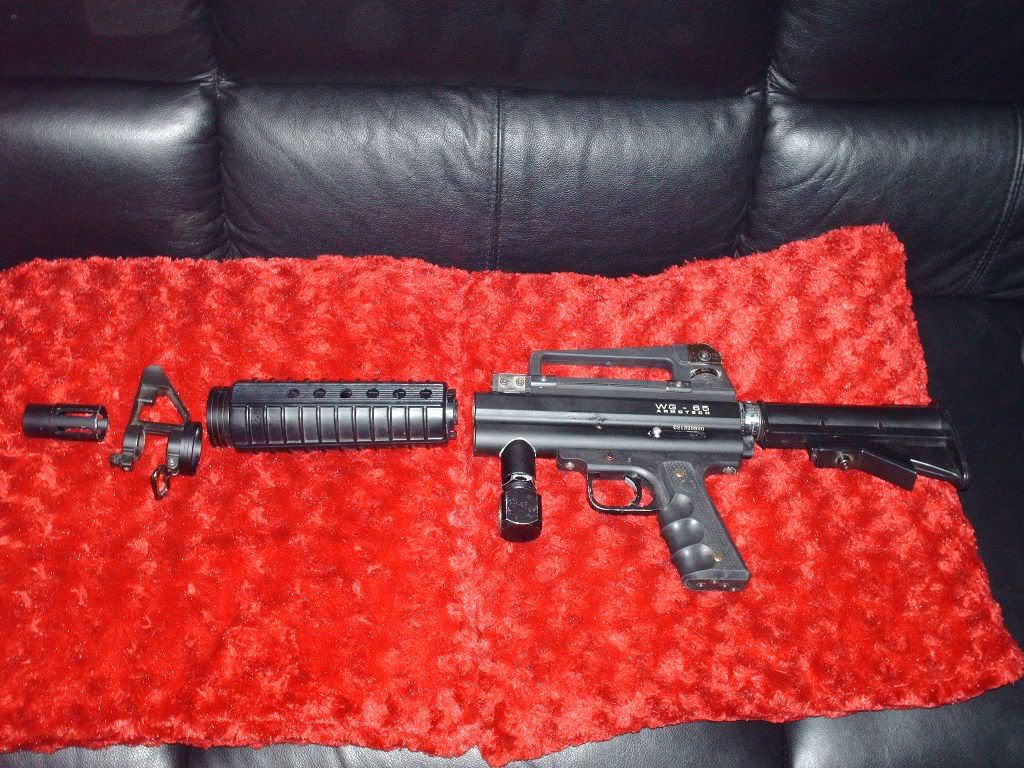 Now...here's my baby, almost done:)
My how they grow up *sniff*.
That sight is a multi reticle red dot sight that they put on real AR-15s. In other words, it costs as much as the marker. I was planning on switching it back and forth when i got my first one:) Also, that VM-68 barrel is worlds quieter than the stock one.
I still need to fully attach the qloader (ie the hose) and maybe put my handgrip bipod on there, but right now, its a lovely piece of work--and cheaper than making it back to stock too!. I do have camo netting/ a ghillie for it, so yes, i can hide in the woods without being seen.
WdlndScrtyCptn has affectionately named it the
Armotech Hanshi
. I like it, it has a nice ring to it lol.
the idea behind it came from none other than Halo 2. It's loosely based on the battle rifle.
http://members.aol.c.../halo2weap.html
For design reasons, and to stay in tune with the original idea, i won't be putting a clip kit on there. As for all sorts of flashlights, lasers, and what other crap, the most thats going on there is a laser for rangefinding and a modified version of my IR imager. I'm not into unnecessary crap
This post has been edited by Genesis Factor: 04 October 2007 - 03:59 AM