DIY Photo Gallery

No Talky, Just Photos Please
Posted 30 August 2008 - 11:09 PM
ger
You bought the brand, not my allegiance.
---
Posted 15 October 2008 - 08:34 PM
took me about three days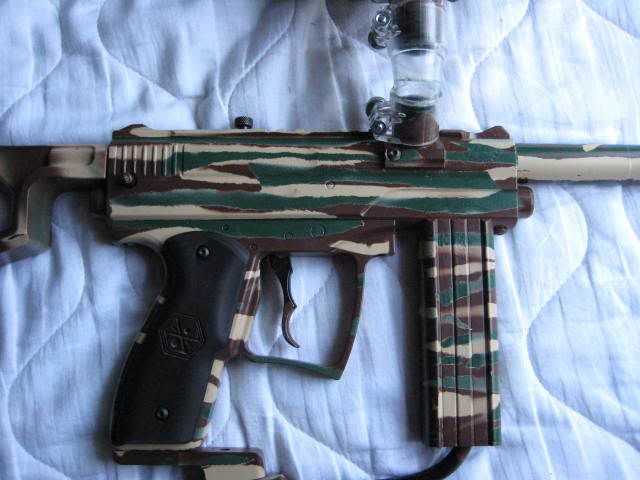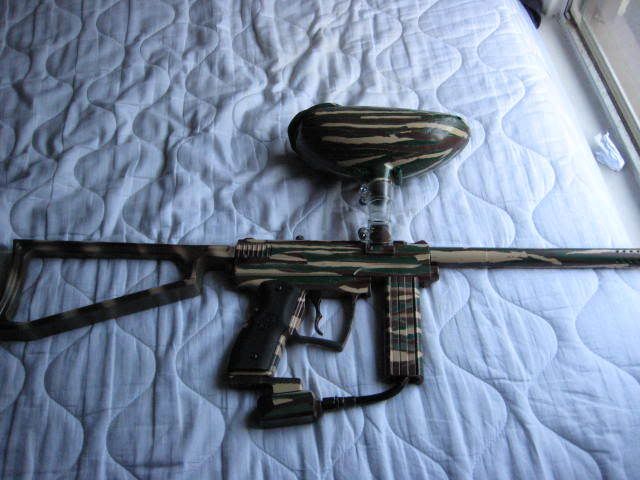 and yes, i know the gun is crap but thats all i can afford on 20 a week
---
Posted 27 December 2008 - 08:21 PM
my red tiger alpha black. that is a new stock, so its not painted.
sorry for the bad pics, was taken on camera phone.
"9 out of 10 teens listen to rap. If you're one of the few that stay true to progressive metal/classic rock, put this in your signature!
"92% of teens would drop dead if Abercrombie and Fitch said breathing wasn't cool. If your one of the 8% who would be laughing their butt off, put this in your sig.''
"if the first thing you would grab if your house was on fire is your paintball gear, put this in your sig"
"tippman rocks, if you think the same, put this in your sig"

---
Posted 01 March 2009 - 03:42 PM
Infamous_51, on Jun 6 2008, 03:32 PM, said:
i need to emphasize the black but overall i like it and it only took about 15 minutes which was a disappointment because i was hoping for a big project
how did you make those tiger stripes, with stencils, freehand?
if you are a christian paintballer put this in your sig
---
Posted 27 April 2009 - 09:08 PM
My X7. I decided I was tired of a boring, black gun that wasn't distinguished by anything but the stupidly long barrel, so last weekend I convinced my brother to teach me how to do a good camo paint job (he's done it to a couple of shotguns). So, with nothing more than three cans of different color paint and a couple handfuls of grass, we made this;
Layer 1: Sand
Layer 2: Some sort of red/brown stuff
Layer 3: Olive Drab
Layer 4: Clear Coat
This post has been edited by marksman1941: 15 November 2009 - 09:38 PM
Feedback +2/-0
---
Posted 26 June 2009 - 12:04 PM
Completed since pic at top of this page:
ger
You bought the brand, not my allegiance.
---
Posted 11 August 2009 - 08:13 AM
took me about a week to finish im pretty happy with it
---
Posted 19 February 2010 - 10:21 AM
my first paint job on an alpha black

Play hard Play safe
---
Posted 22 October 2012 - 03:41 PM
My ION rebuild and Quasi-Digi paint scheme.
Play Hard, Pray Harder
---
Share this topic:
---
1 User(s) are reading this topic

0 members, 1 guests, 0 anonymous users