Refill Stations
How they work
Buying your own CO2 refill station is a great way to save some money in the long run if you play alot using CO2. The tanks themselves will likely be expensive, at about $200 for a 50lb tank, but you pay about $25 to get 50 lbs (which will get you about 640 ounces out of it), which will come out to be about thirty-two 20oz CO2 tanks. At about $5.00 to get all that refilled at a store you pay $160. As you can see, it definitely adds up. Have your friends use it too and it'll pay for itself in no time.

Another thing you need to know about CO2 bulk tanks is that they are HEAVY! A 50lb tank weighs about 200 pounds! Confused? The 50lb number is how much CO2 the unit holds. All the metal and such to keep it in there makes it way about 200lbs. Got it? Great!



What You Need



CO2 Bulk Tank with Siphon Tube





It is very important that if you rent / buy one you get one that has a Siphon Tube. If you don't you'll be filling your tanks with mostly air, which doesn't do you much good. I personally got my tank from a Carbonation factory, you'll have to call around to find a place that sells or rents CO2 tanks.


Scale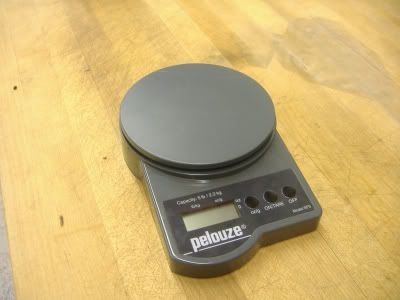 This is another very important item. An electronic scale that measures in ounces is perfect. If you try to get ones that measure more than 5 pounds, it will be really expensive. You won't need anything that can weigh more than 5 pounds.
A great 5lb scale to get is the Pelouze Digital Electronic Postal Scale (if link doesn't work, copy and paste the name into the search bar and it will come right up). It is only $34.00 and can zero your tank to make it easy for you to fill CO2 tanks.
You can also use non-electronic scales such as a meat scale or fish scale. But make sure it is very accurate (I would suggest avoiding these if you can help it - they aren't as exact)

Fill Station



You pretty much have two options here. a single valve or a dual-valve. You'll understand it more later, but pretty much, a single valve only allows you to fill a tank - not empty it. It is very inconvenient and you might as well pay the extra $10 for a dual-valve refill station. A dual-valve refill station features its own on/off valve to allow flow of CO2 and an on/off valve to allow you to "purge" (empty) the CO2 tank.
A good, affordable valve is the Trinity Pro Deluxe Two-Valve Fill Station for $51.






How to Use Your CO2 Refill Station



Now that you've got everything you need to start refilling your own CO2 tanks, you need to know how to use it.

SECURE YOUR BULK TANK!
Make sure your bulk tank is secured. It is very dangerous to allow it to fall over. Worst case scenario would be the valve breaking off and it shooting off like a torpedo and killing / critically injuring several innocent people. No joke. If you secure the tank to a corner and something bad happens, it will just push down and do no harm (again, as long as it is secure). But, the chances of anything like that happening are slim to none.

Attach your refill station to the bulk tank
You will get a little plastic ring with your refill station line that goes in between where you screw in the refill station to the bulk tank. Make sure you put it in there before you attach the line.

When finished, it should look something like this: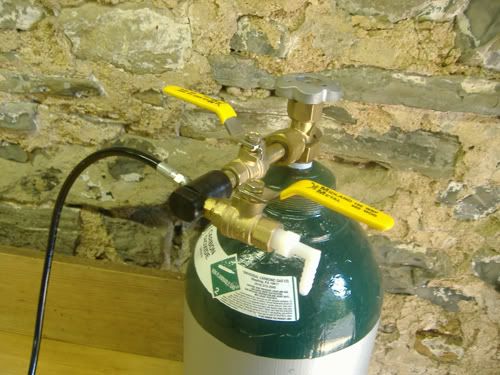 ALWAYS CHECK HYDROTEST DATES
The most important thing before continuing is to check the hydrotest date. Bad things can happen if the tank is out of date. Think of the torpedo-bulk-tank in a handheld size. Alot of times you'll find that the date has worn off. Look closely to look for the indent of it.

Look closely to find those hydrotest dates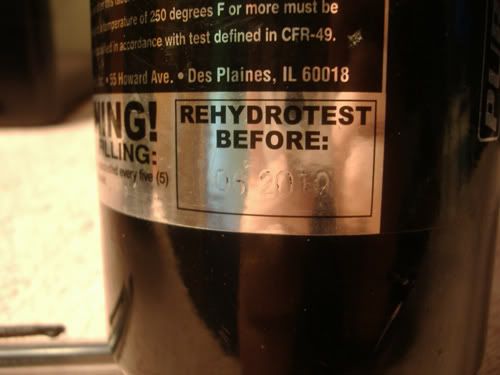 Attach an empty or near empty CO2 tank to the refill station
Now it's time to get the show on the road. Attach your CO2 tank and screw in the knob like a remote line. You may need to loosen the knob some so CO2 can pass through, but I'll explain that later.

Just about ready to fill!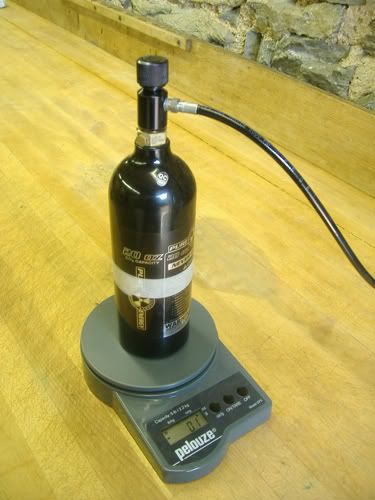 Empty the CO2 tank
It is a good idea to attach some hose to the barb (the small white piece) to have it redirect the CO2 so you don't get frost bite from the cooled gas
Make sure that the CO2 tank is empty by opening the purge valve. If there is a good amount in the tank still, open the valve only a small amount to allow for the CO2 to drain slowly. If you do it too fast you will chill your tank alot. Not that I would know or anything (I'm lying), but if you drain it too fast with too much CO2 still left in the tank, the frozen over tank may freeze to your tongue for a short period of time [don't try it, seriously]. As I said above, you may need to loosen the knob so CO2 can pass through. If you notice it is going slowly then loosen or tighten it alittle bit accordingly. You'll learn how to do it once you mess with it alittle bit.

An open purge valve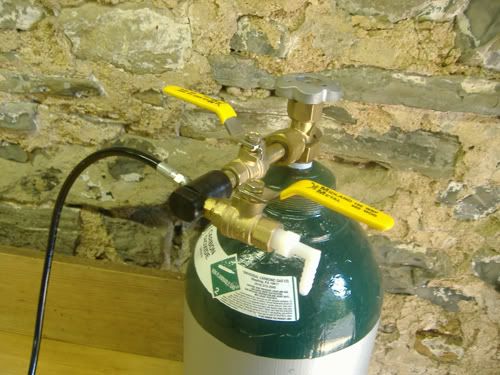 Zero your Tank
Make sure you close your purge valve. Put the completely empty CO2 tank on your scale. Zero the scale.

Zeroed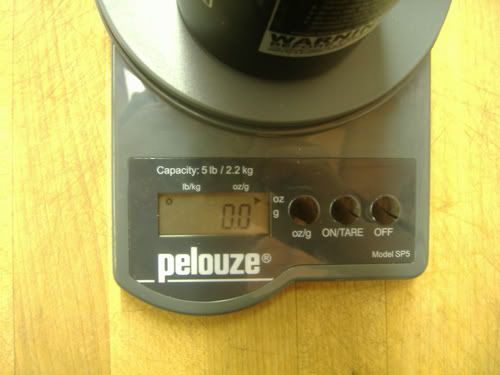 Chill your tank
You have to "chill" your tank before filling it. If you don't, you will most times not be able to fill the CO2 tank to its capacity.
First, open the Bulk Tanks Valve, just unscrew it until it stops.
Then open the on/off valve connected to the bulk tank and watch the scale. It won't take long, so close the valve again when the tank fills with 1-2 ounces.
Open your purge valve and empty the 1-2 ounces in your tank. You can have it flow out quickly to help the tank chill.

This is the on/off valve to allow flow from the Bulk tank to your CO2 tank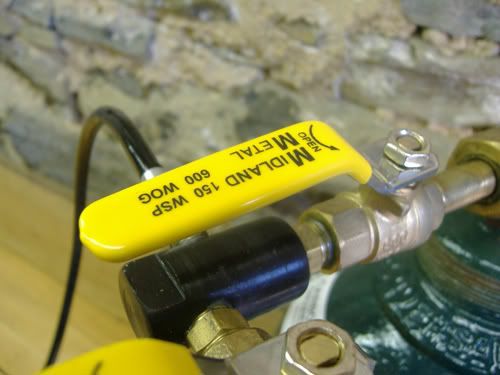 Finally, fill that tank!
Now you're ready to fill your tank. Make sure the tank is completely empty before continuing. You don't want to overfill your tank.
Open the on/off valve to the bulk tank and let the CO2 tank fill. The CO2 tank may rattle around a bit, so just keep a hand near it incase it happens to fall over (unlikely). Watch the scale closely and when you get within 1-2 ounces below the tank capacity, close the on/off valve.

Never fill your CO2 tank to its capacity. Fill to 1-2 ounces below its capacity. This will allow it to expand without any danger of it rupturing if it gets warm. Don't ever try to get that couple ounces in there. It simply isn't safe.

Some examples:
Fill a 9oz to 8oz
Fill a 12oz to 10.5oz
Fill a 20oz to 18.5oz

Also, be sure to realize that a 20oz tank is over a pound, so it will turn 16 ounces into one pound. You will be looking to get no more than 1 lb 3 ounces.

A 20oz CO2 tank properly filled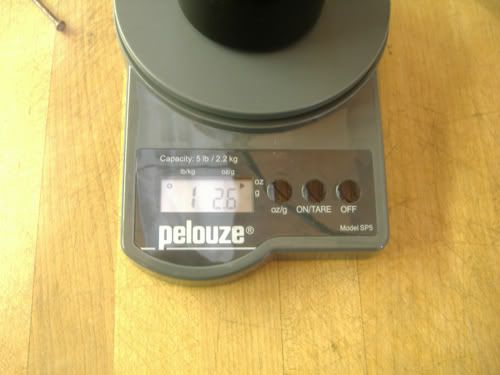 Just finish it up
All you need to do it completely unscrew the refill station's knob, open the purge on/off valve to empty the excess CO2 in the refill station line, and take your CO2 off of the refill station.


Notes and reiterations:
At the end of the day or whenever you are done using your Refill Station, close the bulk tank's knob. This is just a safety measure incase the refill station's on/off valve fails.

Make sure the CO2 tank you get is made from quality components

Setup Safely with solid base and securly strapped in the upright postion to prevent the tank from falling over.

Read a manual on its use and/or a thread like this which covers most of the bases on it's operation.


There you go, a guide on what you need to fill CO2 tanks and how to do it. I hope this helps!
Gerik Bensing
This post has been edited by Gerik Bensing: 22 November 2006 - 10:29 AM