spyder pic gallery

we need one to show off are sypders !!!!
Posted 04 July 2009 - 12:16 PM
all my spyders
still working on the MR1
---
Posted 19 September 2009 - 07:47 PM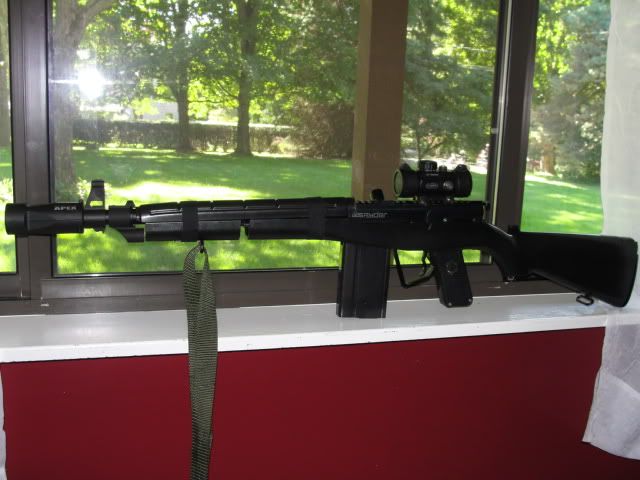 Spyder MR2 with 16" apex barrel and Lapco red dot sight.
---
Posted 11 June 2010 - 08:26 PM
This is my newest creation i took a simple MR1 that i got for $50 a couple hours in the shop and a roughly $75 in miscalanious extras and BAM! the sickest sniper set up ever. 20in trinity barrel tasco 50mm scope AR15 butt plate and remington pump grip. the rest can all be done with the componets found when you open the box. if you want your fantasy gun built and you live in las vegas NV call me 7026299292 Ghost
Bonehead paintball Customs
---
Posted 23 September 2010 - 07:19 PM
imagine.JPG
(108.43K)
Number of downloads: 10
not bad for less then 30 bucks huh?
Returning hate for hate multiplies hate, adding deeper darkness to a night already devoid of stars. Darkness cannot drive out darkness: only light can do that. Hate cannot drive out hate: only love can do that." --Martin Luther King Jr.
"Victory is a very dangerous oppertunity" --General Andre Beaufre
---
Posted 23 September 2010 - 09:20 PM
shotgunspyderjj.jpg
(99K)
Number of downloads: 3
Grandpas shotgun and a Spyder Compact 2000 with a 14" J&J ceramic.
"I love Kaesie because Florentine said so."Bushball is Australian for Woodsball. SOFA Best Grammar '010
Grammar Police Co-Commander Badge #1 IKE & Ike '09 STUDMUFFIN Debater of the 1st Order of Ashrak ASH123
"Overkill is underrated." -Col. John "Hannibal" Smith
... another Staff granted wish.
---
Posted 17 November 2010 - 10:29 AM
Reposting my pic...
Uploaded with
ImageShack.us
Uploaded with
ImageShack.us
Uploaded with
ImageShack.us
These were made back in 2007 and long gone but new things are coming.
---
Posted 14 June 2011 - 12:00 PM
- Spyder E-MR1 Olive
- J&J Full Tilt Ceramic Barrel - 14"
- Proto Primo Hopper
- 48ci 3000psi Ninja Tank
- Clamping Feedneck
- MarPat Tank Cover & Gun Wrap
Total Weight: 7lbs.
---
Posted 23 August 2011 - 08:12 AM
Spyder Q Bow.jpg
(113.19K)
Number of downloads: 1
hey guys, check out the mods!!!
Original 1998 Spyder TL plus
Rocking trigger added
UTG Tactical rail Added
NC Star Red Dot reflex sight
Rap 4 barrel adapter
Apex II barrel
Q loader custom installed
Special Ops Long Bow Stock
Fabbed bracket for mounting
removed bottom line and feeding CO2 straight into the expansion chamber...
think thats about it
I call it the Spyder TL Q bow lol
http://youtu.be/drDZgDpbjVg
This post has been edited by Quickened: 23 August 2011 - 08:21 AM
Better-B-Ready or not here I come...
---
Share this topic:
---
1 User(s) are reading this topic

0 members, 1 guests, 0 anonymous users