OK, out of the box, the marker has a pretty sexy look to it.
It is actually pretty much a carbon copy of the MP7
It is very light, at first I thought it felt too light, almost cheap. But it grew on me...quickly. The highpoint of the TM7 is definatly the selector switch. Out of the box it will go semi, burst, and ramp to full auto. Very useful if you really get in the thick of it. You can also customize the board to your needs. Internals are basically the same as the Invert Mini from what I hear, I don't have a Mini but have been told so. The TM7 also has an adjustable stock that quickly adapts to the needs of the situation whether in CQB or open terrain. Size is excellent, think they've done a near perfect job of blending a standard tourney marker with a mil-sim. Also, battery very easy to access to rear of grip, no tools needed. Will also turn off after an our of no activity on safe mode to save battery life. Has mini-style(cocker) barrel threads and will take down to a 4" barrel which really shortens it up(barely sticks out of the reciever). I've chosen to go with the C-series and the Apex adapter tip. Also, this is not an "Air Hog", very very efficient with air, could be the most efficient I've ever used. Played all day on a 4500 tank.
Edit:
Just noticed that it does come with a stock cap, so if you want to take the stock off, you can cap the end after doing so.
Only available mod right now is the double trigger pictured below, rumors of a rip clip in the works. I would love to see an aluminum body made for this, as well as some tougher aftermarket parts.
Edit:
Mook of Shadow Company did fall and subsequently snap his feedneck as well as the rail off his marker. Believe he had to get a whole new body and selector switch from Tippmann Pros. Those of you who know mook should not be surprised.
Downsides are the stock seems a little fragile when fully extended, and the open sites on the marker are mostly unusable( I actually removed the rear sight comepletely. Also, only runs on N2(no CO2) and you almost have to run a remote line which doesn't bother me at all. Other than that I have't noticed any other issues, but will revise if I do after further use.
Edit:
Also, as I learned from a teammate, first generation makers selector switch labeling is painted on(which rubs off fairly quickly) as opposed to stamped in later generations. If you are wanting to purchase, I recommend having the dealer open the box so you can see it was stamped as opposed to painted as this can be dangerous down the line when individuals don't know the status of the marker. Should also help avoid problems like the on/off switch on Gen 1 markers. Additionally, taking the marker apart is not unlike taking a 98C apart, but it's a little easier I think. Just get a cup and put your parts in it, and remeber long screw on the bottom, short on top. Finally, I've also been told, that just like invert minis, they may have issues in the rain. So if you are in the SPPL, and this is your marker, bring a mechanical backup.
This is an
extremely functional marker, but still maintains a very sexy look.
Most importantly though,
its a blast to play with
. I made a lateral move on someone to some cover that left him exposed to me. He tried to flip it and steal the initiative and make a similar lateral move on me. All I did was flip the selector switch from semi to auto and threw so much paint at him he wilted when he took about 5 to the chest. nice to have that available,
I highly recomend this marker. I had more fun playing with this marker than any other marker I've ever played with.
If anyone has any questions, feel free to ask. Oh yeah, price is just under $400 right now. picked mine up at
http://www.tippmannpros.com/
Edit:
Bought the double trigger from Nick at Tippmann Pros the other day as well, will post a assembled pic if people want to see that. Also got a couple of Spec Ops C-Series barrels, the C-Series Apex Adapdter, and an Apex Tip(interchangable with my Tac 1). Pretty excited. Pictured below, also note double trigger.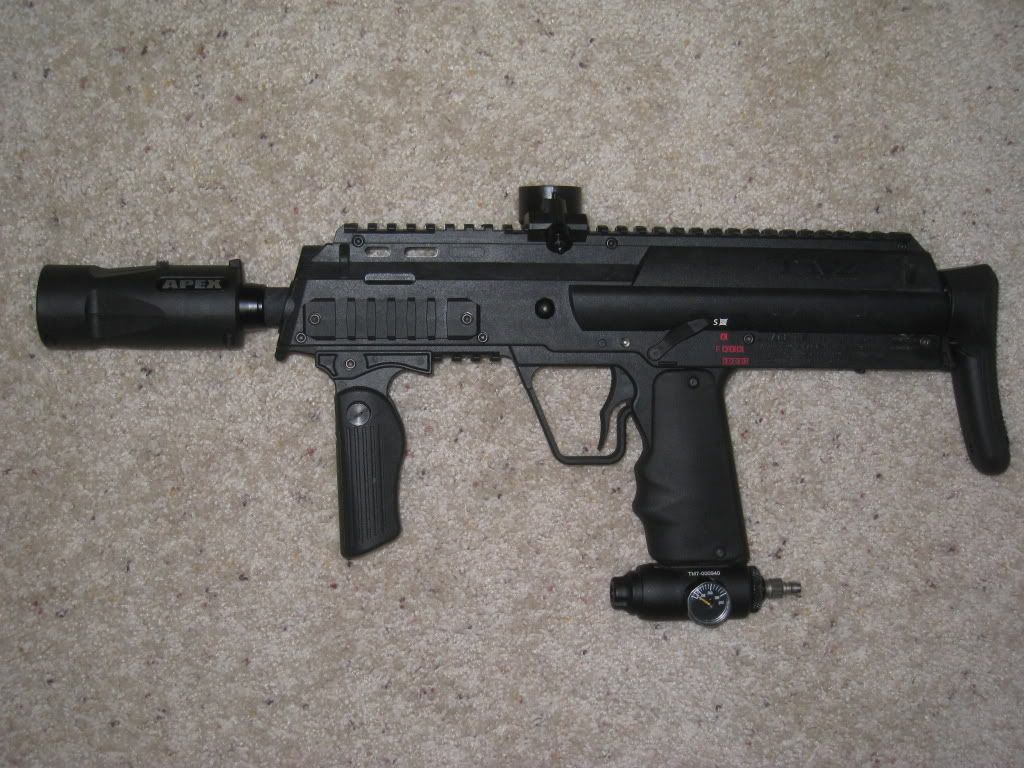 below is a pic of me(left with multicams) playing with it on Nov 15th at the Pit near Longmont CO so yo uknow I'm not jerking your chain.
Further Info:
MondoMor, on Nov 28 2008, 10:22 AM, said:
I did a further test on the TM-7's voltage thresholds:

If battery is > 8.5V, LED is GREEN
If battery is > 8.2V, but < 8.5V, LED is ORANGE
If battery is < 8.2V, LED is RED

Voltages are approximate. Boards may vary slightly, and keep in mind batteries will "recover" some of their voltage when removed from a load, so you may pull a battery out of your orange-blinking TM-7 and have it read 8.7V.
quoted from Redcell Paintball
Quote
The BT TM-7 utilizes Mini Technology to inflict maximum force from a marker of minimal size. Don't be fooled by the size of the TM-7's exterior; it can hang with the big boys and is by no means a lightweight. Once you hold one and pull the trigger, you won't want to put it down. Its lightweight, yet durable construction is perfect for close quarters or long-range combat. This is the marker that just may have people rethink the way they looked at Mil-Sim paintball markers.

The BT TM-7 Paintball Gun Features:
- Mini Technology Inside
- Shift-On-The-Fly, 4-Position Mode Switch
- Multiple, Extensive Firing Modes Including Semi/Burst/Full-Auto
- Multiple Picatinny Rails Allow For Extra Accessories
- Adjustable, Multi-Position Stock
- Collapsible/Adjustable Front Grip
- Low Pressure Operation
- No External Hoses; Internal Airline Operation
- Additional Modes: NPPL/PSP/NXL/Millennium
- Universal Mini-Style Barrel Threads
This post has been edited by BlackLight Z: 16 December 2008 - 12:11 AM