I figured I would post this Dye Ultrailte review I made a while back to help people find a great barrel.
Dye Ultralite Review:
Dye Ultralite Images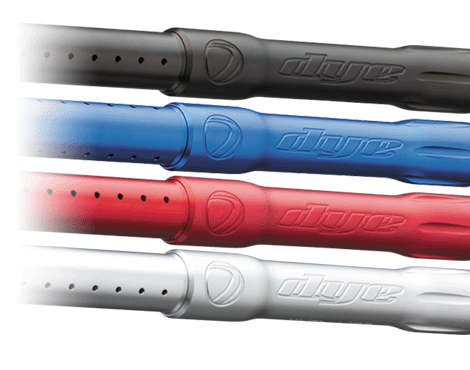 The Gun it is threaded for is the A5 and I used it with that today. I hope this review helps if you are looking for a nice barrel to get. I am sure it performs just as well on any gun as the A5.
Looks/Feel:
I bought the Dye Ultralite Black 14" for my A5 I was very impressed with using it, in person with the barrel but on the A5 it matches the A5 perfectly. The black is shiny but not overshiny. It is a two piece barrel which is pretty cool, I have always used single piece so this was new for me. So overall the looks/feel is very nice.
People say that it will chip easy, but I am very careful and I see no problem. (Whether I am playing at a indoor field, speedball, or woodsball outside.) You do have to be careful, but unless you chuck it at the hard gravel street I doubt much will happen. The 14" at the indoor field was to nice to move bunkers a side, giving me a smaller profile with my A5.
When you hold it in your hand it doesn't feel like it is going to break or anything, it is made very strong.
Performance on field:
My teamate and I were very impressed with the accuracy on the barrel. It is 100 times better than any stock barrel, and after using it today, I think if you aren't worried about price it is one of the best barrels on the market. A lot of Dye items are overpriced but if you want to put in the money it is worth it.
I did not have one barrel break throughout the games I played around (5 hours of playing). It was a very accurate barrel! I got many people out using it.
Dye Ultralite Conclusion:
Very nice barrel, one of my favorites, it comes in four different colors.. Black, Blue, Silver, Red, so it can match with many types of guns if you want to color coordinate everything. I got my Dye Ultralite brand new online for around $70 at most stores however it will cost you around $99. You can also buy it for cheaper price used online. I highly reccomend it if you have the cash to spend it was a very nice barrel!
I also in the past owned a Lapco Bigshot (Sold it to friend because he was stuck with the stock barrel).. I am not going againist that barrel in anyway it is also a cheaper priced barrel and performs very well. It is all about cost but if you don't want to spend the money on the Ultralite then with your A5 try a Lapco Bigshot.
Dye Ultralite Info
Dye's Descirition of it: The DYE Ultralite barrel is a popular favorite of the top pros today. The Ultralite is chosen for its all aluminum light weight advantage. It is also a very popular custom barrel because its aluminumconstruction offers the ability to be anodized to match any gun color. It is made with the same precision quality that you can expect from DYE as the leader in barrel manufacturing.
Dye Ultralite Reviews:
http://www.pbreview....s/reviews/2250/
Picture of my Dye Ultralite on Tippmann A5..
http://tinypic.com/9k2iwk.jpg