The Great American Paintball Tour - 2011 Schedule
The American Paintball Tour (APT) is a coalition of the biggest and best scenario paintball events in the world. For the first time ever, the largest scenario game producers have come together to form a year-long tour that combines the production and marketing efforts of the top scenario events and combining it with a brand new ranking and points system that will allow players to accumulate points throughout the season which can be used to improve your league ranking and earn other benefits.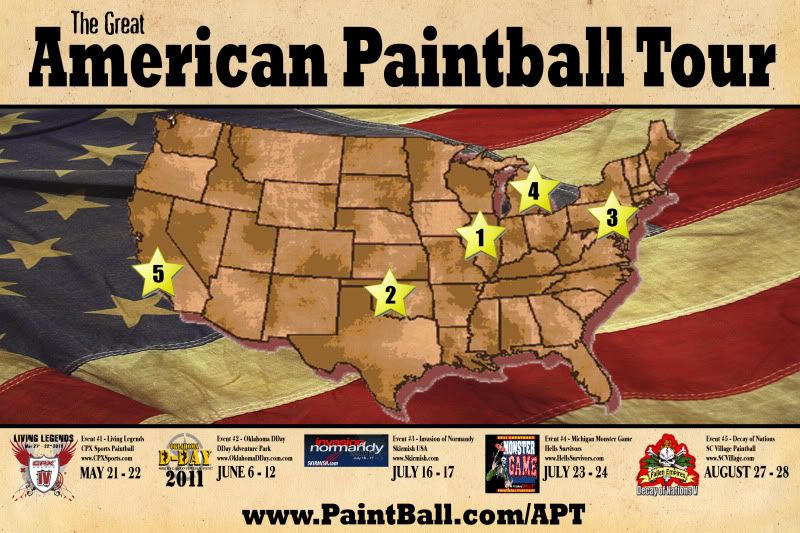 The APT exists as a way to streamline the marketing of large-scale events, and grow the number of recreational players that participate in these games. Together, all APT events will be work as one to increase the camaraderie that players experience at quality paintball productions.
The APT will be rewarding players for participating in APT-affiliated events by distributing points for various achievements that range from entering the event, dressing up in character, making a prop, forming a league team, being a part of an event-winning side, etc. Players will also be rewarded points for forming teams and playing APT events together as a squad throughout the season. At the end of the season, the top players and teams will be awarded prize packages. There will also be one APT player at each event that will be recognized and rewarded with prizes during the end-game ceremony.
Accomplishment = Points Awarded
Play Any APT Event = 25pts
Play Any APT Event on an Organized Team of 10 Players or Less = 50pts
Be on the Winning Side = 2pts
Participate & Complete a Mission = 2pts
Create an Event Prop (Law Rockets, Tanks) = 2pts
Come in Character (Roleplay) = 2pts
Submit a Relevant Story to PaintBall.com = 2pts
Submit a Team Profile to PaintBall.com = 2pts
Submit a Relevant Video to PaintBall.com = 2pts
Additional Points for Game Size
Under 1,000 Players - 1 Extra Point
Over 1,000 Players - 2 Extra Points
Over 1,500 Players - 3 Extra Points
Over 2,000 Players - 4 Extra Points
Over 2,500 Players - 5 Extra Points
Over 3,000 Players - 6 Extra Points
*UPDATE*
Michigan Monster Game Joins the American Paintball Tour for 2011!
The American Paintball Tour is excited to announce that the Michigan Monster Game, one of the premier paintball big games in the world, has joined the APT 2011 series of events. Monster Game, held at Hell Survivors in Pinckney MI, will run on July 23rd - 24th, and more than two thousand players are expected to attend.
The addition of Monster Game has further cemented the inaugural season of the American Paintball Tour as the top scenario/big game series in the paintball community. Here are just a few details about this year's Monster Game:
- Official Marker: Tippmann
- Official Goggle: V-Force
- Official Paintball: Fireball
- Official Store: Exotic Sportz
- Official Team: Blues Crew
Pre-Register: Teams that pre-reg by July 1st, 2011 can save $20.00 on their entry.
Event Website: www.HellSurvivors.com
Here is an updated 2011 Schedule of Events for the APT:
Event #1 Living Legends
When: May 21st - 22nd
Where: CPX Sports Paintball
www.CPXSports.com
Event #2 Oklahoma D-Day
When: June 6th - 12th
Where: D-Day Adventure Park
www.OklahomaDDay.com
Event #3 Invasion of Normandy
When: July 16th - 17th
Where: Skirmish USA
www.Skirmish.com
Event #4 Michigan Monster Game
When: July 23rd - 24th
Where: Hell Survivors Paintball Park
www.HellSurvivors.com
Event #5 Decay of Nations V
When: August 27th - 28th
Where: SC Village Paintball Park
www.SCVillage.com
Any promoters or sponsors interested in being a part of the largest scenario game series in the world should send an email to Gio@hollywoodsports.com.