Who Makes them
:
Rubber latex Mills Bombs can be purchased at the below link. Seth the owner is a great person. Real friendly and was very helpful in providing the needed info for me to make a purchase. So email this guy or give him a call, either way you'll get great service.
Mil-Sim Labs
Historical Information
:
Article Credit goes to Stechele of MCB. He took the time to provide these links to give a little more info on the Mills Bomb. So thanks you Sir for this info.
Mills grenades
Allied weapons of WW1
So on with the review
:
This is a work in progress. I will add to it as the grenades progress into field use versions. Meaning, clearing flashing, cutting holes for the tubing and making it refillable. I bought these for the intension of use.
If you are worried about these never coming back or loosing them on the field, then these aren't for you.
Spend your cash on that gun upgrade that really does nothing for improved rate of fire.
Otherwise if it doesn't bother you, and your a Mil Sim person that wants to add realism to your uniform, these are for you.
So this is what I received in the mail
:
I know looks like a lot, but I'll be using the other items for my other paint grenade ventures.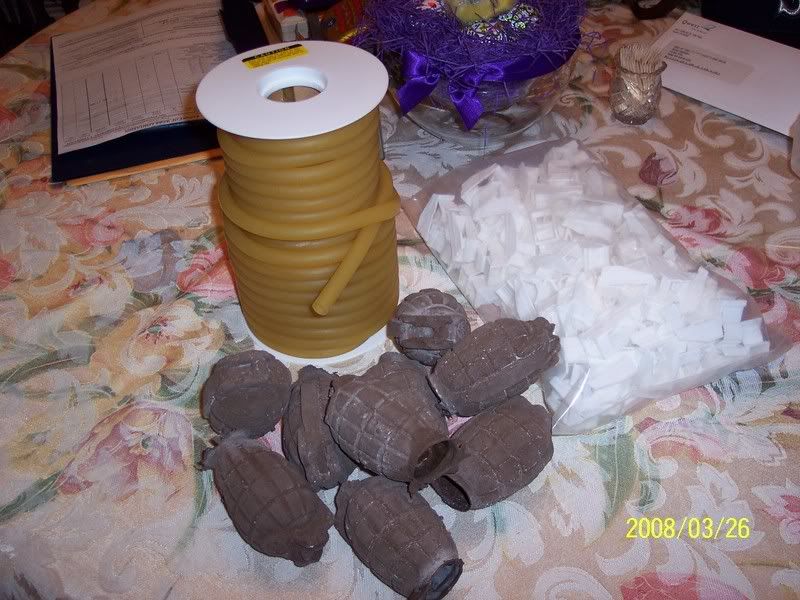 So lets get a family photo
: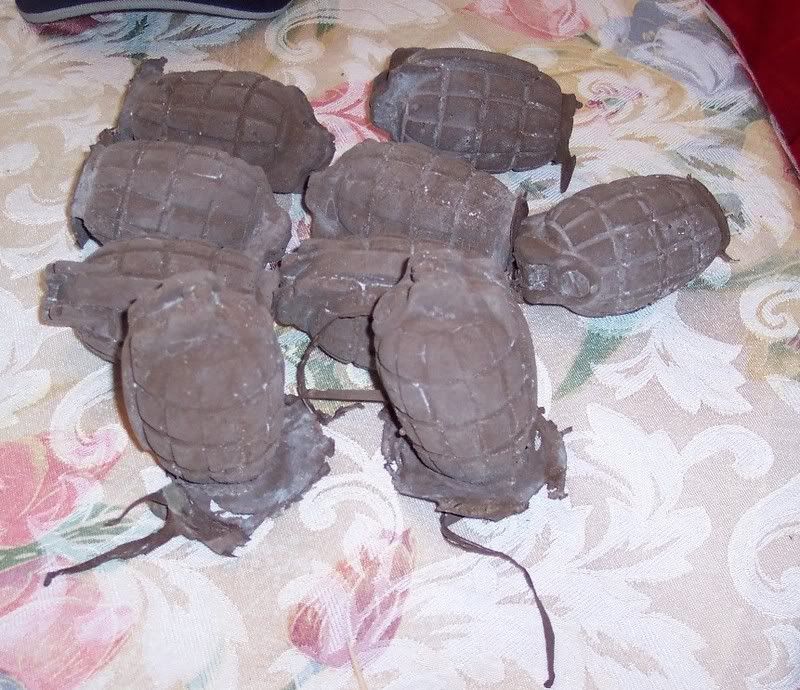 Prior to trimming
:
These are made of a rubber latex. Some people would get mad about the flashing that comes on these items, but the whole fun of paintball is building and improving. This is just something you can do while watching TV or relaxing on the porch after a day of playing paintball. Not all Mills Bombs came this way some only need very little if none at all trimming.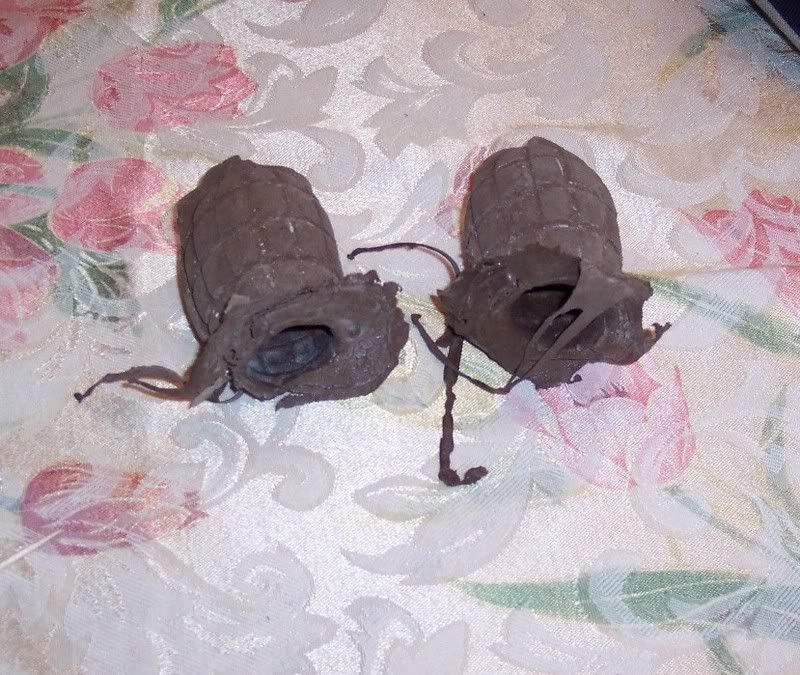 So simple to clean up and shape
: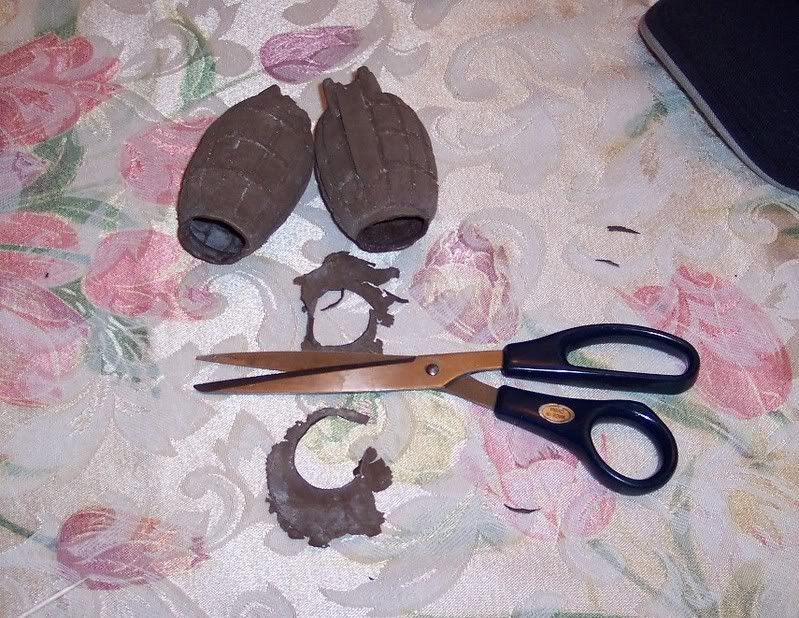 So a quick demonstration on how flexible these are
:
Now everyone can see they are not a plastic shell. Squeeze them and they open right back into shape.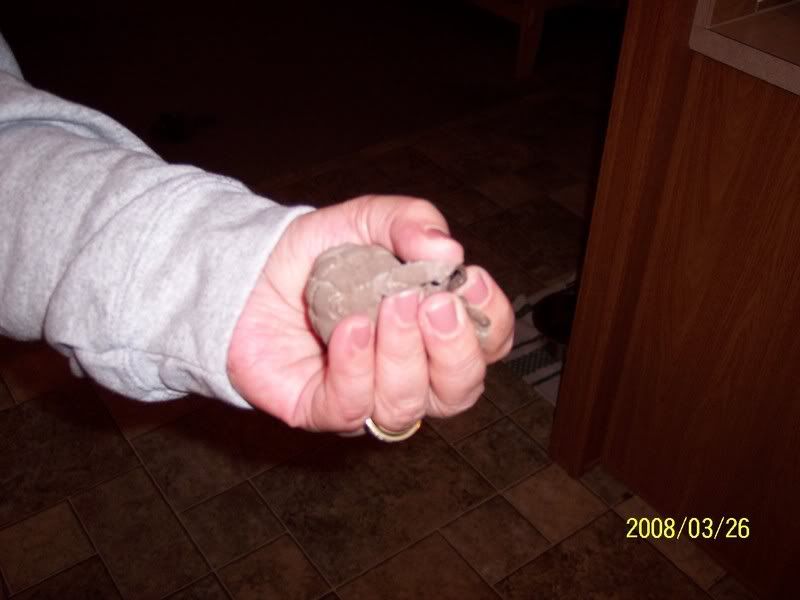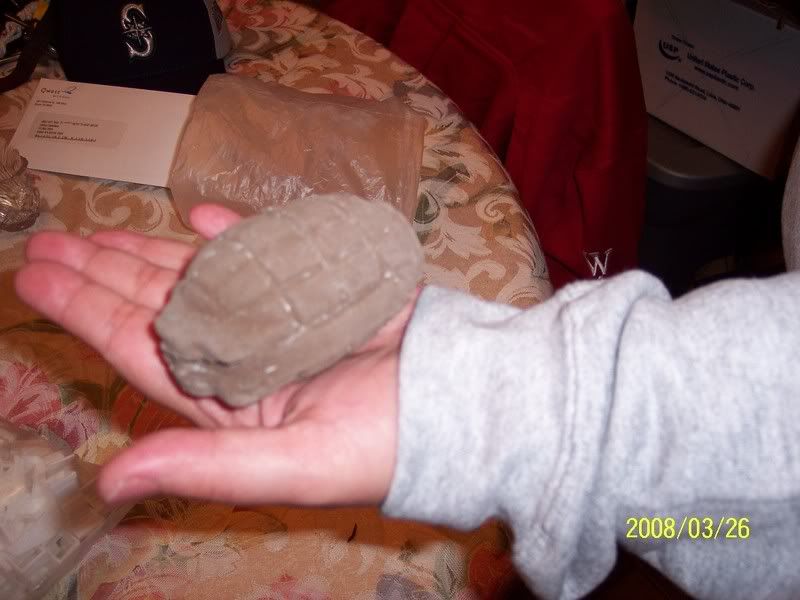 Standing tall and looking good
:
Alright all the big stuff is trimmed up. Most of the major flashing is gone. I still have a few bumps to remove. No biggy. I still have to wash them up and start cutting out top holes to feed the tubing thru. I'll be using my refillable method for these.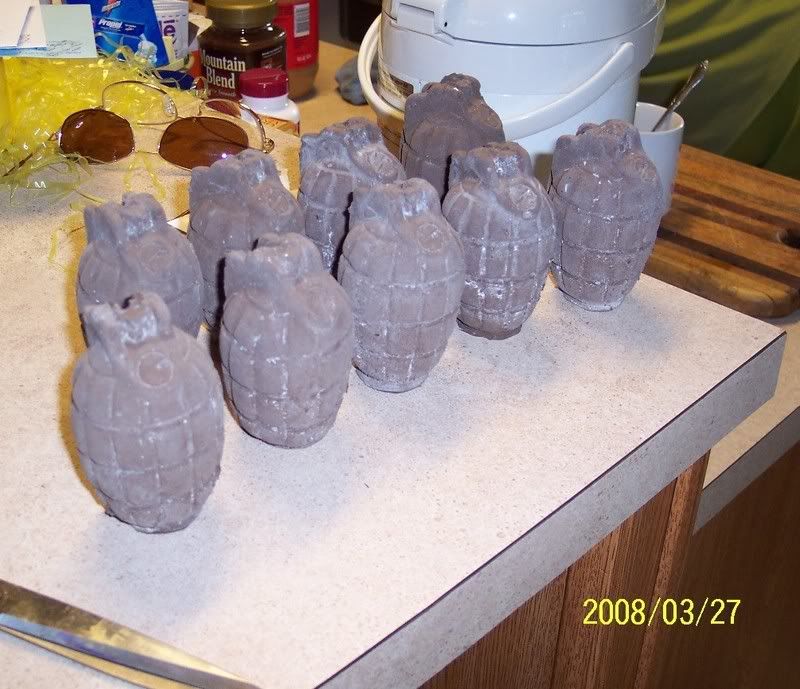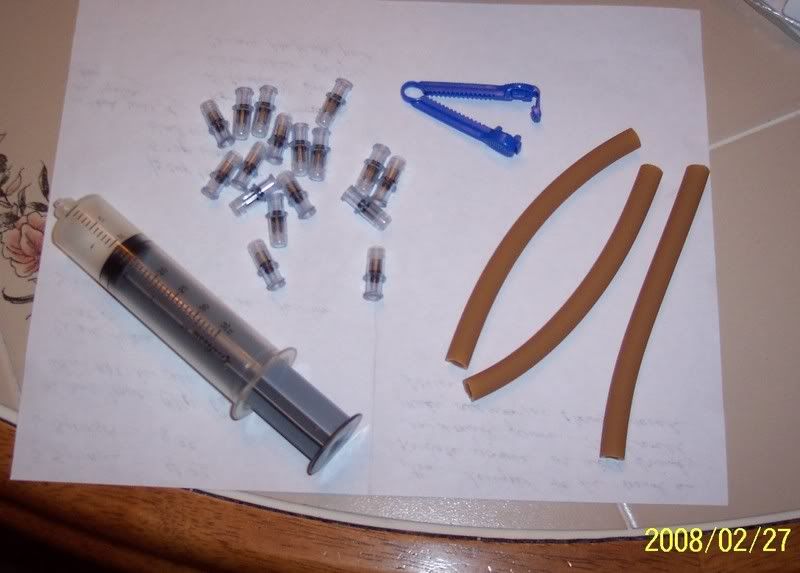 So we have to start somewhere:
First I cut a hole in the top of the Mill's Bomb. This isn't very big. I have a nice "friction fit". This will not restrict the paint from flowing, but will retain the tubing.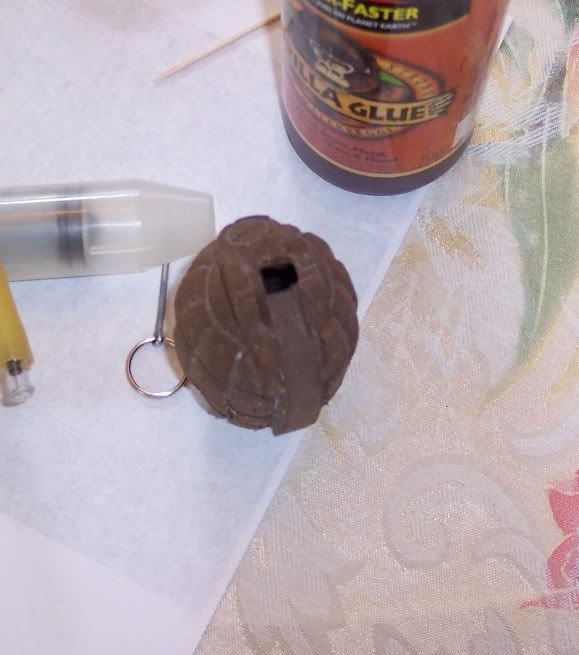 So lets slide in the tub:
I went from top to bottom. Since both parts are rubber, I just pinched up on top of the cover as I pulled it thru.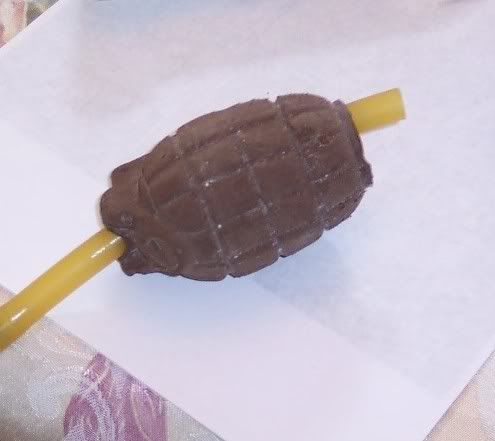 Semi Ready example:
That's exactly what it is. Not painted and basically a mock up of what it will look like when finished. The tubing looks long for the moment. Once I actually fill one, I will be able to tell exactly how much tubing is neccessary for a finished model that's ready to play with.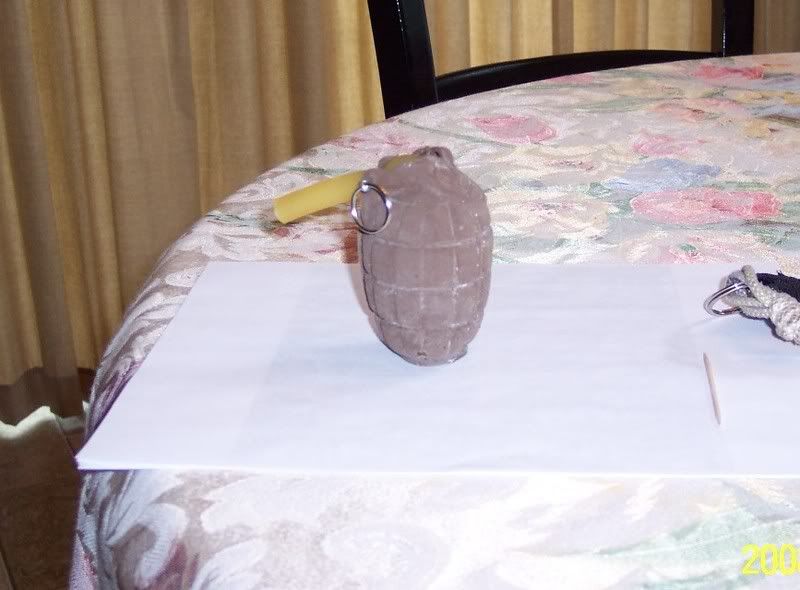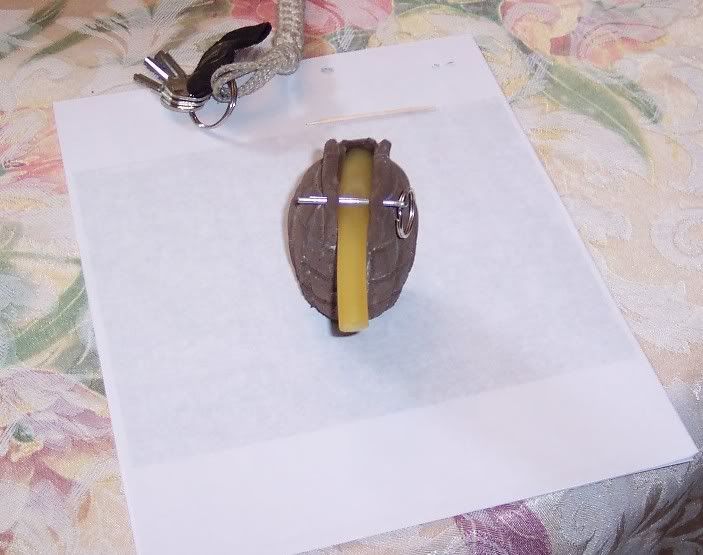 Fill adapter inserted:
I have glued the fill adapter in place and will let it dry over night. I'll do a dry run this weekend. The trigger will just be a ball just like a squad buster. Depending how you set the ball will determine how well the paint grenade goes off.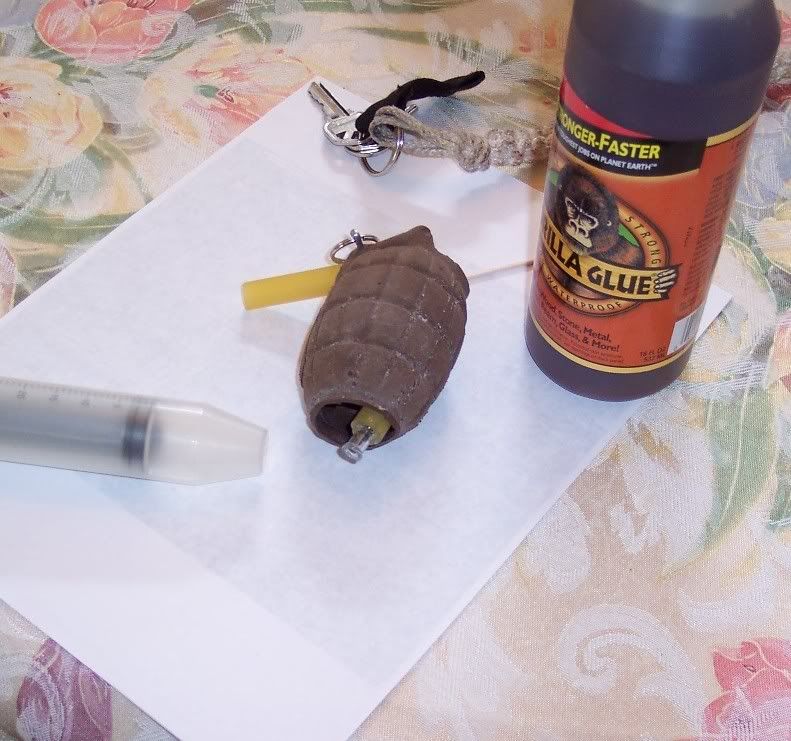 Ready for a dry run:
So everything is ready.It's cotter pinned in place. Catheter clip has been installed and so has the small ball trigger. At this time, the nade is not filled.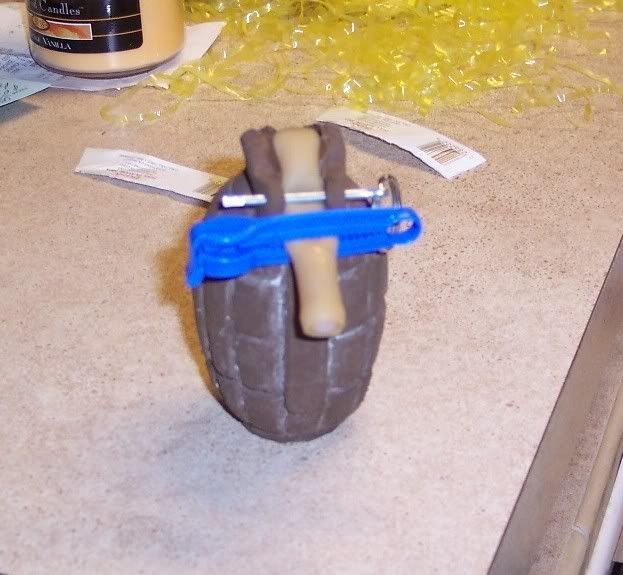 Lets look inside:
The tubing I'm using has alot of strech to it. So I pulled the one way check valve about a 1/4 way into the body.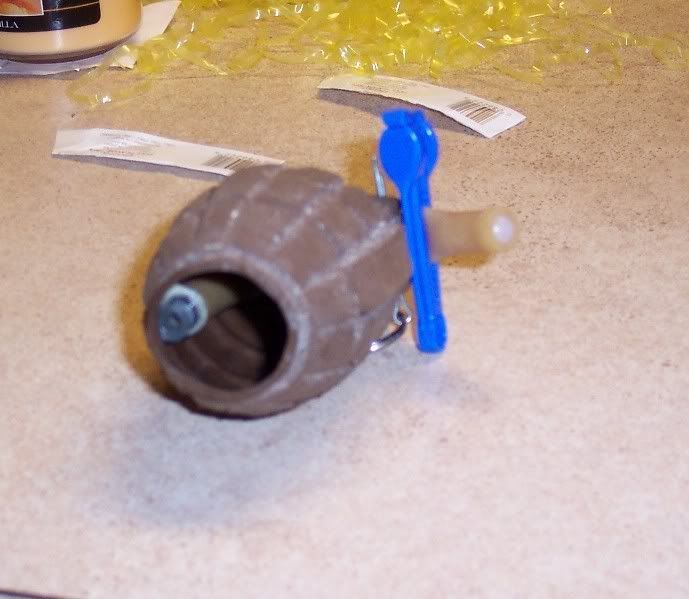 So lets fill it:
I just reached inside to grab the one way valve and connected it to the syringe. Then I filled it 3 times with 35cc, which I figured roughly to be about 4oz.
Fill is loaded:
Note the tail end of the tubing. This is what actually was inside of the Mills Bomb cover. The fill completed and I'm going to let it sit for a while. If I were to take the catheter clamp off, it would shoot paint fill everywhere. Good thing I use water to test.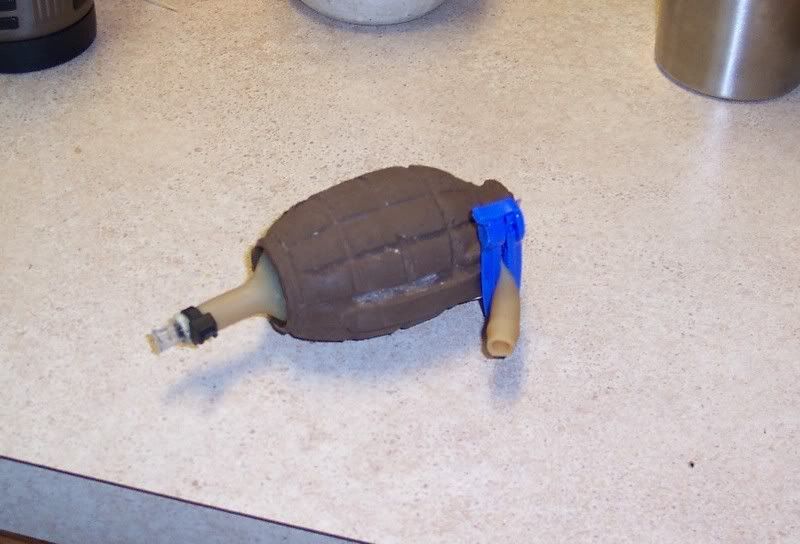 The clean up:
I just tucked in the tail. I'm sure if I would have pulled the tubing in more it probably would not have stuck out this far. The tucking is just to prevent dirt from getting into the check valve, for later reuse.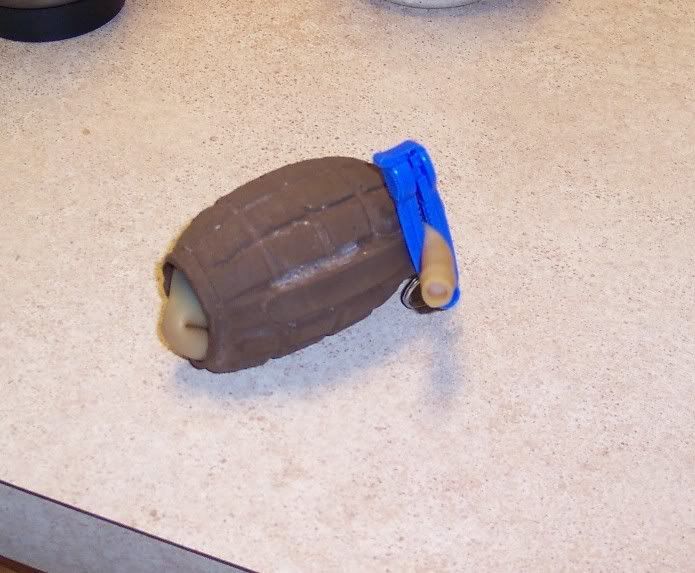 Ready to throw:
So here it is, clamp off, tail tucked and ready to go. I just threw this about 2 ft in front of me and it shot about a 10 foot stream of water. No pictures of that yet. I'll do it with paint fill and when the shell is completely painted.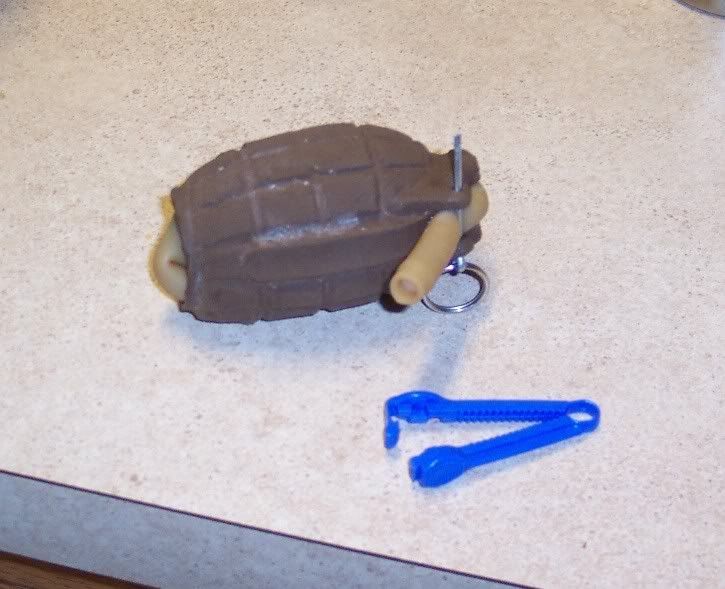 Later,
Blackrain
This post has been edited by blackrain: 29 March 2008 - 10:43 AM