Story: I got invited to play on a USA national team in an international tournament (lacrosse) in Melbourne. Long story short, I need cash to spend while on the trip, oh and for food/beer.
Note that anything that looks dirty will be thoroughly cleaned before being shipped.
I finally have pictures so here we go.
1. Markers:
-Spyder MR-1 olive. Works fine the front LPC is chewed up a bit, but the marker works fine. I've had many fun times with this thing when my main breaks down. comes as pictured, the hinge on the lid broke. only $60. PENDING
-A5, this one is missing the bottom line, and hopper. it does have a pod cap as a makeshift tac cap. comes with double and stock single trigger. Also has no barrel. I will add the proto for $15 or the flatline for $5. It has been painted a green and brown camo. only $100. PENDING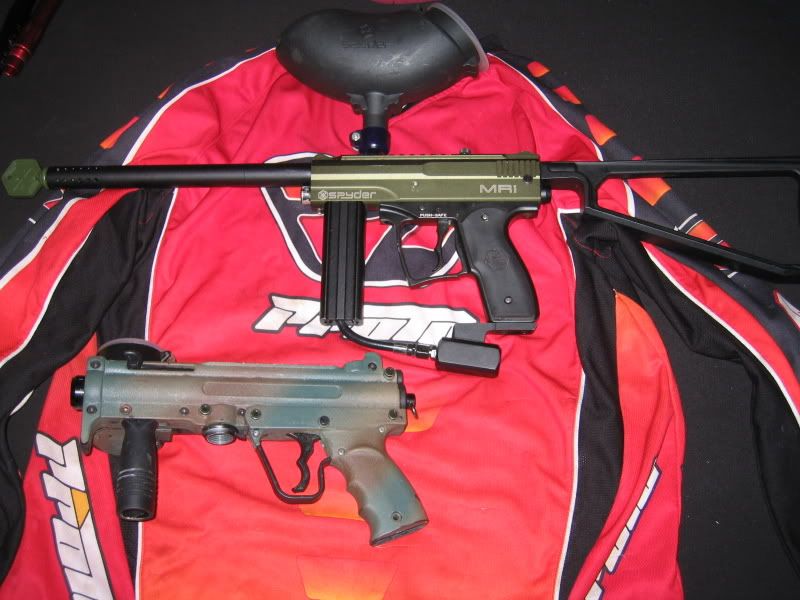 - BE Raptors, these were just rebuilt before I acquired them in a trade. I was going to use them as loaners, but I need the cash more. They are identical twins. I payed $25 ea. You pay $20ea.
2.140rd pods. SOLD
4. Barrels.
-red used good condition .688 a5 threaded dye ultralite back. I want $15 PENDING
-cocker threaded 12in CP two piece. .685 back clear and purple front. Good condition I've only had for a couple of months $35
-A5 threaded 14in black proto barrel. barely used $25
-A5 flatline, SOLD
6. tanks.
-Air America 48/3k steely.the reg and body is scratched up a bit, but it works fine. comes with thread cover, nipple cover was lost during last time of play. It is labeled as 03/05 so it needs a hydro in March 2010. Still has 2 years on it and will pass the test. $35 PENDING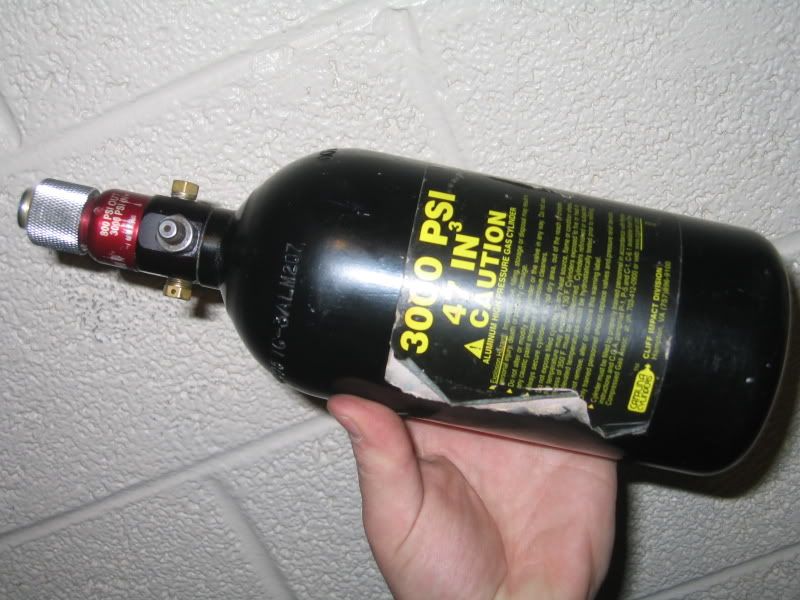 7. soft goods.
-nxe camo 2 pod pack slides onto any belt. fine condition. $5
-'04 proto red jersey, bought new back in '04. decent condition, no holes. size Large, but it fits me fine (i wear XL normally) $12
-proto '07 knee pads. look to be in fine condition, i love em to death. size m/L. $25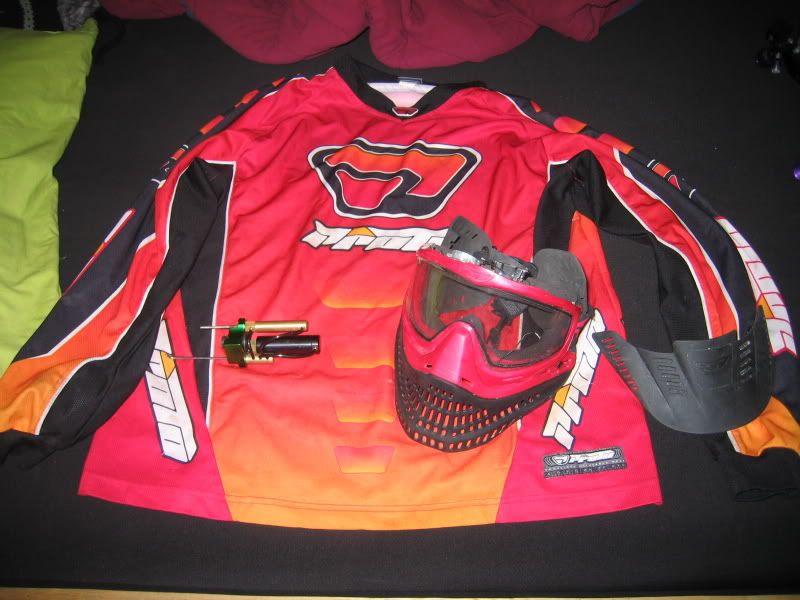 (also see pic with barrels)
8. random stuff.
-2k+ front block, all stock. Good condition (just needs some tephlon tape on the LPR). $20
-4 pieces purple macro (3x 1ft 1x 1/2ft) $1 e
-2 pull thru squeegees great condition all stick into themselves $3 e
-Trinity battle swab (identical to redz) used, but great condition. $3
-chrome ergo reg, works great. $25
-KAPP purple tear drop great condition. $10
(see pics above)
9. masks
-red proflex, lens needs good cleaning, but still has a season left in it. has a laptop fan attached, just needs a 9vlt. I got it off my friend and have never tested the fan. It goes as is, $30
(see pic above)
10. Once I find a bunch of my spare parts and such I will have a mystery box up for sale.
All prices are OBO, and include shipping unless under $5. Anything under $5 will ship free with anyother purchase of >$5.
I can take paypal or MO, i'll look at trades, but there's no guarantee.
This post has been edited by Chaos Fiend: 04 December 2008 - 11:39 PM