I have up for sale an excellent condition, Dust Black Bob Long MTac. Thing shoots great and is the ultimate woodsball marker. Thing feels great in your hands and is your opponents worst enemy. I take excellent care of my markers, which means a thorough cleaning of each individual part after each day of play. (thorough means washing with a toothbrush and tooth picks to keep it looking like new, as well as relubing everything with Bob Long recommended Dow 55 and Triflow)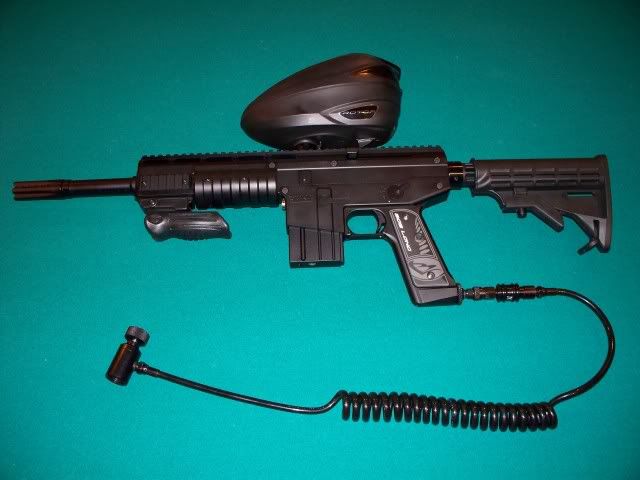 Comes with the following:
-Hogue Rubber Grips (makes holding it much more comfortable, not pictured)
-Proficiency Engine (included)
-Stage 2 Bolt (currently unistalled)
-Bob Long Grips (pictured)
-Folding Front Grips
-Metal Ball Detents (included)
-MTac Barrel (included)
-Stock Adaptor
-Multi-Setting Car Stock
-Printed Color Manual (included)
-The Remote Coil is not Included though we can work something out if you're interested. I also have 2 different NXE Vest Harnesses that can be sold if interested.
-Rotor Not included
As you may have found they normally go for nearly $1,000 + Shipping for a plain stock MTac. I'm looking for $825 OBO which includes the over $100 worth of upgrades. I'm open to negotiations, I'm not really looking for any trades anymore. Any trades must include atleast $200 and be in my favor. .
Bob Long Mtac Stock - $750
Bob Long MTac W/ Stage 2 Bolt - +$30
Bob Long MTac W/ Folding Handle - +$10
Bob Long MTac W/ Stock Adaptor & Stock - +$45
Bob Long MTac W/ Hogue Rubber Grips - +$10
Bob Long MTac W/ Everything upbove - $825
I'm a newer member here, but have been on PBR since 2006 and PBN since 2007. I have 100% feedback on everything I do including eBay, all of which total over 200 positive feedback ratings. Feel assured that you are buying from an adult and will be treated like one as well.
This post has been edited by openingact: 15 December 2009 - 07:23 AM