Before I get started let me first say this;

If any of you see my position on these forums as putting my views, and this review as biased against OpsGear, then take your closed-minded self elsewhere, or read on and listen to a legitimate review of this product
The M203 shroud was something I was semi-interested in, but I had to see one in person to make a final decision. Clearly the impression of the product was enough in person for me to invest my hard-earned cash into one, but it has some down sides as well.
With the addition of the shroud (like any external add-on) it added some weight to the marker. Without a fore grip on the picatinny rail the marker feels very awkward and unbalanced, however with the fore grip the marker feels very well balanced and "controllable." I really like the feel of the marker with the shroud, fore grip, and stock all combined together...I was very skeptical at first, but after shouldering the setup it really fits nicely.
The overall construction of the shroud seems very sturdy and durable, so I have no worries there of damaging the shroud.
Of course this shroud also has some points I really do not like;
1) The attachment of the shroud is sickening. OpsGear could have easily configured a better way to attach the shroud then the current design of using set-screws just below the A-5s rail;
What other method could OpsGear used instead?
How about using the stock receiver-bolt locations that the shroud covers;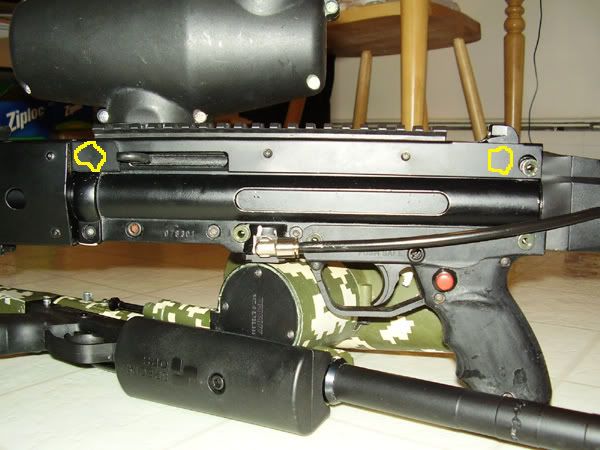 It would have made more sense to attach a shroud that way instead of using marring set-screws on the A-5's receivers. This certainly would have led me to have no hesitation of attaching this shroud to my A-5, those of you with paint jobs will completely understand that concern as well...now if only OpsGear would consider such and alteration.
2) As nice as it is to have so many picatinny rails on this shroud (this makes it very nice to mount a sight at various positions), OpsGear chose to use some sort of composite plastic for the rails. This may save on a bit of weight overall of the shroud, but I feel having a plastic picatinny rail just "cheapens-up" the product.
They look like solid metal, and I wouldn't have thought any differently had I not took them off to clean up the shroud a bit. They seem sturdy though as they are held to the shroud with 4 metal machine screws. I have already put in a request to the UnderGround Mod Shop for possibly replacing them (at least the top ones) with the real-deal.
Overall this product is rated a 7/10 in my book. The price is a bit high, but it appears OpsGear has made a quality product with a few exceptions that I mentioned above. If they changed the attachment method and considered using a metal picatinny rail it would be well worth the retail price.