Howdy, I am selling this here Evil Pimp.
The gun shot amazingly until I tried to adjust the LPR without firing the gun and subsequently punctured what I believe is the regulator seat seal
.
So it needs one of two things:
1) New reg seat seal for the LPR (I haven't been able to track one down yet, but I also haven't tried very hard).
2) New LPR (Palmer's apparently makes one - on the one hand, it isn't as finicky as the Respirator, but on the other hand, it would detract from the pimpness of the Pimp - I have not been able to decide, so therefore, I leave the decision to the buyer). Link:
http://palmer-pursui...products_id=621
Other details:
- Board has PSP ramping on it
- Includes an extra solenoid in the event that you might ever need to replace the solenoid (was included by the previous owner, no idea why)
- Bob Long Torpedo regulator (sorry, no Detonator)
- Dye Sticky 3s (sorry, no Evil grips *frown*)
- 32 Degrees barrel (not as cool as a matching pipe, but still old school)
- Smart Parts on/off ASA
- Additional flame drop included for extra pimpability
- This marker is a freaking machine gun with a properly functioning LPR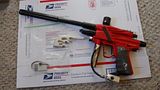 Price:
$120 shipped and PayPal'ed/OBO.
SOLD
Please Post and PM.
This post has been edited by chinstrap: 22 February 2012 - 02:26 PM