*PRICE CHANGE: As of today, Preorders will no longer be accepted. Any orders after today (1/30/08) are full price. If you your name is not on the list and you send us a payment for the PREORDER amount, YOU WILL NOT RECIEVE your patch until the full price is paid. NO EXCEPTIONS. *
Orders for the Great Lakes Brigade Patches are now being accepted.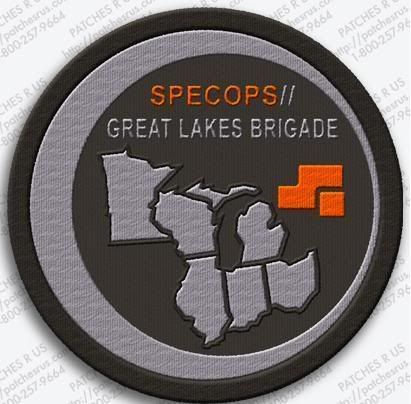 Prices on patches (both) are $6.00 or $7.00 with velcro backing.
Print-out the form below and mail to the address listed on the page (SUPERDAD), and once the patches are in your order will be mailed to you.
Paypal is also accepted
PayPal is NO LONGER available
, just email the form to SUPERDAD (also provided on form). Just fill out all of the proper fields, pay, and your good to go!Only 200 patches will be made! ENJOY! (FORM IS ATTACHED TO THE POST)
Pre-Orders to date:
millhouse >>> 1 Subdued, 1 Round - PAID

SUPERDAD >>> 16 Subdued, 1 Round - PAID

wico90 >>> 2 Subdued, 10 subdued PAID

DARQUE >>> 1 Subdued - PAID w/ Paypal

fliegendaffeREFUNDED


Spiderspawn >>> 3 Subdued - PAID w/ Paypal

White Sarrow >>> 2 Subdued(velc), 2 Round(velc) - PAID w/ Paypal

scout_armorsquad >>> 1 Round - PAID

Pleonidus >>> 2 Subdued (1 velc) - PAID

Shadowjackal >>> 3 Subdued (velc) - PAID w/ Paypal

Josef_K >>> 2 Subdued, 2 Round - PAID w/ Paypal

omega11 >>> 1 Round, 2 Subdued - PAID

Hoov >>> 1 Round (velc) 2 Subdued (velc) - PAID

KRA SHARPSHOOTER >>> 3 Round (s/o) -

PAID



BigMike >>> 5 Round, 5 Subdued -

PAID



Vander >>> 1 Subdued (s/o)-

PAID
TOTAL:

69
*updated 1/30/08
If you have questions, email me. millhousenator@gmail.com
HERE IS THE ATTACHED FORM (see below) --v
(If the form does not work for you shoot me a PM and Ill send the info to you via PM.)
This post has been edited by millhouse: 31 January 2008 - 03:22 PM