If some of you may remember, a while back I posted up my BAR X7 made by Eric Engler.
If you dont remember what Ma Bess looks like..here she is: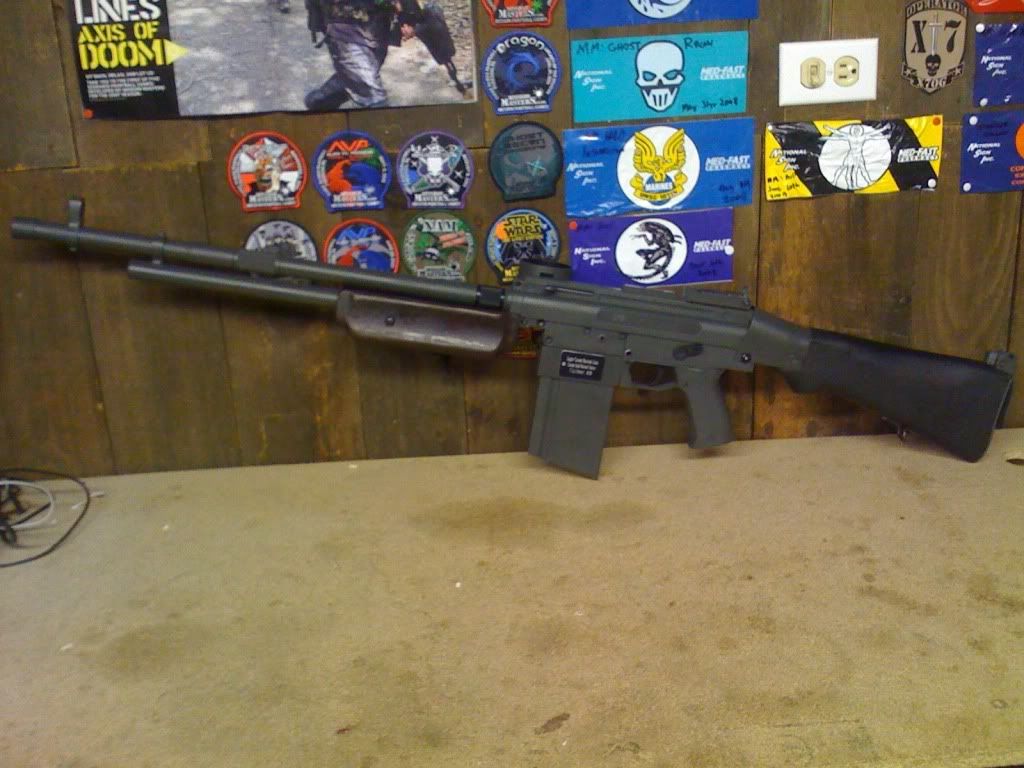 Those two pics represent stage one. Thats how I got her from Engler. Well all was well and good, but there were some design problems with it that annoyed me, as well as other people. After posting a video of it on YouTube, I got requests to move the Wooden fore grip back so it eliminates that large gap between it and the marker body/magwell.
For a while I wasnt going to do anything about it, but after starring at it over and over again, I realized I had to change it..It just didnt look right. However, the first thing I needed was a Bi-Pod, so I bought one from Engler and had him paint it..thus giving us Ma Bess v2.0:
After getting that, I started work on moving the grip back...which turned out to be a longer process than I first anticipated. All good and well though, as it was worth it. Below is Ma Bess v3.0 with new Flasc barrel and grip moved back (note, I havent got the barrel painted yet..it will be soon)
(Pic with old barrel)
(Up close pic with Flasc)
Now that it is done, I move on to getting several things completed, all of which I will update my progress on here:
1) Sling attachment for the gas tube..so I can actually use a sling
2) Removal of the pistol grip (another big YouTube request) Jackson will be assisting with this
3) Finding a real BAR rear sight, modding it to fit
4) Finding a real BAR bi-pod, modding it to fit. The bipod that is on it is just too dinky and doesnt look right on Ma Bess.
Any other suggestions is more than acceptable