My rules are very simple. Be courteous. Post then PM. Fair offers. add 3% for paypal. Trades are wanted!
With no further ado, the markers!
First up, we have my Azodin Zenith. This is black with grey tribal anodizing on the main marker body. Comes with a palmer's fatty stabilizer, a bullet on/off drop forward, an upgraded feedneck, and a bob long assassin barrel. Asking 180.
Next up is my ninja g3. This black g3 comes with the black accent kit, black with white contract killer grips, a techt l7 bolt engine, an APE board, and a CP rake trigger with magnetic kit. Not looking to sell, if anything it could be part of a trade. lets say 250
IN ADDITION, I can include a 16" one piece AC threaded all american barrel in black with either above marker for 35. Pictured in between zenith and g3.
Next is green Spyder Victor with black stripes, all stock but comes with straight elbow. 35
BH vibe, silver breech. No other ups, missing power button and ASA screws. Small leak under trigger. Comes with stock barrel. Asking 120.
SP1 with contract killer grenade grips. Select fire board. Comes with stock and a barrel of choice out of those listed in next paragraph. Price will depend on barrel. Not looking to sell as much, if anything will trade for upgrade. lets say 130.
IN ADDITION, I have many barrels threaded for SP1/ vibe, including:
Redz barrel kit w/ 3 backs (.687 .689 .693) and one 14" front.
Dye stainless steel back, black front, 14".
16" SP tactical barrel
Stock SP1 barrel.
Silver 98 custom w/ blue contract killer grips, PMI razzor barrel. 65
Model 98, black. All stock, feed neck ducttaped slightly. 50.
Tippmann TPX pistol, BNIB. I have two of these pistols and 8 mags. All new, never used. Will sell one pistol and 4 mags for 220 shipped, or both and all mags for 420 shipped. This is basically 2 free mags for what you get in stores, these are NEW! Not out of box! VERY interested in trading pistols for high end.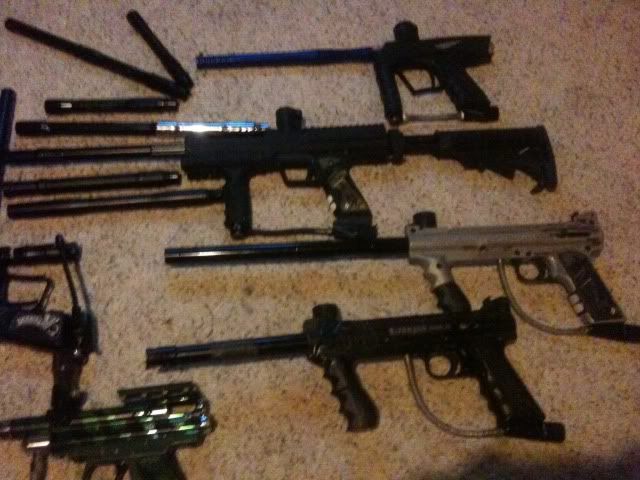 TRADES
I am looking for a high end marker or cash. Some markers I'm interested in are a Vice, DM5-7, other nice markers worth 275-400. Also loosely interested in pumps, offer up. I CAN ADD A LITTLE FOR NICE MARKERS. Take a look at my gearbag sale too!
Not interested in:
Ion's
PMR
SLG
Low ends
Super high ends (Luxe, Ego's after 2008, DM after 2008, just too expensive)
Offer up!