No this wouldn't use any "special paint" or anything but instead would use more than one barrel. It would be 4 barrels right by each other with a CO2 cartridge and a 10 round paintball tube for ech one.
Heres the barrel set up at the end of the gun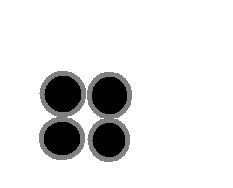 And heres the Shotgun it's self (I know it is horrible)

Now I know I made a really really crappy shotgun pic but deal with it. Now on the shotgun, the sqaure that say "paintball tubes" would pop out on the gun and show slots for the tubes. And basically the same for the CO2 cartridges. It would work mostly like a regular pump gun except for bigger and more shots. Also the barrels would be angled just a little bit to make a spread shot.
So what do you think? Got any ideas on what to do to make it work?
-edit- This isn't an idea for Specops, being as I know they probably wouldn't do it. This is an idea for me to try.
This post has been edited by Ace-014: 12 November 2007 - 06:16 PM