DeathStix series 2 review
the short watchable version
Few months back I was sent a 24 inch and 16 barrels and a 14 inch barrel kit by Paintball Assassin to review, I shared them amongst the players on Section 8 paintball team and asked the players to contribute to my review, in total 5 different players from Section 8 contributed feedback to this review.
24 inch "compensator"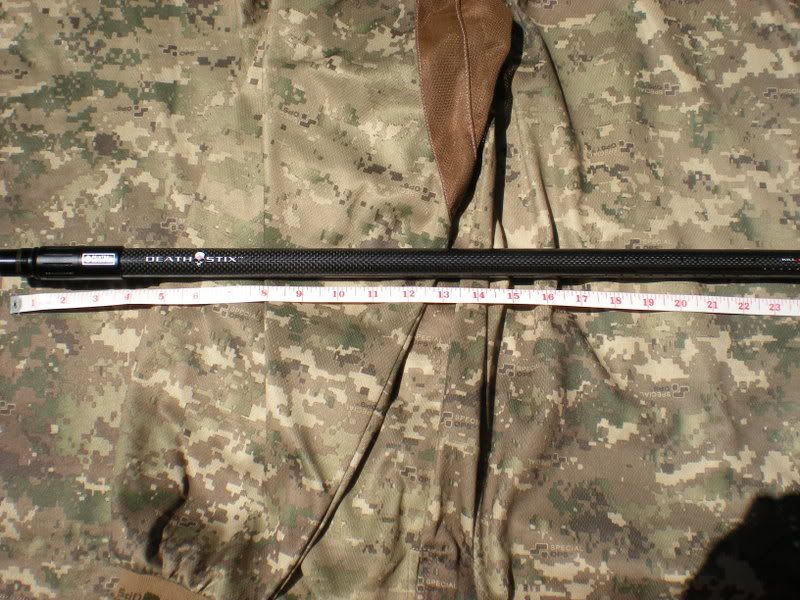 [/size]



My initial impressions of the 24in barrel were "oh my god, someone actually made a 24 inch barrel?!?!?!?!?!" at first inspection anyone will be overwhelmed by how long the barrel is and how long it makes your marker. The finish on the barrel is epoxy resin and looks fantastic and though it will withstand a battering, if the finish is anything like it was in the series 1 barrel then I can vouch for how durable the clear coat finish is on the barrels. The porting is flawless, which I hope will put an end to some of the critics out there and their conspiracy theories. I like the paintball assassin logo etching on the side, on series one the logo came off once paint got behind the sticker





I usually run a 14 carbon fiber barrel, and with the 24 inch barrel you can just feel a tad more weight, if this barrel was made of aluminum or stainless steel it would weigh a lot more. So if you are looking for a length barrel then carbon fiber is definitely the way to go.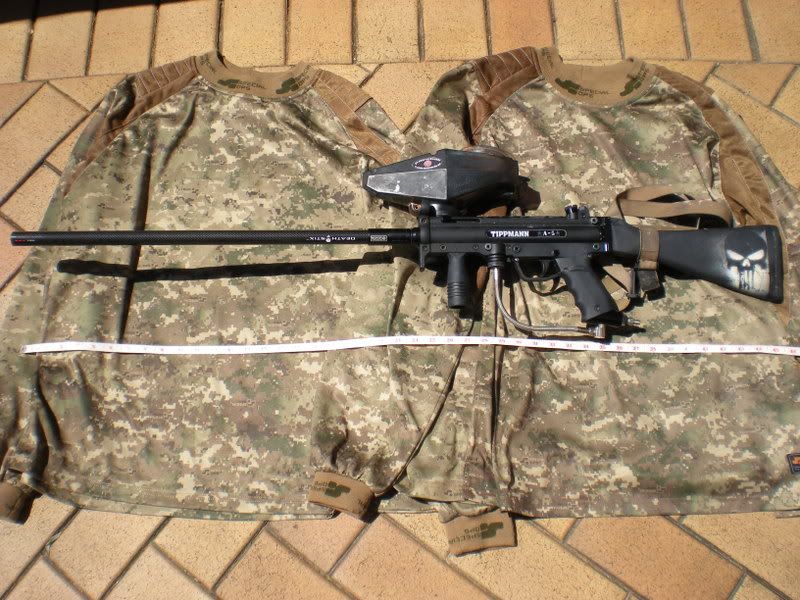 This barrel is definitely designed with the woodsball sniper or a sneaky flanker in mind who are trying to achieve the sniper look with their marker, it will really give the appearance that you mean business and will certainly scare any newer players on the field. Its length will limit the style of play the user can play, as it doubles the length of the marker. It is ideal for players who want to hide and wait for their opponent to come to them or who can slowly move through the bush to attack someone. If you are a fast moving running and gunning type of player then this barrel is not for you, I would recommend one of the 14 or 16 inch Deathstix barrels.
The advantages of the barrel mean that you can easily set up a hide in thick foliage or long grass and slide the barrel slowly out to engage your opponent. With correct technique and minimal fire you could easily engage your opponent and make it very difficult for anyone to zero in on your location. It allowed its user to engage opponents around corners or through thick bush without having to get close to the edge of the bunker and therefore exposing himself less
When Section 8 set up an Invert Mini, Smart Parts Ion and Tippmann A5 with this barrel, the gas usage wasn't changed much at all, nor did it take long to adjust the velocity settings. The player was able to use roughly 5 pods and a hopper of paint off a 68/4500, more than enough paint for the style of play this barrel is designed for. A lot of players laughed and joked about it being used on a mini however on something like an A5 or a Smart Parts Ion with a Blackcell kit; it will definitely give it that woodsball/ milsim look.
Several problems which arose due to the barrels great length. The first was when the player was forced into a bunker which was more exposed than desired, playing tight into the bunker reduced his field of fire, as to shoot at a 12 o clock position of his bunker meant having to expose his flanks as he had to stand further back from the bunker to engage the opponent at his 12 o'clock.
The second problem was when a paintball burst in the barrel. A standard rubber pull through is only half its size, so a user would have to unscrew the barrel from the marker and clean the barrel through from both ends. However using quality paintballs and matching your paint bore size to the correct back will reduce this problem.
The Paintball Assassin 24 inch Deathstix barrel comes in a two different colour options, carbon gloss or Kokoda Camouflage. The Kokoda Camouflage would be ideal for anyone with a camouflaged marker and for all those woodsball snipers.
If you field has thick foliage which makes it difficult to shoot through, are a serious woodsball sniper or want to achieve a serious milsim look on your marker then this barrel is definitely for you.
Kokoda 16 inch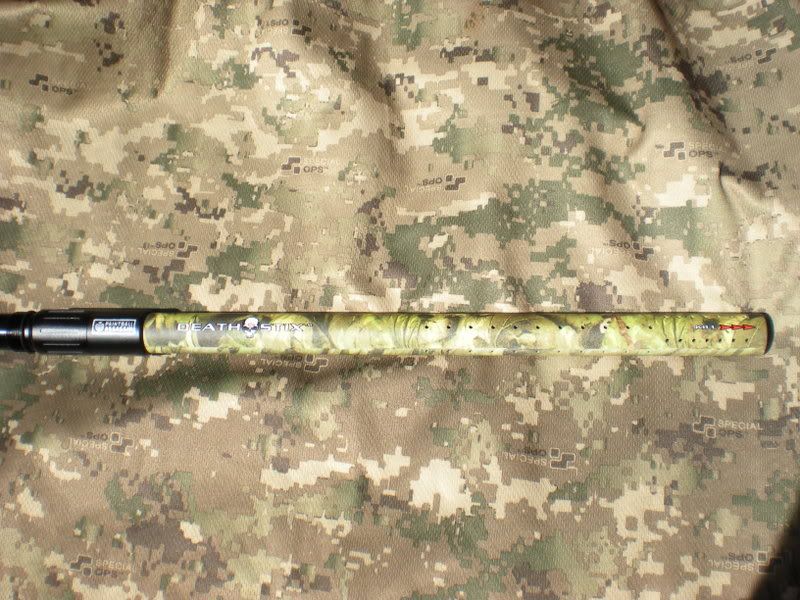 Taking the barrel out and on initial inspection the porting is looking fantastic and can't see any flawing in the carbon fiber. The camo look is given by a laminate over the carbon fiber, looks good, will really be difficult to see in scrub land and darker green fields, however it feels like there isn't any finish on the laminate to protect it from wear and tear and paintball fill, and I am a little concerned that the paint might actually eat into the finish and the laminate camo, losing the effect.
It is going to be a good barrel for the "snipers" out there if they want to camo their marker, if they incorporated a hopper and marker camo will blend in nicely with a ghillie but retain maneuverability and reaction time that a longer barrel prevents.
From a distance the green leaf pattern would work quite well in a bush environment with lots of cover, however the field the barrel was tested on was dry, brown and quite open and didn't blend into the environment as well as a digital camouflage pattern might have.
During the testing we noticed our initial concerns about the lack of protective coat were founded when we noticed that small chip of the laminate exposing what looks like raw carbon fiber. So am concerned about the durability of the finish during the life of the barrel, however I have been reassured that this finish will be improved on future barrels of this nature.
Due to some issues with supply of quality paint on the day of testing, there were a number of breaks in the barrel. However Randy a.k.a Rubixcube, who spent the most of the time testing this barrel, found that he was able to shoot through the breaks in a minimal amount of shots and keep a very good level of accuracy despite his paint situation.
In conclusion, the 16 inch Kokoda Deathstix is a very good quality barrel for serious bushballers, they are mad of high quality carbon fiber. If you are someone who is already a good shot, then this barrel will make you into a deadlier player on the paintball field.
14 inch kit with 4 backs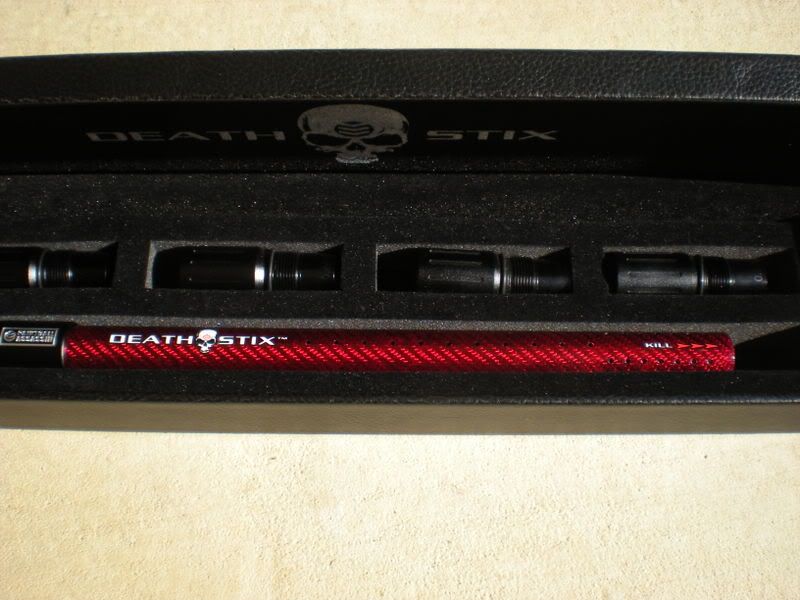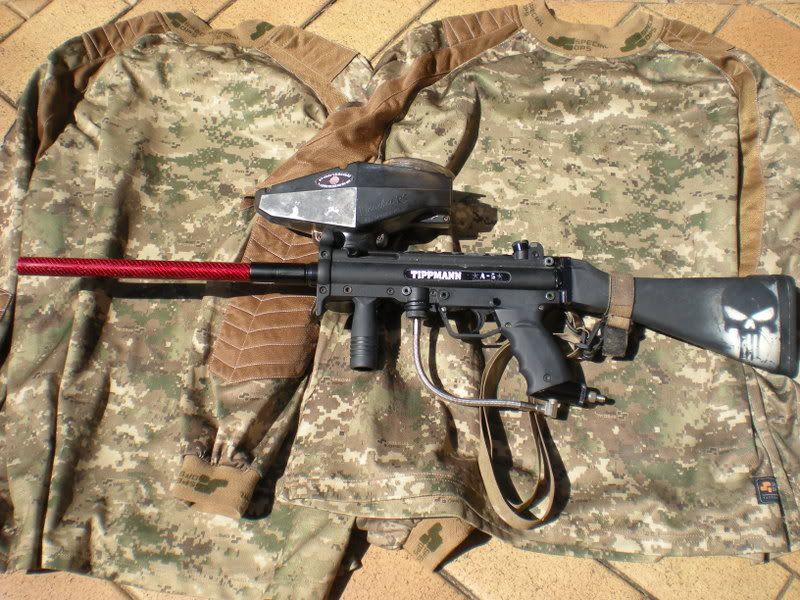 Taking the box out can clearly see the box is newer, looks flashy, will be good for transporting the barrel kit and all the back, wont take up half of your gear bag like some other kits, mainly freak or pipe kit. The padding inside provides good protect, wont cause the barrel or back to rattle around inside your gear bag and provides good protection if you accidentally put something heavy on top or your gear bag gets thrown around by baggage handlers….especially if you pass through LAX!
Opening up, nice box, good layout, with the barrel and backs…Deathstix logo printed on top, would be nice, but not necessary if they could print the back sizes on the box to, so you can grab the right one out the first time and put it back in the same place, save a couple of minutes messing around with them.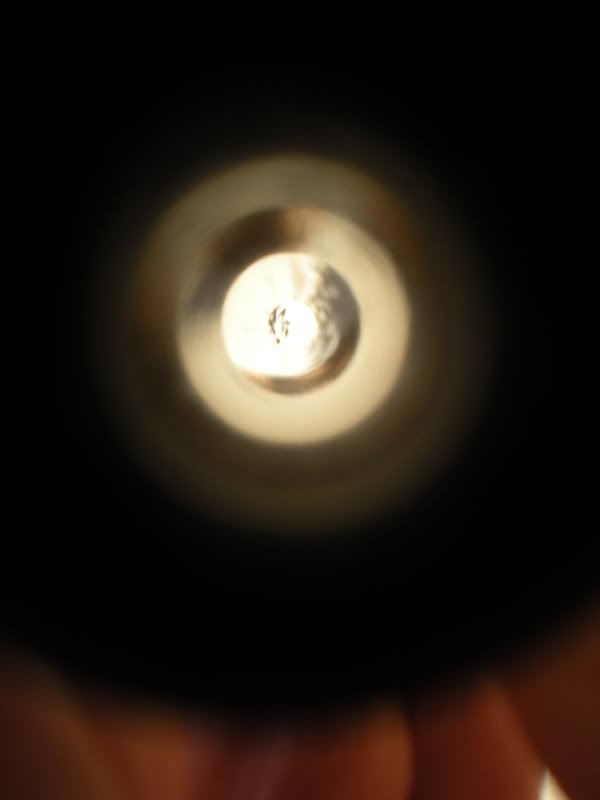 Finish of the barrel is insane, the gloss clear resin protective coat really brings out the colour of the red, I'm a bushballer and this deep red is sexy!! For those that are tourney ball players, the red will match any coloured tourney marker really well. The natural light really brings out the colour.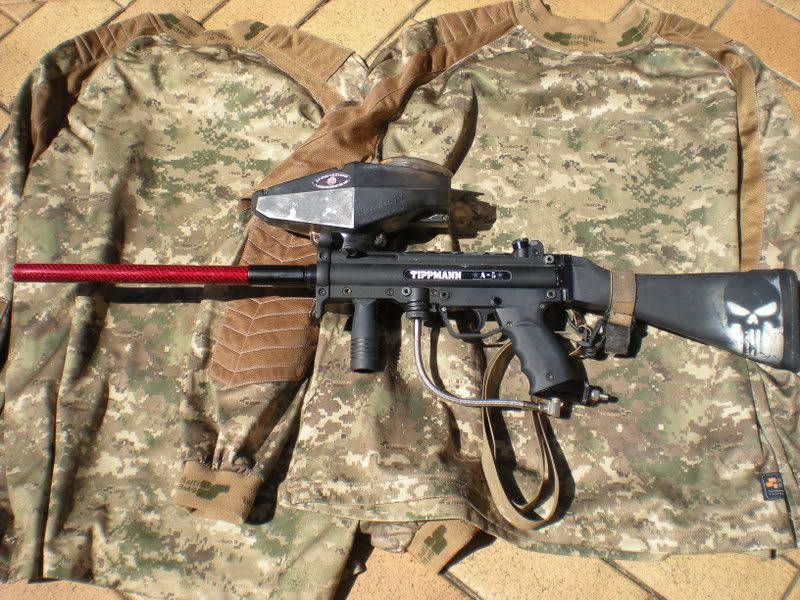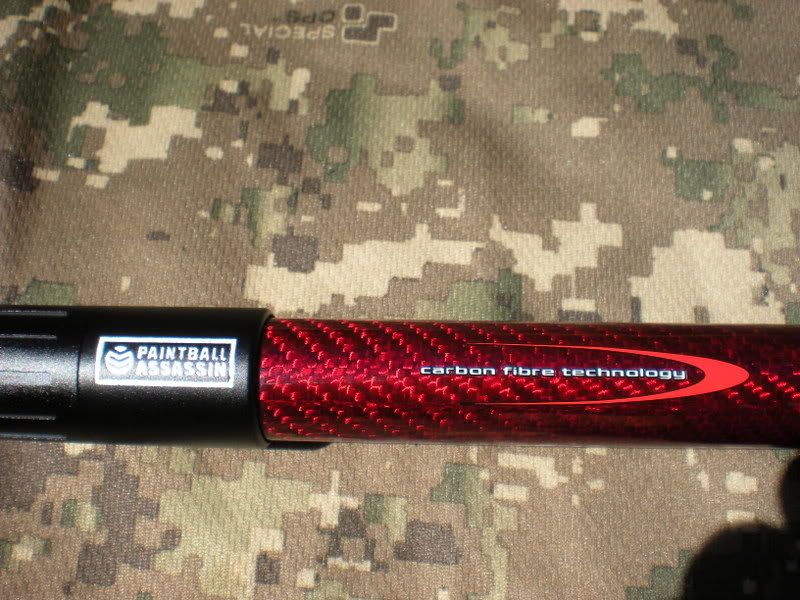 The backs are cool; now get four instead of three. (0.686, 0.689, 0.692, and 0.695) some new pattern marked into them I don't know if for aesthetics or ergonomics for screwing and unscrewing the barrel front from the back but I found that it give your fingers a little bit more grip to separate the back from the barrel if your hands are covered in paint fill or the barrel has taken a hit.
The back sizes etched into the back are a little difficult to see, and really need good sunlight or bright light to clearly make them out. In the series 1 barrels they were easy to see and identify. Also they have what thread they are etched into the backs as well, which is good if you have different kits for different markers.
At first I noticed that the paint bore sizes are rather high, with no sizes available lower than a .686, now in my experience this hasn't been an issue for me, I mainly use RPS or Killer paintballs and found that they are usually in the .689 to .692 area. However it would be cool if in the future a 0.682 size would be available, making the kit have 5 backs, which seems to be the norm with kits.
I found that being able to match my paint size perfectly made for some fantastic shots while testing the barrel. I was able to put paintballs through or next to a couple of holes no bigger than 2 ½ inches from about 20-25 metres in 2 to 3 shots, which made for some awesome eliminations on opponents. I have to admit the grouping of the shots was very tight, I would almost say improved from earlier barrels, more consistent grouping compared to other carbon fiber, aluminum or stainless steel barrels. I felt very confident on the field knowing that I could eliminate or spook my opponents with very accurate fire on their position.
Deathstix Conclusions
On most of the barrel kits they produce there is a very high quality epoxy resin finish on the barrels with will result in a very long lasting barrel system that is of very high quality, the only exception is the Kokoda camouflage barrel system with its laminate . I am very happy with the accuracy and performance of this barrel. Whether your preference is bushball or sup air for cost, quality and performance of a carbon fiber barrel you cannot go past a Paintball Assassin Deathstix. The quality of the carbon fiber is flawless with innovative designs and patterns being released in only their second series of barrels, and I am assured there are new designs being developed that will interest all paintball players.
They are a very accurate barrel system that will make your opponents fear you as they will know you can make those impossible shots. Deathstix will help increase your elimination rate on your opponents and aid you making those shots that you wouldn't normally be able to pull off.
Now I know that it depends on the type of marker you are using, but I found that the Paintball Assassin Deathstix barrels reduced the sound being emitted by my marker, making it very hard for my opponents to narrow down on my location quickly.
The barrel systems are easy to clean and maintain and will withstand everything you throw at your marker, or if you are prone to throwing your marker at everything.
Would I buy a Paintball Assassin Deathstix kit? You bet I would…..hell Paintball Assassin is going to be lucky to get back the kits they asked me to review!!
This post has been edited by Aussie_bloke: 06 November 2008 - 08:35 AM