Hello everyone, I'm kind of new to the site... sort of, I lurked a lot before I joined. At any rate I want to begin contributing to this forum, and wanted to start with a review of a piece of gear I with which I was very familiar. To give ya'll a quick background with which to judge my review and it's validity to your playing style, I played paintball a lot in 2000-2001, then joined the Marines as an infantryman. Spent two years in Europe as a designated marksman shooting the m14, then the last 1.5 yr in Hawaii including one 7 month tour in Iraq as a squad leader, Lima co 3/3.
So... the Grip Pod.
What is it? What Does it do?
Well it serves as a foward grip that also...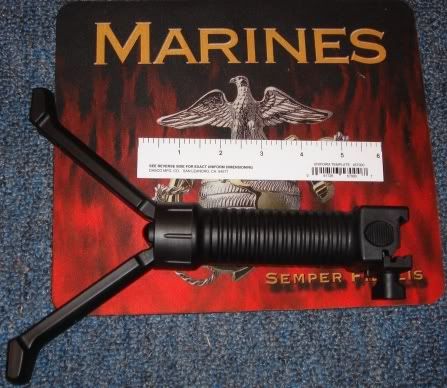 expands with the press of a button into a bipod.
Here's the parts...
breaks down for easy maintenence into three parts. The Grip, the Main Spring and the Bi Pod with locking collar.
Specs for GP-02 Grip Pod:
Construction Material: High-Strength Polymer
Length Closed: 5.75"
Deployed Height: 8.25"
Deployed Width: 7.125"
Diameter: 1.75
Weight: 7 ounces
Color: Black
Cost of this device you ask? Well Uncle Sam was gracious enough to bestow mine upon me courtesy of our battalion gunner, you can grab one for $139.00
HERE
Onto the review.
As a grip, it's one on the best I've used. It's long enough to be useful, and it's locking mechanism is by far the best I've seen and I've used several brands and messed with at least 5 different types in country. It is strong enough to work securely with my airsoft M1A SOCOM

and not break off like my sissy Knights Armament grip did.
Any downsides as a grip? It's heavy. You might not think so, but put it on an M16a4 with a surefire, a peq-2, acog, jpoint, extra mag pouch, double mag and you don't want extra weight. I'm sure some of you have heavy paintball guns too, with tank and all attached so you'll have an idea what I mean.
Now... As a Bi Pod. It WORKS, in that it neither sucks, nor is it a harris quality bipod. I'd give it a straight 5 out of 10 as a bi pod. It'll flex and move around a bit and it's not height adjustable. Maybe I just ask too much of my stuff lol.
Ok, put them together? How does it work in the real world??
Not great, IMO. I like a bipod to be towards the front of the weapon, and I like a grip almost against the magwell of an M16, or at least closer to my body on an airsoft or paintball gun. So, to use it as both it needs to be further away from me on the rail and loses it's comfort as a grip and increases fatigue on the supporting arm. The feet are too small and dig into soft ground. And one last gripe I have is that the deployment of the bipod, if you dont grab it and slow it with your hand is LOUD. For most of you that won't be a problem, but it would be bad at night outside a house you're about to raid. The release mechanism should be a twist at the base, so you twist it, and at the same time you're cupping the tripod in your hand and extend it slowly... quietly. This would prevent accidental extensions of the tripod if you mistakingly hit the button.
So, you might be thinking I just ripped this piece of gear and I'm being too picky. I'm not. I genuinely like the thing, and I found a solution. I take the tripod out of the grip and just use the grip. It's lighter and I love the positive locking mechanism and how secure it is.
As a Grip I give it a 9/10. As a Tripod, a 5/10, Combined? I won't rate it, just take what you want from my review and draw your own conclusion.
I do know a great use for it though... displaying your paintball or airsoft gun!
Semper Fidelis
Sgt ruger USMC