Most Painful Shot you have ever taken?

where was it?
Posted 19 November 2009 - 12:27 PM
|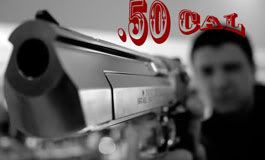 I reject your reality and substitute my own
---
Posted 20 November 2009 - 03:25 PM
Right between the eyes on my forehead in my ghillie suit. No padding, because I don't wear my Sandana under my Action Ghillie. Ow.

---
Posted 20 November 2009 - 06:47 PM
45/3000 Steel Tank to the face.

A fellow player was a little miffed that I shot him out & decided that physically assaulting me with his marker was a good idea. Never thought I would get a concussion playing paintball.

---
Posted 20 November 2009 - 07:36 PM
Point blank shot @ 6 inches, bare skin in the flabbyish area between your bicep and tricep. Took the skin right off, it went numb after 2 minutes, seeped blood for 2 hours. 2 months later and it looks like I'm gonna have a scar for about a year, maybe two.

I knew it would hurt quite a bit but didnt think it would actually take the skin off, bleed, and leave a brutal ring on my arm.

The 10 dollars was so not worth it. Theres a reason most fields have a mercy rule. Lesson learned.

-Vinny
T9 Longbow
---
Posted 25 November 2009 - 07:41 AM
At a scenario last year, I was playing a night game.
We were trying to defend our CP. As I went to move up to another bunker, I was hit in the back of the head.
This was not a normal hit though- the only thing I could think of is when I moved, someone behind me thought I was on the other team, and either had their velocity way up, or hit me from point blank range. I'm glad I had my hat on- as it was I had a bruise for about a week.
People who say anything is possible never tried to slam a revolving door!!
There is no problem that cannot be solved with the proper application of explosives and duct tape.
How's that for a contradiction?
---
Posted 01 December 2009 - 04:30 PM
I was shot in the adam's apple by a n00b who went out of bounds into another feild and back in again and he was under 5 yds away.... ouch.

---
Posted 01 December 2009 - 07:18 PM
Played at warpaint this weekend and at the indoor me and my bud were playing with a few 10 year old kids and his dad. So we were taking it real easy on them. We were playing dodge-ball rules so nobody could bunker the little guys. Then this new guy joins who was standing right next to me when the ref told everyone the rules runs to the 50 and bunkers down in the middle of the field and shoots out of a hole. I went to his left and they had a snake that stopped at the 50. I shot him 2 times... no ball break.. he looks around like ware did that come from?... then I shoot him 2 more times not one ball break! So He calls for the ref to check him for paint. At this point he Is back in cover and there is no way that he can shoot me from my cover, so the ref says that hes clean and the guy comes to our side of the field and shoots me point blank 3 times in the back of the head! It was real hard to keep my composure I just walked away and we left the field.

---
Posted 02 December 2009 - 09:29 AM
Attack and defend game I went inside a building and a noobie was huddled in the corner beside the door and he freaked out and shot me point blank in the back of the hand I actually felt the barrel touch my bare skin it was that close. Thankfully his Wal-Mart special marker was shooting well under the chrono limit but as it was I couldn't move my hand properly for two days and it bled like crazy. Once he stopped apologizing I gave him props for getting the drop on me even though at the time I secretly wanted to strangle him and bury his body in the woods.

The one that made me swear the loudest was a game where I bunkered a guy but offered him a surrender he accepted and then shot me point blank in the back once I turned around his argument was that the surrender rule wasn't discussed before the game so was apparently not binding. Who knew paintball had its own lawyers? *





*Please don't even mention Smart Parts.

---
Posted 02 December 2009 - 06:34 PM
I wish people like that would just find something else to do for fun... What a life looser!

---
Posted 03 December 2009 - 09:16 PM
toad24.5, on Nov 13 2009, 03:00 PM, said:
My most painful happened back in the day when there were these paintballs called "Blue Streak." They were like plastic shelled capsules with blue colored, soapy paint. I was playin with my dad and uncle and a bunch of their buddies, and I just got lit up by someone who had those blue streaks. it wasn't just one shot, but a barrage. The shells cut me up and I had some ugly welts.
I've heard horror stories about getting shot by those.
And getting shot right on inside of the thigh from 3 inches away.
This post has been edited by dextonik: 03 December 2009 - 09:20 PM
If you can't hack it, then I suggest you pack it!
I'm on it like white on rice, with a glass of milk in a snow storm.
Doesn't matter what gun you have, as long as you can hit what you're looking at.
Procrastinators of the world unite...TOMORROW
---
Posted 03 December 2009 - 09:50 PM
wasnt the most painful but still hurt like hell, was playing a 15-1 terminator game (i know really really stupid, but i needed to get some frustration out. ended with only 3 guys left and me out of air
) and took a shot from less then 5 feet away right on the soft spot in between the elbow and upper arm. entire arm went numb and couldnt move it for the about 3 weeks and still have the scare to prove it.
this one isnt mine. my brother, a family friend, one of my best friends, and me were playing winter speedball on a homemade course and it already was pretty dark out but we figured we could play at least one more game. well my buddie jumps up in front of the other team after sneaking to the other side of the field and took at least 5 shots from the other two on his balls. didnt walk right for a really long time.
---
Share this topic:
---
1 User(s) are reading this topic

0 members, 1 guests, 0 anonymous users